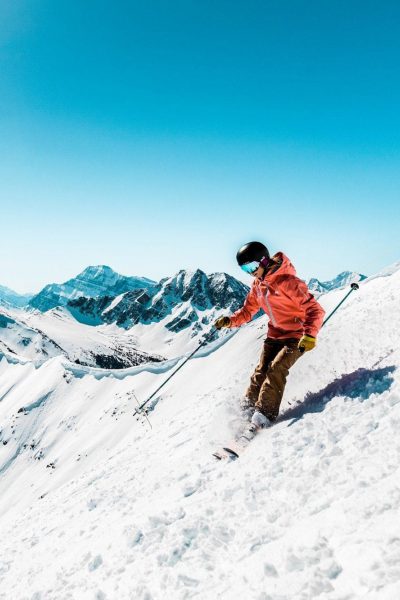 Canada's Greatest Adventure
Venture Beyond in Jasper + Edmonton

Edmontonians do winter right with outrageous outdoor adventure, a legendary culinary scene, and the largest shopping and entertainment centre in North America, West Edmonton Mall.

From here, the greatest personal expeditions begin. With shimmering glaciers, abundant wildlife, crystal clear lakes, thundering waterfalls, deep canyons, and evergreen forest – all surrounded by towering mountains – Jasper National Park welcomes those prepared to venture beyond. Plus, the town of Jasper National Park was recently dubbed North America's "Best Ski Town" in USA Today's Reader's Choice survey.


Start by Exploring Edmonton
Winter. We were made for this.
Here in Edmonton we do winter right. We leave hibernation to the bears and take advantage of the city's boundless outdoor experiences and incredible adrenaline fueled-adventures just waiting to be explored. Winter is more than just a season here. It's in our DNA. From visiting roaming plains bison at Elk Island National Park, to embarking on a cross-country ski expedition in the glorious river valley, Edmonton has something for every explorer.


Your tastebuds will thank you
If you like food, we like you. Edmonton's culinary scene is turning heads internationally— you'll find everything from creative cocktails and craft breweries, to farm-to-table experiences and legendary bakeries. Wear your stretchy pants and get ready for flavours that span far beyond the Canadian border.
Connecting Edmonton & Jasper
From Edmonton, it's a scenic and straight four-hour drive along the historic Yellowhead Highway to Jasper National Park. Don't feel like being behind the wheel? SunDog Tours offers a shuttle that includes many stops at downtown hotels, or check out MagicBus (the only day trip ski tour operator in Edmonton). For current road conditions, review the AMA Road Reports and/or Parks Canada Road Condition Report.


Venture beyond in Jasper, Canada
You have to ski it to believe it
Marmot Basin has the highest base elevation in Canada and over 1600 acres of incredible runs. You'll spend more time flying down the mountain than waiting in lines.

Walk on the wild side
Strap on some anti-slip cleats and take a guided tour through the deepest canyon in Jasper National Park. Breathtaking views and 50 foot long frozen waterfalls await!