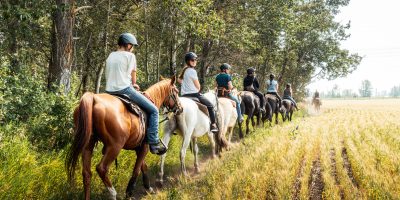 Thunder Ridge Trails Ranch
A scenic country adventure awaits.
Contact Information
Street Address

27072 Township Road 504, Devon, Alberta
What's more relaxing than a horseback ride through a forested ridge?

Thunder Ridge Trails Ranch offers peaceful rides on a beautiful 600+ acre farm. From quiet crop fields to scenic forest trails, horseback riding is the perfect activity for the whole family to take in our province's natural beauty. Whether you're an entry-level equestrian or a competent cowboy, there are many different breeds and sizes of friendly horses that you'll enjoy riding!

Thunder Ridge Trails Ranch is just a short country drive from Devon, Alberta.