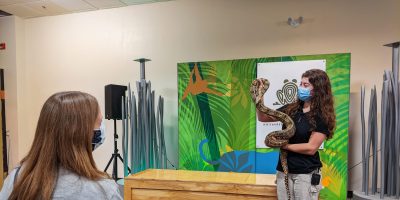 Little Ray's Sloth World & Wildlife Rescue
Hands-on learning with reptiles, amphibians, insects, and more!
Contact Information
Street Address

West Edmonton Mall - 8882 170 St, Edmonton, Alberta
Come face-to-face with a tarantula, observe the leisurely lifestyle of a sloth, and feel the scaly skin of a snake at Little Ray's Sloth World & Wildlife Rescue. Did we mention that there's a sloth??
Located in West Edmonton Mall, this interactive exhibit is perfect for families, couples, and animal lovers of all kinds. Enjoy a group presentation with some animal interaction, watch a feeding demonstration, and check out the animal enclosures for an up close and personal look at these beautiful creatures.

Little Ray's is the largest exotic animal rescue in Canada. Featuring sloths, snakes, tortoises, ferrets, and many other animals, this is the perfect family activity. Don't forget to bring your camera!