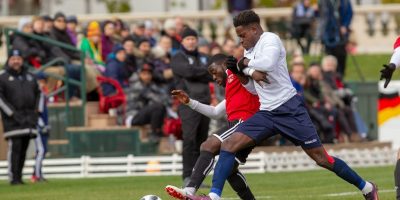 FC Edmonton
Professional soccer is alive and kicking when the blue and white mix it up.
Match ups are fierce and emotions run high when the blue and white FC Edmonton club represents Edmonton in the world's most popular sport. Root on the FC as they score on a header off a corner kick, master the power throw-in, or perform expert free kicks at Clarke Stadium. Stand up and shout when the home team is fouled, and the yellow card flashed. The two 45-minute halves fly by, keeping the excitement as high as the corner kicks. Grab a beer at the concession, wave your flag, and enjoy premier pro soccer with the cheering locals.

FC Edmonton has been the foundation for pro-soccer in Edmonton since 2010 and is now one of eight teams in the new Canadian Premier League. A league by Canadians for Canadians that kicked off in April of 2019. You'll watch them face off against Vancouver Island's Pacific FC, Calgary's Cavalry FC, Winnipeg's Valour FC, Hamilton's Forge FC, Ontario's York 9 FC, Nova Scotia's HFX Wanderers.

You can catch an FC Edmonton game from May to October.

If there's one thing about Edmontonians you can count on, they will always rally.