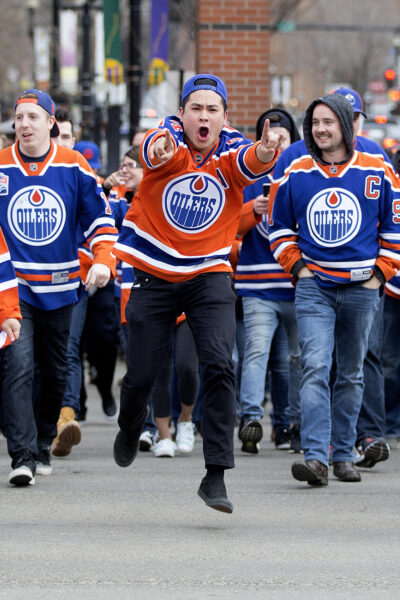 Your Guide to The Edmonton Oilers
The Edmonton Oilers have cemented their place in the records of NHL history with their unforgettable victories and devoted fan base. Witness the hockey hair flowing live and in person at Rogers Place! With a rich history that includes 5 Stanley Cup Championships under their very large sleeves, some of the greatest players to ever lace up their skates, and one of the sleekest barns (hockey arenas) in North America, you're in for a real treat.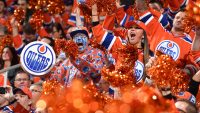 Edmontonians eat, sleep and breathe hockey. Just mention Wayne Gretzky, the Dynasty years, the '06 playoff run, or Connor McDavid to any local and you'll soon be familiar with all things Edmonton Oilers and the quest for Lord Stanley's mug (IE: The Stanley Cup, the championship trophy awarded annually to the National Hockey League playoff winner). Experts at OLBG, the sports community, analyzed and found out which sports teams have the happiest fans based on social activity. These experts found that the Oilers have the second happiest fans in NHL!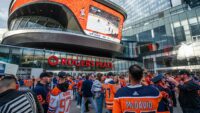 The celly starts here! Hockey season is a non-stop party in Edmonton. Check out the Oilers' home game schedule or cheer with the biggest Oilers fans at watch parties, tailgate parties & more! Head on down to the ICE District: Edmonton's neighbourhood for sports and entertainment in the downtown core. Feel the energy as McDavid scores the game winning goal with just 5 seconds left in overtime.

Tickets and Seating Areas
You can purchase Edmonton Oilers tickets online, via phone or at the Rogers Place Box Office.
There are plenty of seating options in Rogers Place, and not a bad sightline in the arena. You will be able to enjoy your Oilers experience from various different sections.

Die Hard Fans
Do you want to see the sweat dripping down Connor McDavid's face? Do you want to heckle the opposing team until you see their tears splash on the ice? Then the lower bowl sections (100s) are for you. The Oilers and Oil Kings bench is in front of Section 102, and the visitor bench is in front of section 103.

Here for the Party
So, you're the guy who makes it onto the jumbo screen and chugs not one, but two beers in seconds and then proceeds to dance down the stairs? You'll find your fellow party people at the Drink Rail sections located in 101, 104, 105, and 107 and in the Sportsnet Sky Lounge.

Unbeatable Views
For the best views of the ice, check out the Loge seating. With in-seat wait service at the tables, you'll never have to leave your seat and you won't miss any of the action. If you like a birds eye view of the game (and cheaper ticket prices), rows 1-4 in Sections 202, 203, 219 and 220 are stellar spots.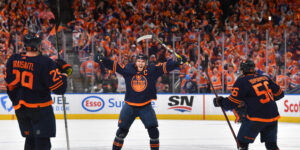 Whether you are walking, driving, cycling, ubering or taking Edmonton Transit, getting to Rogers Place can be a seamless experience with a little bit of planning.

Walking /Biking
Pedestrians can access Rogers Place through the Pedestrian Portal on 103 Avenue and 103 Street that directly into Ford Hall, or via the main entrance on 104 avenue. Additional access is available on the north side of the arena through MacEwan Station and the south east entrance on 104 avenue.
Rogers Place has 35 bike racks that accommodate up to 70 bikes. These bike racks are located on the north side of Rogers Place, near MacEwan Station.
Driving
Between surface parking lots, parkades and City of Edmonton street parking, there are plenty of places to park your vehicle while at an Edmonton Oilers game. Check out Rogers Place's parking guide on their website to discover your options!
Transit
Roger Place is easily accessible via Edmonton Transit, with over 40 bus routes and 5 LRT stations within walking distance of the arena.
Persons with Disabilities
Rogers Place has specified drop-off and pick-up along 104 Avenue, west of 102 Street for Disabled Adult Transit Service (DATS) and tagged vehicles.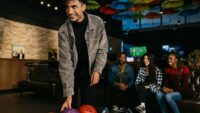 Do talk to those around you.
Do wear your team's colours.
Don't be late. Arriving late causes disruptions to those around you while the game is on.
Don't leave your seats during the middle of a play.
Don't forget to bring a sweater - it's not as cold in the arena as it is outside, but you'll want to be comfortable while you cheer on the Oil!
Do celebrate when the Oilers get a goal. High-fiving your neighbours, fist pumping, and dancing are encouraged!
Get ready for an ear-shattering crowd experience.