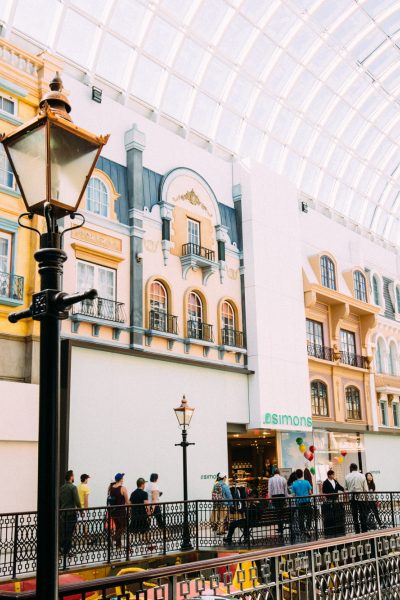 Your Back-to-School Shopping Checklist
Late every summer, thousands of people flock to Edmonton for back-to-school shopping. Here's our guide for the best spots to keep your fashion on point.
Of course, West Edmonton Mall is a one-stop shop with the equivalent of 48 city blocks of shopping, dining, and entertainment. West Edmonton Mall is home to many stores you can't find elsewhere in the city including Anthropologie and Simons. But there are many other great shopping destinations in Edmonton to add to your itinerary.
No one likes to see their favourite shirt being worn by three other people. For unique clothing and accessories that your friends won't find anywhere else, pop into Edmonton's locally owned shops in three bustling districts:

Old Strathcona
Whyte Avenue in Old Strathcona is very popular amongst the independent dressers. With styles covering all walks of life, the stores on and around Whyte Avenue have something for everyone.
Favourite Old Strathcona Edmonton Originals
Gravity Pope has two stores in Old Strathcona: one full of shoes and leather goods, the other with clothing and accessories.
Bamboo Ballroom carries a lot of brands you can't find elsewhere in Edmonton.
Stop at Vivid Print for something new to hang on your wall.
124 Street
124 Street offers plenty of artisan shops and boutiques. All the wandering between stores is sure to build up an appetite. Luckily, you're amongst some of the best independent restaurants in Edmonton.
Favourite 124th Street Edmonton Originals
4th Street Promenade
4th Street Promenade and the surrounding historic warehouse district is home to more great locally owned shops. If you're there on Saturday, visit City Market, Edmonton's original open-air farmers' market.
Favourite 4th Street Promenade Edmonton Originals
For guys who like to step up their fashion game, check out The Helm.
Steps from 104th Street: Stylus downtown is an Edmonton Original with fine pens, notebooks and office supplies you can't wait to pull out of a backpack.
Stop at Credo Cafe and Jacek Chocolate Couture for some tasty shopping fuel.