Things to Do for Valentine's Day in Edmonton
Remember the good ol' days of elementary school when Valentine's Day simply meant passing out little heart-shaped cards to all of your best buddies? No pressure to plan the ultimate romantic date night. Just "I choo-choo-choose you!" and "Let's bee friends". Well, times have changed, and you've got some planning to do.
Whether you're looking to keep things exciting with a long-time love or treat your friends to a virtual pal-entine's day to remember, we've got you covered with this guide to all the epic things to do this Valentine's Day in Edmonton.
No matter how you celebrate, be sure to continue practicing safe physical distancing, frequent handwashing and following the guidelines put in place to keep everyone safe.
Looking for a Valentine's gift that your partner will actually love? Look no further than Edmonton's local retailers and boutiques. Many indie shops offer delivery or curbside pick-up, making gift-giving easier than ever before. Some of our go-tos include Harrow, Red Ribbon, Jaisel, Poppy Barley and The Helm... but that's really just the tip of the local-shopping iceberg.

Think outside the chocolate box and consider giving your love an experience like a virtual cooking class from Get Cooking! On February 14th, former Master Chef Canada contestant Mai Nguyen will guide you through how to make your own bao from scratch. You'll learn how to make and steam your own buns and how to prepare two different fillings too. Hungry yet?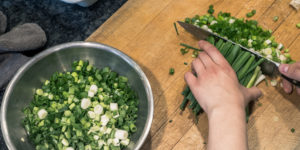 Freeze your Toes, Melt your Heart
Take Valentine's Day to the next level with an outing to Deep Freeze: A Byzantine Winter Fête. Stroll along Alberta Avenue while whispering sweet nothings and holding mittens with your one and only - or take yourself out on a solo date night to remember. We're not judging!
From February 5-14 you can witness ice sculptors bring their chilly creations to life, learn telling tales of worldwide culture, or find your next favourite recipe with Deep Freeze DIYs. It's an experience that is definitely worth getting a little chilly for.

Celebrate with Silver Skate
Take your partner out on a winter adventure with Silver Skate 'Create your own Experience' (February 12-21). Stroll along the Folk Trail, visit the Heritage Village installation, check out the Waiward Snow Sculpture Garden, and of course, lace up your skates and try your hand at a double sow-cow on the frozen lake at Hawrelak Park.

You can also surprise your sweetie with a special gift bag from Silver Skate. They have expertly curated 4 sizes of gift bags filled with incredible locally-made products. Each bag contains an assortment of edible delights and other surprises that everyone can enjoy and you can even add your choice of wine, beer, or a delicious local meal. Sales close on February 9, with pick-up or delivery available from February 11-12.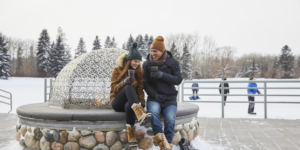 A Rapid Fire Kind of Love
Test out your loved one's sense of humour with a virtual Rapid Fire Theatre show. This world-renowned improv troupe has been making Edmontonians laugh their butts off since 1980. They are currently offering a selection of free digital improv shows, live-streamed through their YouTube channel. Turn the lights down low, cozy up on the couch (or lay out your bearskin rug) and get ready to laugh until you cry. Hopefully, your partner appreciates your sensitive side!
Edmonton is overflowing with award-winning restaurants that are perfect for special occasions. Check out Uccelino for some the best Italian dishes you've ever savoured in an elevated atmosphere. Head to Bianco for the perfect pairing of craft cocktails, a curated wine list and fire roasted pizza. Or get romantic and book a table in the geodome rooftop patio at Boxer Alberta Kitchen & Bar. As restaurants reopen, be sure to continue following the guidelines put in place to keep everyone safe.
Many restaurants are also offering delivery or curbside pick-up, so you can enjoy a world-class meal in the comfort of your own home. Cruise through this list of restaurants that deliver and get those napkins ready. Wherever and however you dine, make sure you save room to share dessert!
Join EdmontonEats for Honey Bee Mine, a virtual honey-sweetened weekend full of online cooking demos, learning, fun and connection (February 12-14). Guests will receive recipes and prep lists prior to the weekend as well as a locally curated Honey Kit which will be used for the recipes you'll create with the help of Chef Cindy Lazarenko and other special guests. You also have the option to add on a unique flower arrangement from Design By Yourself to put the finishing touch on a wonderful Valentine's Day experience.
Get swept away by a classical concert, brought straight to your living room courtesy of the ESO Virtual Stage. This recently-launched program is a digital subscription featuring new, exclusive virtual content from the Edmonton Symphony Orchestra. Your subscription includes access to up to 12 videos of varying lengths, featuring talented ESO musicians. Show your love how classy you are (as if they didn't already know!) with an evening to remember.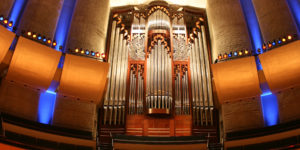 Make 80's Tom Cruise Proud
Looking to take your cocktail game to the next level? Ok, if you haven't seen the classic eighties movie, the title of this section might not make a lot of sense. But that's ok, we're moving right along here. Chef Table Living is now offering a new way to experience and support local restaurants by bringing you Local Chef Cocktail Kit Boxes. Included in the kit are all of the bottles and ingredients needed to create these advanced cocktails, as well a 30-minute video from a local chef taking through how to make their inspired libation. Cheers!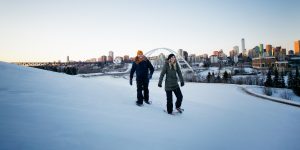 Sweetheart Boxes to Swoon Over
Black-Owned Market Edmonton has launched their first Sweetheart Box! These special boxes are a unique way for you to support small local businesses with curated and semi-customizable gift sets for you or your loved ones. The boxes are suited for all genders and come in a variety of sizes/price points, making it easier than ever to give the gift of local love.
The Black-Owned Market uplifts the Black community including Black creatives, entrepreneurs and businesses. BOM YEG supports local businesses by increasing their visibility to the Black community and the Edmonton community at large.
The best way to a person's heart is their stomach, and lucky for us, Edmonton's bakeries deliver the goods... baked goods that is. Stunning cakes, beautiful macarons and creative cookies are all on the menu. Here are just a few of our favourites.

Ordering something extra special? Make sure you check the lead time on items like personalized cakes or gift baskets and be sure to order early!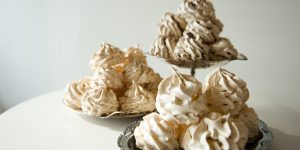 Spouses, friends, lovers, family, and everything in between - love comes in all shapes and sizes. This Valentine's Day you are invited to celebrate all forms of love with Living Room Love Songs presented by The Citadel Theatre. This virtual concert features renowned local artists Nuela Charles, Michael Bernard Fitzgerald, John Wort Hannam, Tara Jackson, Audrey Ochoa, and Farren Timoteo. Plus, you'll be supporting Edmonton's incredible local theatre community who could use a little love right now too!
We've already highlighted a few options above, but we gotta say, ordering a specialty box is a great way to support local from the comfort of your own home this Valentine's Day. You'll find everything from expertly curated gifts and meal kits to hand-made treats and other artisan items. Pro-tip: take a cruise through Instagram and check out your favourite local business' page for the latest updates on their unique offerings, and pay attention to order cut-off dates!
Date Night Under the Stars
Put on your snow pants and toque, round up your favorite person, and plan to enjoy some unique winter fun this Valentine's weekend at the University of Alberta Botanic Gardens (Feb 13-14). In a weekend filled with activities aimed at grownups, you can embrace the beauty of winter, play a little, and indulge in a one-of-a-kind outdoor dining experience. This is date night with a twist – let your inner child out to play and have some fun, while also enjoying the traditional elements of a date night out – a stroll through a beautiful winter garden, live music for ambiance, and incredible food and beverage options.