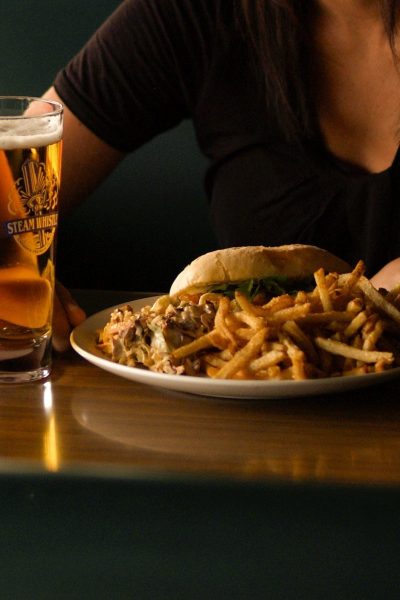 Top 5 Burger Joints
When in Rome… but you're not in Rome, you're in Edmonton! So do like the Edmontonians do and enjoy a delicious burger made with Alberta Beef. Is there something special, something magical about the beef from Alberta? Yes, there is, and you'll understand what we're talking about when you try a burger at one of Edmonton's best burger joints. Fasten your seatbelts, pull out your Google Maps and save these burger destinations to your favourites because you're going to need a few days to hit them all.
You'd be forgiven for thinking that local favourite MEAT would have the delicious burgers, but while they do have some very tasty sandwiches, it's their sister restaurant next door, The Next Act Pub, that you need to add to your burger bucket list. Perhaps nowhere in Edmonton has a better reputation for burgers as The Next Act Pub. Try classics like the PB&J (that's right, peanut butter and jelly on a burger) or opt for the Drama Queen, one of the best veggie burgers in town.
1st RND's burgers are a total home run. This sports bar should be your number one pick when it comes to watching the big game and chowing down on a delicious burger. Be sure to try one of their creations featuring unique toppings like perogies, hummus or donair. Don't see the burger you're craving? Then build it your way to get a hole-in-one.
If you need a break from delicious Alberta beef (though we're not sure why you ever would), try the Lamb Burger at The Sugarbowl. A classically-made, no-frills burger, Sugarbowl's offering lets the locally sourced meat and fresh veggies speak for themselves. To top it off, wash that tasty burger down with an ice cold beer because they've got one of Edmonton's best craft and Belgian beer lists. Cheers!
Have you experienced a bad burger and now you're looking for a little meaty redemption? Stop in at The Burger's Priest where delicious meat becomes a religious experience. Don't worry, all denominations are welcome to this casual eatery. Ask about the secret menu if you're a true believer in the church of beef. Can we get an Amen?
The restaurant, formerly known as The Silk Hat and now more concisely as The Hat, is one of Edmonton's oldest having first opened its doors in 1912. A somewhat more recent addition to their menu, their burgers are the culinary stars here. Opt for the Signature burger and don't skip on their classic fries.