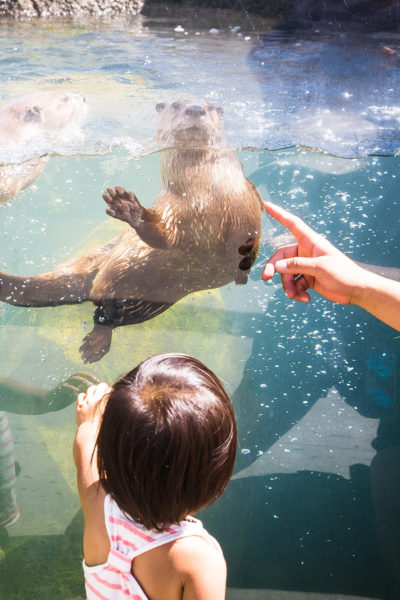 Things to Do with Kids this Spring
They've watched their favourite morning TV show, finished a whole colouring book and placed the last piece of that 1000 piece puzzle you found in the attic. They've even written, directed, costumed, produced and starred in their own touring puppet show (including a sold-out performance in the living room). Now what?

Read on for a list of fun things you can do as a family that will keep growing minds entertained for hours to come. We've even included some activities to keep the kiddos occupied while you take that very important Zoom meeting! You've got this parents. We believe in you.

Remember to continue practicing safe social distancing and frequent hand washing!
Take your little explorer on a quest for the Golden Key with the Commonwealth Walkway App! Using the downloadable app, you'll explore the river valley while reading and listening to one of five storylines (Indigenous, History, Family, River & Winter). As you get closer to the clues throughout the walkway, an icon will appear on your virtual map. Then it's up to you to solve. Will you find the final clue? If you do, the virtual Golden Key isn't far off. Learn little-known facts about Edmonton and it's vibrant story while satisfying your thirst for adventure.
Embark on a learning adventure with Discover Coding! This locally founded program helps kids develop essential skills to be successful in an increasingly digital world. They make computer coding fun! Next thing you know, they'll be launching the app of the future and riding around Silicon Valley in a Tesla.
Become an at-home scientist
TELUS World of Science - Edmonton has launched a series of virtual tutorials to help you become a mad scientist from the comfort of your own home. These awe-inspiring experiments can be done using everyday household items and make for a perfect afternoon activity for little kids and big kids alike. Try creating a bouncy egg or writing secret messages in invisible ink. Just make sure you use your new-found knowledge for good (insert mad scientist laugh here)!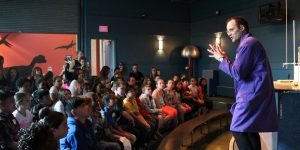 Get Learnin' with the Library
The Edmonton Public Library's EPL from Home program is packed with resources to help children continue learning (and having fun) while school is out for the season. You can also check out their YouTube channel for a series of playlists ranging from singalongs to storytime, puppet shows and more. The library even offers a selection of over 300,000 ebooks and other great online content for everyone from kids to adults. All you need is a library card (which you can get online too)!
Calling all animal lovers! The Edmonton Valley Zoo is reopening for outdoor experiences - now that's something to roar about. Come say hello to the many creatures that call the zoo's al fresco spaces home. Advanced booking is required as this iconic attraction is operating at a limited capacity. Don't worry, washrooms will be open and you'll find a selection of food & drink items available onsite too! What a hoot!
Founded by an Edmonton mom and entrepreneur, Intellidance is a unique series of research-based creative dance and music programs that foster critical development in children from babies to age 5. While live classes are on hold for now, you can check out their YouTube channel for an amazing suite of videos to follow along to. Your little buddy will love getting groovy with these online lessons!
Do you have teenagers in your house? Love watching Master Chef as a family? Get Cooking offers a series of online and in person classes that are perfect for you and your teen to try together. This is a great opportunity for young adults to expand their culinary expertise before heading off to college. You can't eat ramen for every meal, after all. Hot cross buns, homemade pasta, roast chicken and more are all on the menu!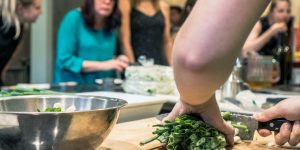 Get Inspired by Indigenous Artisans
Kids will love learning and creating with Edmonton's trailblazing Indigenous artisans. Lance Cardinal from Soulflame Creative has launched a series of kids craft tutorials that you can watch live on Facebook and Tiny Sunshine Beads is providing online beading classes that you can try from home. Brighten up their day with Colouring it Forward's Indigenous Colouring books, available for purchase on their website!
Find your Reading Rainbow
Whether your child is just learning the ABCs or diving into riveting novels for the first time, reading is a great way to embark on an adventure without stepping out of your front door. The Glass Bookshop & Audreys Books are offering delivery throughout the city, so you can support local while encouraging your child to expand their mind through literature. Comic book fans can have their favourite series delivered from Happy Harbour Comics or Variant Edition Comics. Take a look, it's in a book!
The Young Alberta Book Club has been fostering a love of reading since 1983, and they're continuing to bring Alberta's talented authors together with students on their YouTube channel. Older kids will love getting writing and storytelling tips from experts in the field, and little ones will enjoy hearing action-packed stories read aloud by their favourite local authors. Who knows, you may have an award-winning author in the making living right under your roof!

Treat the littles to some tasty snacks from local bakeries like Sugared & Spiced, La Boule, Duchess Bake Shop or Cookie Love. Many Edmonton bakeries are offering pick-up or delivery, so the whole family can satisfy their sweet tooth while supporting local from home. Then, you can use the rest of these activities to alleviate the dreaded sugar rush!