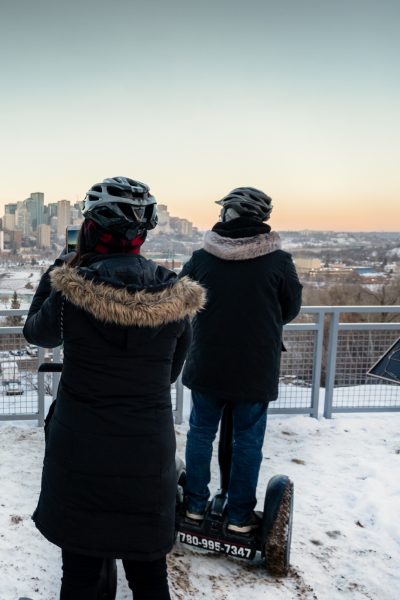 Things to do in January
Welcome to 2019! We have a busy year ahead of us with a full calendar of exciting events and festivals taking over Edmonton, and January kicks it off with a bang! While the weather may be more crisp this time of the year, that doesn't mean we huddle up inside and wait for it to pass. No, we get outside and embrace Mother Nature in all her glory. Here is a quick snapshot of some of the fun events happening in January.
For Those Who Do Winter Differently
Kick it up a notch at Deep Freeze: A Byzantine Winter Festival. Celebrating Russian/Ukrainian "Olde New Year" you'll be thrust into authentic cultural and heritage fun all in the name of embracing the northern climate. This family-friendly festival includes snow wagon rides, winter mini golf, street hockey, and the famous deep freezer race – just to name a few. Get ready for a true Canadian winter festival! Plan to spend at least one full day at this activity-packed winter celebration.
January 12-13
Living in a winter parad-ICE
When the temperature drops the ice doesn't stop! This month, the Ice Castles have appeared in all their glory at Hawrelak Park, and they are more magical than ever. This acre-sized castle may leave you with cold toes, but it will surely melt your heart. Channel your inner Elsa and explore the winter wonderland as you walk and even crawl through parts of the stunning, Narnia-like display. The millions of icicles sparkle a glacial blue by day and give off an impressive glow at night as thousands of LEDs illuminate the ice. Your Instagram followers will be jealous.
January - early March (weather permitting)
Embark on a Magical Voyage
Canoeing in the winter is tough, but fortunately, the Flying Canoë Festival has resolved that problem with, well, flying. Venture through a beautifully lit trail system deep in the forest as you take part in the French-Canadian and First Nations legend told by various canoeists along the way. You can also check out the outdoor DJ, snow slide and ice bar.
January 31-February 2
The competition heats up when the temperature drops
Grab winter by the snowballs and hit up Ice on Whyte this January! Pick your favourite at the International Ice Carving Competition, slip your way down a massive ice slide, try your hand at some ice carving or sip on some hot chocolate and devour s'mores. This festival is a wicked combination of ice and art – in fact, 96,000 pounds of ice.
January 24-27 & January 31-February 3
Northern lights and prairie nights
The ultimate outdoor experience awaits at Elk Island National Park! Drive just 35 minutes east of Edmonton where you'll take your winter adventure to the next level. If you had "winter camping," "ice skating on Astotin Lake," or "snowshoe and stargaze" on your bucket list, then you're in luck. You can now kill two birds with one stone and cross those activities off the list while simultaneously sticking to your new year's resolution of staying fit in 2019!
The internationally acclaimed ballet company, Ballet BC, is returning to the Jubilee stage after a 10-year hiatus. This evening of extraordinary dance includes a triple bill performance created by some of the most celebrated choreographers of our time. You'll be in awe of their fresh take on the traditional art form as they beautifully, and brilliantly fuse ballet with modern dance. You don't want to miss this performance.
January 22-23
American country music artist, Dierks Bentley, is coming to Edmonton and he's bringing Jon Pardi, Tenille Townes and Hot Country Knights with him! You'll hear favourites like "Different For Girls," What Was I Thinkin'," and the 2014 smash hit "Drunk on a Plane."
January 24
Cold Weather? Snow Problem
Segwaying is the most fun you'll have on two wheels this winter! Zip through the picturesque river valley with your tour guide, where you'll explore Edmonton's vast river valley trail systems. Catch breathtaking views of the city and hear a few insider tidbits about Edmonton's history and hidden gems along the way.
Hot tip: Be sure to dress warm, as zipping around those trails can get chilly, but we promise you'll feel cool as ice.
If you're unfamiliar with the hockey rivalry between the Edmonton Oilers and the Calgary Flames then you're in for a real treat. Catch the two teams battling it out on January 19 and see Canadian hockey in all its glory. Can't make it to that game? No worries. Between the Edmonton Oilers and our WHL team the Edmonton Oil Kings, there are 13 opportunities to catch the action in January!
Various dates
Everybody get up it's time to slam now! Get your Hanes on, lace up your Nike's, grab your Gatorade, and pump up the jams because the Harlem Globetrotters Fan Powered World Tour is coming to town! The world-famous Harlem Globetrotters consist of some of the most electrifying athletes on the planet and feature a star-studded roster including Lofton, Ant Atkinson, Hi-Lite Bruton, Hammer Harrison, Thunder Law, Bull Bullard, Cheese Chisholm, TNT Lister, Torch George and Hoops Green. Seriously, we could go on.
January 26