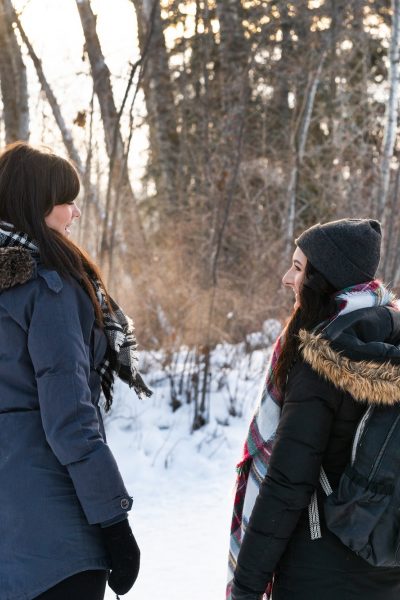 Things to Do in Winter in Edmonton
Throw on some warm layers, and don't forget your mittens. Yes, winter in Edmonton is chilly, but it most certainly isn't boring. Fill your calendar with the season's must-dos and get ready to feel the magic that only a fresh snowfall can bring. We're talking thrilling attractions, frosty events, northern experiences, outdoor adventure and more!

No matter how you explore, be sure to continue practicing safe physical distancing, frequent hand washing and following the guidelines put in place to keep everyone safe.
Festivals That Bring the Chill
Just because the temperatures drop, doesn't mean the fun has to stop! Make sure you add these outstanding winter festivals to your calendar:


All is Bright takes over 124 Street with outdoor concerts, fire pits, roving performers and more. This is a scorcher of a street party in one of Edmonton's coolest neighbourhoods. (November 20)

Luminaria is your chance to escape to a quiet oasis of peace and light at the stunning University of Alberta Botanic Gardens. (November 27-January 9)
Zoominescence lights up the Edmonton Valley Zoo and brightens up the night with adorable creatures around every corner. (Select dates between December 3-January 2)
Deep Freeze celebrates the "Olde New Year" and embraces our northern climate by melding artistic panache with authentic cultural and heritage winter games and fun. (January 14-23)
Flying Canoe Volant is an interactive cultural experience where you can channel your inner voyageur with music, legends and a dance party in the middle of the forest! (March 1-5)
Silver Skate is one of Edmonton's most legendary festivals, and it's making its way back to Hawrelak Park this February. Here, you can experience epic folk trails, a snow-sculpture garden, winter sport and so much more. (February 11-21)
Ice on Whyte showcases some of the best ice artists in the world in a competition of creativity and skill alongside an incredible festival that's fun for the whole family. (January 27-February 6)
Skirtsafire is Edmonton's only theatre and multidisciplinary arts festival featuring women-identifying and non-binary artists. Spoken-word, theatre, dance, visual art and music will lift your spirits this season! (March 3-13)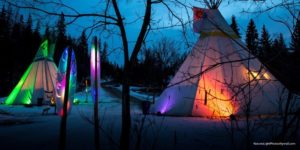 Celebrate the season with some of the city's most joyful holiday events! For more festive offerings, check out our event calendar.


Canadian Tire Magic of Lights - ooh and ahh as you take in 2.5 kilometres of vibrant LED lights celebrating the joy of the holidays. The event is an enchanted "drive-through" experience complete with a jolly radio station you can tune into from your car. (November 19 - January 8)
Downtown Holiday Light Up - Head to the heart of the city to create lasting memories at downtown Edmonton's must-see holiday destination! Visit the massive tree any day of the week, or check out the exciting programming happening every other Saturday. (November 20-January 2)
Glow Holiday Festival of Lights - Head to the Edmonton Expo Centre and experience the magic of the holidays with thousands of twinkling lights. This indoor festival features towering light gardens, glowing activities, an artisan market, delicious food, and more. Let it glow! (November 24 - January 2)
Edmonton Christmas Market - Struggling to find the right Christmas gifts? Not a problem. Enjoy over 50 local vendors, holiday activities, and amazing food and drinks at this festive event. (November 26-28, December 3-5 at Army & Navy Department Store. December 8-12 at Fort Edmonton Park)

A Christmas Carol - Don't miss this local tradition at the Citadel Theatre. This show is packed with your favourite Christmas tunes and is sure to put you in the holiday spirit. Silent night? Not even close! (November 27 - December 23)
Holiday Market at the River Cree - The first annual Holiday Market at the River Cree, presented by Enoch Cree Nation, will showcase First Nation & local artisans, vendors & much more. This is the perfect time to check some items off your gift-giving list! (December 3-5)

Shumka's Nutcracker/Alberta Ballet's Nutcracker - Experience two different Nutcracker traditions that will enchant the whole family. Alberta Ballet's Nutcracker runs from December 2-5, and Shumka's Nutcracker runs from December 17-18.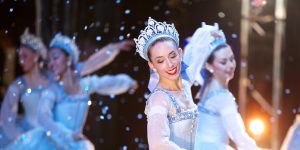 The Best Shoe is a Snowshoe
Picture yourself crossing a frozen, snowy lake as the knock-knock-knock of a woodpecker echoes from the forest beyond. If it's daytime, you might get lucky and spot a bison plowing through the snow and at night, there's the prospect of spotting the northern lights. Strap on a pair of snowshoes and you're off on an exhilarating day trip through Elk Island National Park. Visit the Elk Island National Park website for snowshoe rental availability and for information on snowshoe tours & programming.

Big adventures need big shoes! Explore our very own winter wonderland located right in our backyard with Haskin Canoe and their snowshoe tours within the city. Edmonton's vast and glorious river valley is 22 times the size of Central Park, with over 150 Kilometres of trails just waiting to be explored.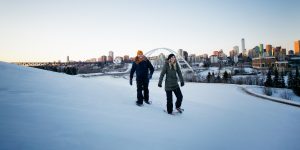 Edmontonians. Love. Hockey. But we didn't need to tell you that. We fill Rogers Place even if we're watching an away-game on the jumbo-tron. Join the crowd in orange and blue at an Oilers game, or cheer on the future stars of the NHL at an Edmonton Oil Kings game. Rogers Place is unlike any other arena you've been to before – what better way to watch as Draisaitl buries one with seconds left in the third?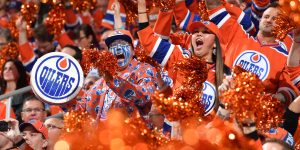 Most people think summer when they think Segway. Pictures of sunny days and green grass come to mind. Well, in Edmonton the sunny days stretch into the winter and so does our Segway season. Explore North America's longest continuous trail systems in the heart of Edmonton's river valley with River Valley Adventure Co. It's where the bold traveller breaks off from the beaten path and makes their way into the wild no matter the weather.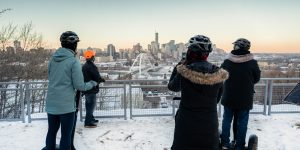 If one of your favourite sounds isn't of a skate gliding across the ice, then you're living your whole life wrong. Breathe in the crisp air as you drift across a glassy-smooth sheet and watch the snow spray as you skid to a stop. Hawrelak Park (9330 Groat Road), the Victoria Park Oval (12130 River Valley Road), and Rundle Park (113 Avenue and 29 Street) are just a few of the city's outdoor skating rinks (Or ODR's as we like to call them). Stay tuned for updates on skate rentals as they are announced for the season!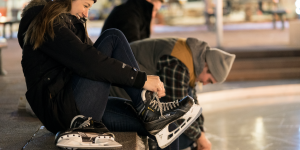 You have to ski it to believe it
As snowflakes fall through the crisp winter sky, take a deep breath, and get ready to feel your energy soar as you take on a Snow Valley Ski Club run. If you've never been on a pair of skis or a snowboard, or are eager to learn more, Snow Valley Ski Club is a great place to gain confidence over 20 acres of skiable terrain. The perfect winter activity for the whole family!

Located in the river valley, directly across from downtown Edmonton, the Edmonton Ski Club is a true urban snow sports learning centre. The Edmonton Ski Club boasts 25 skiable acres of machine-made pristine groomed snow, offering runs for beginner and advanced skiers and snowboarders as well as a mogul run and Terrain Park.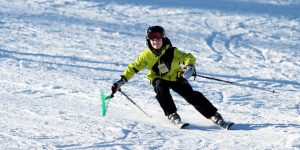 Métis Crossing is the first major Métis cultural interpretive centre in Alberta, sitting on 512-acres of land designed to engage and excite visitors. Take a day-trip to Métis Crossing and discover how the Métis lived as trappers, learn about historical families and their homes, understand how plants are used as medicine and much more. Stay tuned for new experiences coming soon including a Boutique Lodge, the Visions, Hopes and Dreams Wildlife Park, Cross Country Ski Trails and Whispers from the Stars Stargazing Experience.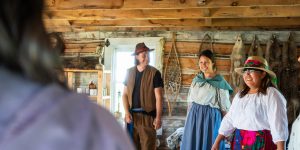 Stop in for a hot chocolate at a local coffee shop like Square 1 Coffee, Credo, or Little Brick, then embark on your own adventure through the winding trails of the North Saskatchewan River Valley. Bundle-up and wear a good pair of winter boots, then head off on a serene walk through a natural oasis in the middle of the city. Cruise on over to our 4 Trails to Try this Winter article for some great places to start! Check out the Commonwealth Walkway App's interactive winter storyline to take your adventure to the next level.