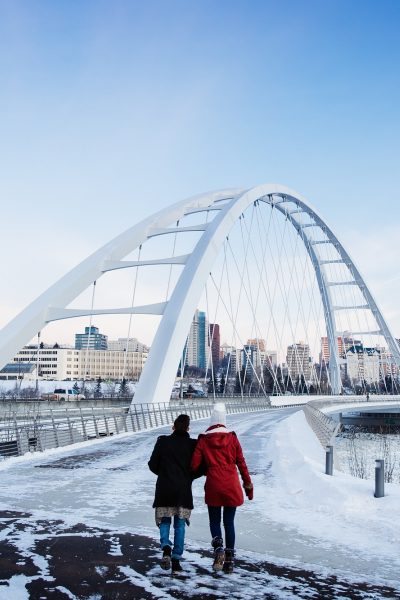 Things to Do in January in Edmonton
Ahh, January. Not only is it time to start thinking "new year, new you", it's also "new year, new to-do list"! That's right, 2022 brings us a fresh opportunity to take hold of our New Year's resolutions - which might include checking out some of the local experiences that we always see on our friend's Instagram stories, but maybe have never attended in person. Here's a handy guide to help you make sure that the first month of the year is full of memory-making and winter fun!

No matter how you explore this month, be sure to continue practicing physical distancing, frequent handwashing and following the guidelines put in place to keep everyone safe.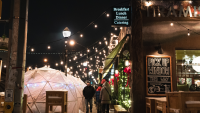 Exhausted from all that holiday cooking? Let a restaurant take care of the cooking for you this month! We've got tons of amazing places to eat across the city, and many of them have winter patios for a unique outdoor dining experience.

Craving some carbonara? Enjoy the scrumptious Italian cuisine of Tiramisu Bistro in their heated patio igloos! These adorable domes on 124th Street are the perfect setting for a romantic date night or a special occasion.
If you're out skating, skiing, or hiking at Hawrelak Park, fuel up with a coffee and some hot eats at Culina on the Lake. Burgers, hot dogs, and other classic bites are the perfect fuel for winter adventures, and the outdoor fireplaces make for an amazing winter patio.
Café Bicyclette has one of the city's most iconic winter patios, perfect for enjoying a warm coffee and pastry. Plus, their new menu uses unique local ingredients and is absolutely to die for. Make sure you come with your appetite in tow!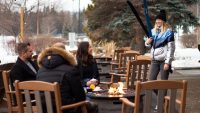 Don't let Jack Frost keep you inside this season! Embrace the outdoors with hot drinks and live entertainment at Winter Valley Warmup, hosted at The Greenhouse restaurant at Victoria Golf Course. Sip on hot cocoa (or a few cocktails), warm up by the fire, and enjoy live music from local Edmonton artists, all while surrounded by breathtaking river valley views. Hosted every Friday night in January, this event is sure to keep you cozy all month long.
Select Dates, December 17-January 28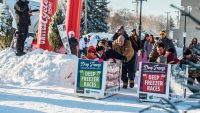 An authentic mix of Ukrainian traditions, Francophone history and Indigenous cultural performances all blend harmoniously together; Deep Freeze: A Byzantine Winter Festival is not to be missed. This weekend of stories, games and fun includes a wide selection of food, light installations, and ice sculptures - and that's just barely scratching the surface. You won't have time to get cold - a day spent at this winter celebration will keep you moving for hours! Check out the excitement at Borden Park and Pipon Village (92 Street and 118 Avenue).
January 14-23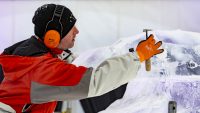 Check out the competition at Ice on Whyte this month! Artists from all over the world gather in Edmonton to create stunning ice carving sculptures for us to marvel at (until the temperature decides otherwise). Hang out in the ice bar for a chilled beverage or a cup of hot coffee to warm your hands. You can even take your own ice carving lessons with Lil' Chippers (for kids) and Big Chippers (for adults).
January 27-February 6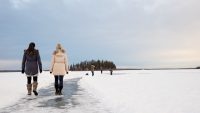 All that a glorious winter has to offer is just a 35-minute drive from downtown! If you're into outdoor winter sports, hiking, stargazing, or snowshoeing, Elk Island National Park has it all. Book a guided snowshoe tour with Talking Rock Tours to discover little-known facts about the park and its wildlife, or take matters into your own hands and ice skate on Astotin Lake for hours.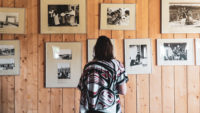 Métis Crossing is back, and open to the public! Take a day trip and discover how the Métis lived as trappers, learn about historical families and their homes, understand how plants are used as medicine and much more. Take in inspiring experiences including the 'Visions, Hopes and Dreams Wildlife Park', the horse-drawn wagon ride and 'Tales from the Trapline'. There is so much to discover!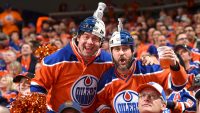 Going to a sporting event in person is always a good time, even if you don't know all the rules. Luckily, Edmonton has an overwhelming amount of hockey action for you to cheer for! Catch the Edmonton Oilers or the Oil Kings as they race to win their respective divisions. Between the two teams, you'll find plenty of slapshots and penalties to make for an action-packed January.
Various Dates in January
Legislature Lights Segway Tour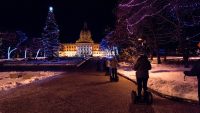 Cruise into the new year with a magical Legislature Lights Segway Tour! Experience the beauty of thousands of colourful holiday lights and learn the rich history of Edmonton's capital all onboard your very own Segway. Don't forget your camera - the twinkling lights and charming skating rinks are the perfect place to snap a photo. This is a classic Edmonton winter experience, and we can't think of a better way to take it all in than on a guided tour with River Valley Adventure Co.
December 5-January 31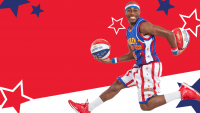 You don't want to miss the unrivalled giants in the family fun entertainment game – The Harlem Globetrotters are taking over Rogers Place on January 9! This incredible show gives you the chance to get face-to-face with the world-famous crew. You can't help but laugh along with their action-packed basketball game filled with pranks and hilarious hi-jinks. Get your tickets today, a Globetrotters show is unlike any other.
January 9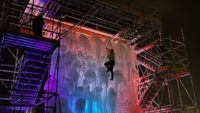 This winter adventure will take you to cool new heights! The ACC Edmonton Ice Wall is one of Edmonton's newest attractions, and it's the perfect activity for frosty thrill-seekers. Strap on some climbing gear and ascend a towering wall of ice like the fearless explorer you are. The wall even lights up at night, adding a touch of magic to your expedition! Located at the Edmonton Ski Club in the heart of the river valley, this is a frozen adventure you'll never forget.
An Evening at the Symphony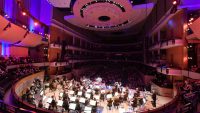 For a special outing with your special someone, you've got to check out the Edmonton Symphony Orchestra at the Winspear Centre. Concerts feature a wide range of repertoire: classical masterworks, hip-hop, pop, and even cinematic favourites. Pair your evening out with classy cocktails at Woodwork, Alchemy, Bianco or Pablo for the ultimate date-night experience.
Various Dates this Month