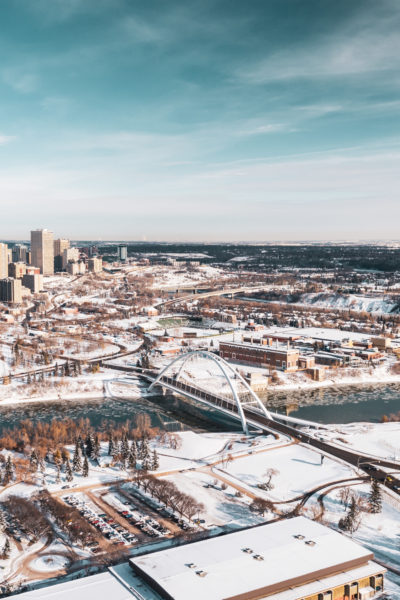 Things to Do in January in Edmonton
See you later 2020, there's a brand new year in town! We've finally made it and it's time to celebrate with a month chock-full of outdoor activities, virtual events and physically distant things to do. Grab your mittens, a good pair of winter boots and your best parka then get ready to make Old Man Winter proud. Let's kick off 2021 with a bang!

No matter how you explore this month, be sure to continue practicing safe physical distancing, frequent hand washing, and following the guidelines put in place to keep everyone safe.
Get ready to cheer! The excitement of the IIHF World Junior Hockey Championship is coming to Edmonton's iconic arena, Rogers Place. The most exciting hockey of the season hits the ice from December 25 to January 5. And, the Oilers hit the ice for their first game of the 2021 NHL season on January 13. While watching the games in person isn't possible this year, they will be broadcast for you to enjoy from the comfort of your home. Order in some game day grub and set yourself up from an epic game day experience!
New Year's Resolution? Support Local!
Support local and conquer your new year's resolution all at once! It's a real win-win situation. Countless local fitness studios are taking things online with classes and tutorials on Youtube, Instagram Live, Facebook Live or Zoom. Check out the Mindbody App for many bookable classes, and tune in on social media for live class announcements.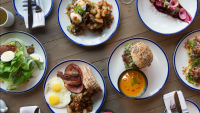 You've worked out, now it's time to indulge! It's about balance, people. Many of Edmonton's iconic restaurants offer take-out, curbside pick-up or delivery. Devour a delicious meal from your own kitchen table and support local eateries while you're at it. Use restaurant provided delivery when you can since it keeps more money in the pockets of Edmontonians, but Skip the Dishes and Uber Eats also have a variety of local options.
Chelf Table Living is now offering a new way to experience and support local restaurants by offering Local Chef's Kit Boxes and Local Chef Cocktail Kit Boxes. ​Throw on an apron, grab a glass of wine and let local chefs teach you the skills that can help you create mouth-watering gourmet meals from the comfort of your home. Included in the kit is a 30-minute online video from the featured local Chef taking through how to make their inspired dish.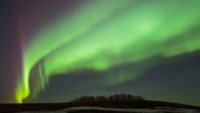 All that a glorious winter day has to offer is just a 35-minute drive from downtown! If you're into hiking, stargazing, wildlife viewing or snowshoeing, Elk Island National Park has it all. Ice skate on Astotin Lake during the day, then gaze up at the glorious night sky after the sun sets. Elk Island is a part of the Beaver Hills Dark Sky Preserve, meaning that you may even get lucky enough to catch nature's greatest light show, also known as Aurora Borealis.
Home Theatre has a New Meaning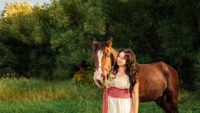 The Citadel Theatre presents Mary's Wedding, a livestream theatrical experience that you can enjoy from your own living room. Tomorrow, Mary is to be wed. Tonight, she dreams of her beloved Charlie and the tale across time and seas that brought them together. In this new look at a Canadian classic, witness a love like no other from the Alberta prairies to the battlegrounds of World War I.
Bonus: you can also purchase the full Horizon Series LIVE! streaming pass and catch Mary's Wedding plus pre-book streaming for Heaven and see A Brimful of Asha before it's gone January 10.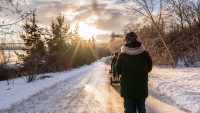 Take your love of winter walks to the next level and hop on a guided segway tour with River Valley Adventure Co. You'll tackle trails you never knew existed with a knowledgeable guide who will leave you with info about the river valley and nifty historical facts. We recommend layering up in warm clothing to keep you nice and cozy throughout the expedition.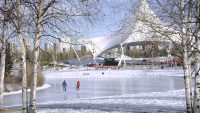 Lace-up your skates and channel your inner Brian Boitano as you drift across a glassy-smooth sheet of ice. Edmonton has countless outdoor skating rinks just waiting to be explored. Hawrelak Park (9330 Groat Road), the Victoria Park Oval (12130 River Valley Road), and Rundle Park (113 Avenue and 29 Street) are just a few places where you can knock out a triple axel or two.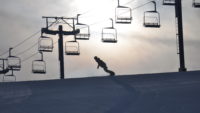 Whether you're a seasoned skier or new to the slopes, Edmonton's ski hills are perfect for brushing up on your skills. Located in the river valley, the Edmonton Ski Club is a true urban snow sports learning centre. The Edmonton Ski Club boasts 25 skiable acres of machine-made pristine groomed snow, offering runs for beginner and advanced skiers and snowboarders as well as a mogul run and Terrain Park.
Ride the slopes at the Rabbit Hill Snow Resort, the largest ski and snowboard resort in the Greater Edmonton Area! Located 15 minutes South West of Edmonton, it is a great escape from the city for the day or even an evening of night skiing. Get ready to feel your energy soar as you take on a Snow Valley Ski Club run. Snow Valley Ski Club is a great place to gain confidence over 20 acres of skiable terrain. The perfect winter activity for the whole household!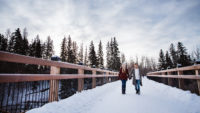 Stop in for a warm drink at a local coffee shop then embark on your own adventure through the winding trails of the North Saskatchewan River Valley. Bundle-up and wear a good pair of winter boots, then head off on a serene walk through a natural oasis in the middle of the city. Check out the Commonwealth Walkway App's interactive winter storyline to take your adventure to the next level. Looking for some more trails to get you started? Click here.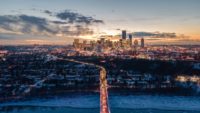 The Downtown Business Association has unveiled six new light installations across the core that you can discover on your own self-guided tour. Visit the Downtown Holiday Light Up window installations for a safe outdoor activity that you can do with your household while shopping at downtown retailers or picking-up takeout at nearby restaurants. The installations are up and waiting to be discovered until January 8 and a printable self-guided tour map is available on the DBA website!
Take a Look, its in a Book!
As snowflakes fall gently outside, snuggle up in a cozy corner with a hot cup of tea and a book, and you've got yourself a discount ticket to adventure, romance, and intrigue. The Glass Bookshop & Audreys Books are offering delivery throughout the city, so you can keep turning pages long after you've burned through your personal collection. The Edmonton Public Library also offers a selection of over 300,000 ebooks and other great online content for everyone from kids to adults. All you need is a library card!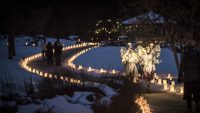 Luminaria has been extended to the month of January! A short forty-minute drive from downtown Edmonton you'll find the University of Alberta Botanic Garden — the largest botanical garden in the province. When the snow falls, the garden transforms into a true winter wonderland with snow sprites, glowing light sculptures, musical performances and more. Book your tickets in advance to avoid missing out!
December 1-January 31