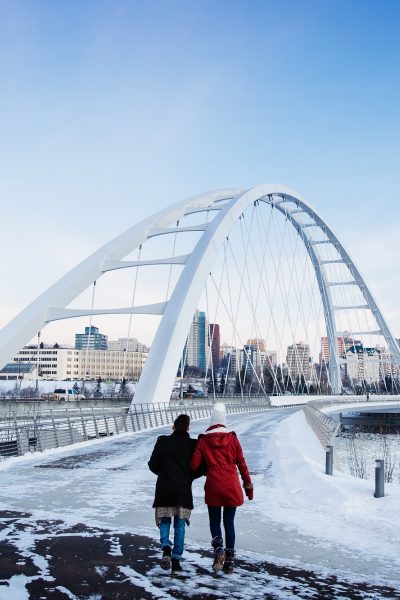 Things to Do in January in Edmonton
Ahh, January. Not only is it time to start thinking "new year, new you", it's also "new decade, new to-do list"! That's right, 2020 brings us a fresh opportunity to really take hold of our New Year's resolutions and make the changes we've been meaning to make. Some of those changes should definitely include checking out the Edmonton offerings that we always see on each other's Instagram feeds, but maybe have never attended in person. Here's a guide to make sure the first month of the new decade is full of memory-making and winter fun!
An authentic mix of Ukrainian traditions, Francophone history and Indigenous cultural performances all blending harmoniously together, Deep Freeze: A Byzantine Winter Festival is not to be missed. This weekend of stories, games and fun includes a wide selection of food, fireworks, and the famous deep freezer races- and that's just barely scratching the surface. You won't have time to get cold since a day spent at this winter celebration will keep you moving for hours!
January 11-12
Walkin' in a winter wonderland
Cold winter days mean subzero temperatures - but that's not a bad thing! When the ice begins to form, be on the lookout for the Ice Castles rising high into the sky at Hawrelak Park. The castles are constructed as soon as the weather permits, and stay open until they begin to thaw – so you have plenty of time to wander the wintry walkways.
January - March (weather permitting)
Let the magic take flight
Canoeing in the winter? Whaaat? The Flying Canoe Festival takes canoeing to new heights with fast-paced winter canoe races, where canoes soar over jumps and down hills. On top of the action, you can take in Indigenous and French-Canadian culture and folklore as you wander through the twinkling lights of the forest path story adventure.
January 30-February 1
Check out the competition at the Ice on Whyte Festival this month! Artists from all over the world gather in Edmonton to create stunning ice carving sculptures for us to marvel at (until the temperature decides otherwise). Hang out in the ice bar for a chilled beverage or a cup of hot coffee to warm your hands and even take your own ice carving lessons!
January 23 - February 2
A new Season of Shakespeare
Internationally-touring Shakespeare company, Malachite Theatre, launches it's first annual Winter Shakespeare Festival with two stunning, new, site-specific productions. Don't miss your chance to see the Shakespearian classics, A Midsummer Night's Dream & Julius Caesar this month. This brand-new festival runs at 7:30pm Wednesday - Sunday (with matinees at 1:30pm on January 24 for A Midsummer Night's Dream and January 31 Julius Caesar).
All that a glorious winter has to offer is just a 35-minute drive from downtown! If you're into outdoor winter sports, hiking, stargazing, or snowshoeing, Elk Island has it all. Book a guided tour and enhance your outdoor adventure with facts about the park and its wildlife, or take matters into your own hands and ice skate on Astotin Lake for hours.
Going to a sporting event in person is always a good time, even if you don't know all the rules. Luckily, Edmonton has lots of hockey action for you to cheer for! Catch the Edmonton Oilers or the Oil Kings as they race to win their respective divisions! Between the two teams there's plenty of slapshots and penalties to make for an action-packed January.
There's live music being performed all the time in our vibrant city, and January is no exception. From big rockin' hardcore shows like Alexisonfire (January 22), to indie crooners like Half Moon Run (January 18), there's a concert for every musical taste.
Take your love of winter walks to the next level and hop on a guided River Valley Adventure Co. Segway tour. You'll tackle trails you never knew existed with a knowledgeable guide who will leave you with info about the river valley and cool historical facts. We recommend layering up in warm clothing as you won't be working up much of a sweat – but you'll definitely look cool.
Edmonton is known as the festival city for a reason – we keep the party going all year round. Winterruption is our city's newest music festival, featuring big-name headliners like GZA along with smaller names and popular local talent. Taking place at various locations spread throughout Edmonton's downtown core, you'll have lots of chances to see and support your favourite artists live.
January 23 - 26
You don't want to miss the unrivalled giants in the family fun entertainment game – the Harlem Globetrotters are taking over Rogers Place on January 25! The team's brand-new show, "Pushing the Limits", gives you the chance to get face-to-face with the world-famous crew and laugh along at their action-packed basketball game filled with pranks and hilarious hi-jinks. Get your tickets today, a Globetrotters show is unlike any other!
January 25
Ballet fans, you are in for a special treat – the Alberta Ballet is bringing in the mesmerizing show Diavolo, where stunning architectural props are meshed with awe-inspiring dance and gymnastics performances to create a show you won't be able to stop talking about. The LA-based dance company has wowed audiences since their top-ten finalist run on America's Got Talent, and the dancing daredevils are sure to impress, so grab tickets today!