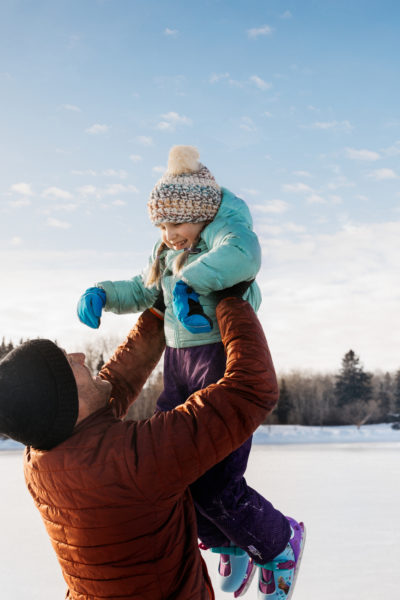 Things to Do in February in Edmonton
February might be a short month, but there's no shortage of things going on in Edmonton— we're a winter city after all! A fresh blanket of snow has transformed the city into a real-life snow globe which means it's time to throw on your parka, slip on your mittens and get ready to make the most of the season before it melts away. There are also a number of virtual events that you can enjoy from the comfort of your own home (you know, for those who like to avoid the chill)!

No matter how you explore this month, be sure to continue practicing safe physical distancing, frequent handwashing, and following the guidelines put in place to keep everyone safe.

LOL with Rapid Fire Theatre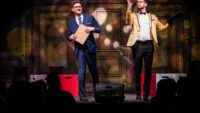 It's all laughs all the time for Edmonton's longest-running improv comedy company, Rapid Fire Theatre. Lucky for us, they are currently offering a selection of free digital improv shows, live-streamed through their YouTube channel. When you catch the shows live, you can play along in the comments section - just like you would in a live show (remember those? Sigh).

Want to get in on the action yourself? Try online improv for beginners! This virtual workshop is offered over Zoom and will teach you the fundamentals of this artform. In this class, you will be challenged to start obeying your impulse and to work collaboratively with others. A great way to challenge yourself, break out of your comfort zone, and improve your online communication skills!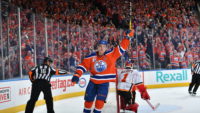 Hockey is back, baby! While you can't cheer on the Oilers from the stands this season, that doesn't mean you can't set yourself up for an amazing viewing experience from the plush oasis also known as your couch. Check out our list of the best places to order-in or pick-up some local game-day snacks. The city's best burgers, pizza, fried chicken and classic pub fare are just waiting to be devoured. Then grab your jersey, slap on some face paint and you're game-day ready. Let's go Oilers!


Get your Chill on with Deep Freeze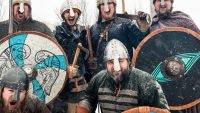 Deep Freeze: A Byzantine Winter Fête comes out of hibernation this month! Witness a winter wonderland at Borden Park and seven Alberta Avenue district community leagues from February 5-14. This year's theme, The Fiddle and Fables, was inspired by kitchen parties, cultural connections, and the spirit of togetherness. Embark on an immersive experience featuring sparkling lights, luminous lanterns, artistic light installations, fanciful fairies and more. Arts on the Ave is proud to present this exciting celebration of the magic of the season!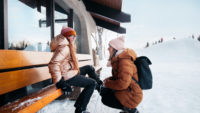 Silver Skate invites everyone to rediscover the joy of that first childhood snowfall or to experience that feeling for the first time from February 12-21. This winter, you'll find an abundance of DIY outdoor experiences and challenges that are as diverse as the people who call our northern community home. Discover the Waiward Snow Sculpture Garden, explore the folk trail, visit the Heritage Village, listen to local Indigenous elders' oral histories via Night Sky Story Telling and so much more. Winter is magic, and the outdoor experiences at Silver Skate are limitless!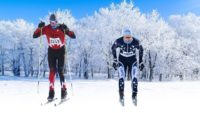 The Canadian Birkebeiner is usually Canada's largest classic cross-country ski event, but this year the event is going virtual. Now you can go at your own pace, at your own place. You are invited to join thousands of people around the world skiing the Canadian Birkie virtually. For more details, click here. This winter, not being able to make it to Edmonton is no excuse for not taking part. There are events for all levels of skiers (even you beginners out there!).
Skate, Snowshoe or Cross-Country Ski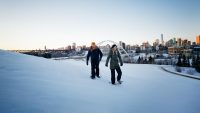 Cross-country ski and snowshoe lovers don't have to go far to find the perfect place to venture into a serene, snowy wilderness. Edmonton's expansive river valley and park systems run right through the heart of the city and feature over 160km of fresh trails waiting to be explored. Rather lace up a pair of skates? Discover the adrenaline rush of skating at one of Edmonton's renowned outdoor rinks. Bring a thermos of hot chocolate and spend an afternoon with your household!

Looking for snowshoe or skate rentals? Totem Outdoor Outfitters has you covered with a wide selection of gear for adults and kids alike.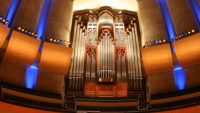 The iconic Winspear Centre is currently closed to the public, but you can still enjoy sweeping classical concerts from home with the ESO Virtual Stage. This recently-launched program is a digital subscription featuring new, exclusive virtual content from the Edmonton Symphony Orchestra. Your subscription includes access to up to 12 videos of varying lengths, featuring different talented ESO musicians. If music be the food of love, play on!
The Ultimate Winter Adventure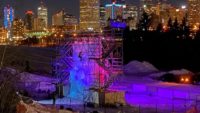 Channel your inner White Walker (or maybe you're more of a Wildling?) and discover one of Edmonton's newest winter attractions. Head to the Edmonton Ski Club for an extreme adventure perfect for adrenaline junkies - climbing up a towering wall of ice! The ACC Edmonton Ice Wall even lights up at night, adding a touch of magic to your expedition. Edmonton's first and only ice climbing facility, complete with a gorgeous view of downtown in sight, is now open!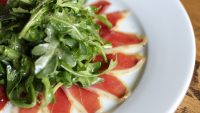 Chef Table Living (formerly Edmonton Food Bike Tours) is now offering a new way to support local restaurants in our city by offering Local Chef Kits. ​Throw on an apron, grab a glass of wine and let some of Edmonton's most iconic chefs teach you the skills that can help you create mouth-watering gourmet meals from the comfort of your home. Included in the kit is a 30-minute online video from the featured local chef taking through how to make their inspired dish. Did we mention that Chef Table Living also offers Cocktail Kits? Your Friday night just got better.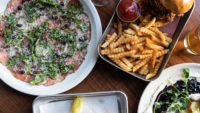 Dine and dash has a whole new meaning! Join Anti Social Running Club in your choice of the 10K, half marathon, or full marathon from February 7-14 and celebrate your hard work with delicious food from a local restaurant. Your Dine & Dash Virtual Race prize pack will include a take-out dinner from your choice between 6 participating restaurants and an exclusive long sleeve tee! No race rules - you get to run your own race, at your own pace!
Beloved downtown restaurant, DOSC, has been temporarily taken over by a new pop-up burger concept with a twist! Burger Brawl is inspired by the classic Nintendo "Super Smash Bros" video game and pits two gourmet burgers against each other to see who will come out on top. Every week the takeout and delivery restaurant has six burgers to choose from - and you (yes, you!) get to vote for your favourite on Instagram. The lowest voted burger gets knocked off the menu, and they bring in a new contender the following week. Players, are you ready?