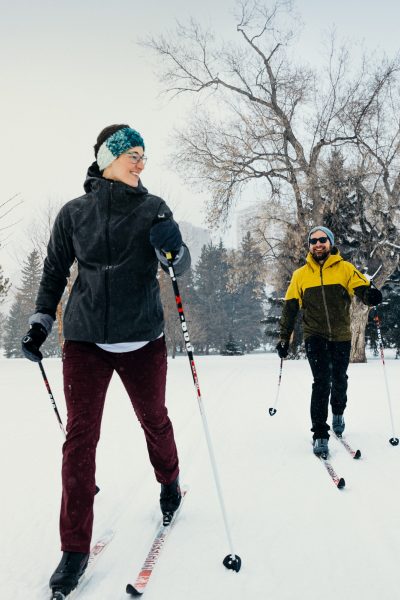 Things to Do in February in Edmonton
February might be a short month, but there's no shortage of things going on in Edmonton — we're a winter city after all! A fresh blanket of snow has transformed the city into a real-life snow globe which means it's time to throw on your parka, slip on your mittens and get ready to make the most of the season before it melts away. There are also a number of virtual events that you can enjoy from the comfort of your own home (you know, for those who like to avoid the chill)!

No matter how you explore this month, be sure to continue practicing safe physical distancing, frequent handwashing, and following the guidelines put in place to keep everyone safe.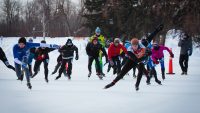 The Silver Skate Festival invites everyone to rediscover the joy of that first childhood snowfall or to experience that feeling for the first time! This February at Hawrelak Park, feel the wind through your hair (or your toque) as you glide along Edmonton's largest skating pond, explore magnificent winter artwork at the Waiward Snow Sculptures Garden, and much more.
February 11 - 21, 2022

Skate, Snowshoe or Cross-Country Ski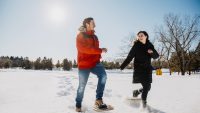 Cross-country ski and snowshoe lovers don't have to go far to find the perfect place to venture into a serene, snowy wilderness. Edmonton's expansive river valley and park systems run right through the heart of the city and feature over 160km of fresh trails waiting to be explored. Rather lace up a pair of skates? Discover the adrenaline rush of skating at one of Edmonton's renowned outdoor rinks. Bring a thermos of hot chocolate and spend an afternoon with friends and family!

Looking for snowshoe or skate rentals? Totem Outdoor Outfitters has you covered with a wide selection of gear for adults and kids alike.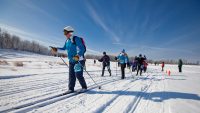 Speaking of cross-country skiing, The Canadian Birkebeiner is Canada's largest classic cross-country ski event, and it's back again to test your skills and stamina. Take on the classic 55km track that recreates the legend of the original Birkebeiner skiers, enjoy a Barnebirkie family ski, or take part in a Full Moon Birkie for some after dark cross-country adventures. Whether you're a black diamond adventurer or a complete beginner, there's a Birkie event for you. It's Nordic fun for the whole family!
February 11 - 28, 2022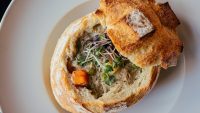 Valentine's Day seems to sneak up every single year, doesn't it? Forgot to make plans again? Of course you did, the doghouse is like a second home to you. But this year is different. There are so many amazing local restaurants to dine at or order takeout from, like Uccellino, Bianco, RGE RD, La Petite Iza, or Dogpatch. For more date night ideas, check out our Valentine's Day blog!
February 14 (but you remembered that, didn't you?)

Carve out some time for ice sculptures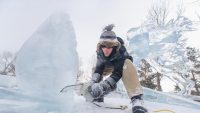 When temperatures drop, creativity rises at Ice on Whyte. This year's festival will feature a breathtaking ice sculpture garden featuring the work of 11 internationally recognized snow and ice carvers from across Canada. Not only is this a chance for artists to prove they're the coolest at their craft, but it's also a great opportunity to visit the ice bar, learn to carve ice just like a pro, and celebrate different cultures.
January 27 - February 6, 2022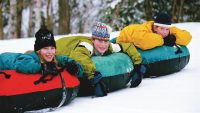 If you haven't gone barreling down a hill on a snow tube, have you really experienced winter? There are many great hills in the city to get your tube on, from Edmonton Ski Club, to Rabbit Hill Snow Resort and Sunridge Ski Area. These hills even have conveyer belts so you won't have to walk all the way back to the top. There's snow better way to spend a winter afternoon!
Sweet Treats & Latte Festival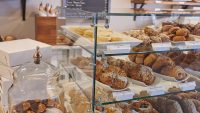 Chilly from all your winter adventures? Warm up your soul with some coffee and find your perfect cuppa joe at the Sweet Treats & Latte Festival, a celebration of Old Strathcona's amazing coffee scene.
Help spread the love to all of the amazing coffee shops and bakeries around Whyte Avenue by purchasing a feature hot drink or treat at one of the participating businesses. You'll also receive a limited edition coffee sleeve or sticker, along with some other goodies. Share your photos using the hashtag #SweetTreatsYEG for a chance to win gift cards at participating coffee shops and bakeries!
February 5 - 27, 2022
February is Black History Month, which makes it the perfect time to celebrate Black vendors, artisans, and entrepreneurs! Check out the Black Futures Market on February 5 & 6 at the Art Gallery of Alberta for a market featuring over 15 Black-owned businesses and services. Entry is free to the market, however guests will need to buy a ticket for admission into the gallery. Come by and discover local handmade goods, artworks, and items by Alberta's Black community.

February 5 - 6, 2022
Performances, Plays, and Productions
Oh my! There's nothing quite like an evening show, and this month has plenty of great performances to take in.
Summer of '69 - Travel back in time for a story of peace, love, long hair, and of course - music! Rock out to your favourite 60s tunes at Jubilations Dinner Theatre and enjoy a 3-course meal to boot! Feb 4 - Apr 3, 2022
La Bohème - One of the opera classics, experience the story of four struggling bohemians living in 19th century Paris. Edmonton Opera performs some of opera's best-loved music in this tale that blends comedy and tragedy at The Jubilee. Feb 5 - 11, 2022

That's Entertainment - Get up and twirl around a street lamp, it's time for a musical! The Edmonton Symphony Orchestra celebrates 75 years of great Hollywood musicals at the Winspear Centre. From West Side Story to Les Misérables and Chicago, these tunes will have you Singin' in the Rain (or the snow...it is February, after all). Feb 18, 19, 2022
Arietta - From Vivaldi to Bach and Pachelbel, the Baroque era was home to some of history's greatest composers. Early Music Alberta's performance of Arietta celebrates this landmark musical era with a special performance featuring local Canadian artists. Feb 26, 2022