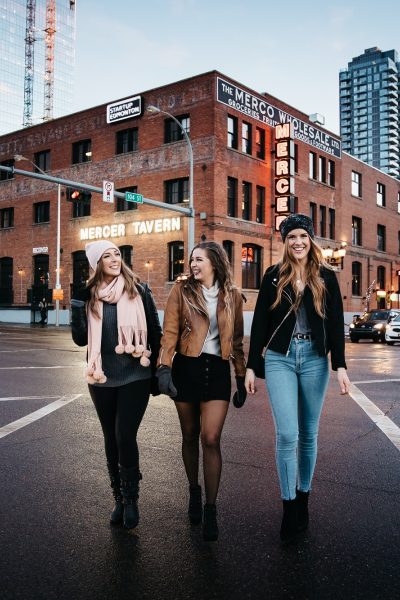 Things to Do in Edmonton in October
When the air becomes crisp and cool, we don't hibernate. We embrace the season and cozy up to the many activities and events around town. Toss on your scarf, sip your favourite pumpkin-flavoured beverage and explore all of the fall things to do in Edmonton this October. Sweater weather never looked better!

No matter how you choose to spend your October, be sure to continue practicing safe spatial distancing and following the guidelines put in place to keep everyone safe.
The clock strikes midnight. A fog rolls up over the hills of the river valley. The newly fallen leaves crunch under your feet. The spookiest time of year is right around the corner. Here are a few of Edmonton's scariest events this month that will make your inner witch/warlock jump for joy. Check out our Halloween blog which highlights even more spooky events around town.
Your favourite non-fiction stories come to life off of the page at Litfest, with 50-plus presenters over 11 days (October 15-25). Avid readers connect with writers through a series of live & virtual events, great conversations, and immersive readings. Don't miss this exclusive opportunity to interact with some of the best-selling, award-winning and emerging authors of books, magazines and films!
From the air, the maze looks like an artistic pattern. On the ground, the Edmonton Corn Maze tests your sense of adventure (and direction). This year's maze design, "Stronger Together" makes for both an amazing aerial view as well as a challenging labyrinth. Though the correct pathways can be walked in under 30 minutes, most visitors will require about one hour to travel through more than 5 km of twists and turns and 85 decision points.

Pumpkin Spice and Everything Nice
Some call is basic, others call it delicious, but there's no doubting the fact that autumn is pumpkin spice season. There are several places serving up tasty gourd-flavoured treats this season. From the elegant pumpkin pie at The Duchess Bake Shop and the scrumptious pumpkin eclair at La Boule Bakery to Alley Kat's pumpkin-spiced beer and Transcend's seasonal latte made with real pumpkin - there's something for every circle-scarf wearing, fall-loving gourmand. Our personal favourite? The classic pumpkin pie from Vi's for Pies.

Ready to laugh? Or cry because you're laughing so hard? Edmonton Comedy Festival is back with some of the best comedians around. The Festival returns with "4 Days of Funny" from October 14-17. This year you'll find a mix of in-person and virtual events that bring the LOL. Venues will be operating under limited occupancy, and physically distant seating will be in effect.
Ten Days of Popcorn for Dinner
Indulge your cinematic appetite with the 34th Edmonton International Film Festival presented by Super Channel from October 1-10 (and a large bag of popcorn, with extra butter of course). This year's festival is filled with independent, international and eye-opening films. Choose your own cinematic experience and watch the best in independent film making from around the globe at home and in-theatre.

Looking for something a little more bite-sized? The Edmonton Short Film Festival (October 17-18) showcases Alberta filmmakers and features diverse projects including trailers, music videos, web series, commercials and short films at the Garneau Theatre.

The Mayfield Dinner Theatre is back in action! At long last, you can enjoy prime-rib and a show with new health and safety measures in place. This month, catch Playing with Fire: The Theo Fleury Story when it hits the stage. The show is a moving, funny, and highly theatrical event performed entirely on skates. Audiences don't need to know a thing about hockey to love the inspirational true story of a courageous Canadian hockey hero.

Prairie Gardens is a 35-acre fully operational farm offering a variety of educational, fun, and above all delicious culinary experiences for you and your cohort to enjoy. Pick a pumpkin (or two), plan the perfect family farm picnic, or get lost in the corn and sunflower mazes. Pro tip: check out the weekly farm market every Saturday and Sunday for the freshest veggies and produce!
Geo Domes where the Bison Roam
Take your camping experience to a whole new level with the Geo Domes at Elk Island Retreat. Nature meets comfort in this glamping experience designed for memory-makers. The domes include a fireplace gas heater, making them perfect for chilly fall nights. A queen-sized bed, Nespresso coffee maker, and in-suite lighting (you heard that right - lighting!) make this the perfect choice for those who want to get away from the hustle and bustle of the city without ditching the comforts of home.
Experience Indigenous Cuisine
Pei Pei Chei Ow caters a variety of seasonally inspired dishes and elaborate dinners that tell a narrative. They work with wild meats, traditional and post-colonial ingredients, and incorporate Indigenous ways of cooking outdoors and in the kitchen. Order their incredible meal kits that include personal stories about Chef Scott Iserhoff's past and present for an exceptional dining experience at home. Stay tuned for online cooking classes, coming soon!

Picnics aren't just for summer! True North Picnic is a boutique catering company that specializes in a one-of-a-kind picnic experiences, and lucky for us, they are operating well into the fall. Choose from one of their charming picnic packages that they will set up in one of the city's beautiful parks. True North will coordinate, style and do all the work - you just need to show up, relax, and enjoy!