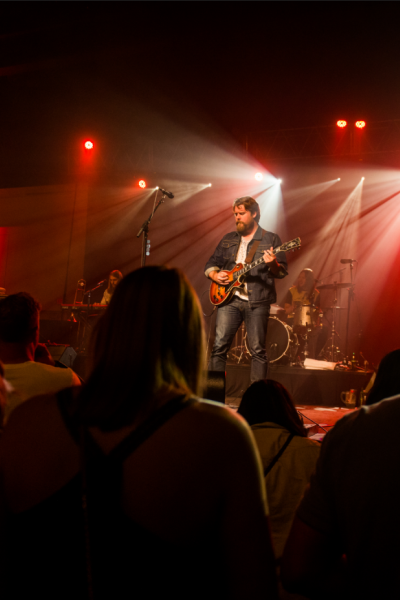 Best Places to See Live Music in Edmonton
The world's hottest concerts are heading to Edmonton— and you can catch them at venues as diverse as the artists themselves. From stadium shows, to concert halls, to underground haunts, Edmonton is mad for music. Here are some of the best places in Edmonton to catch live music and concerts. Just remember to get your tickets early!
The Ice District is Edmonton's newest hub for sports, entertainment and of course live music. Playing host to some of the largest acts in the world like Paul McCartney, Drake and Fleetwood Mac, Rogers Place is the ultimate destination for music lovers of all kinds.
For even more ear-pleasing entertainment, check out Edmonton's other major music venues, like the Winspear Centre, Jubilee Auditorium and Union Hall.
The Starlite Room has been a staple of Edmonton's live music scene since 2004. Located in the heart of downtown, this historic brick building was built in 1925. With a two-level layout, you can boogie on the dance floor or sit at the high-top bar upstairs where you'll have a clear view of the stage—Of course this is a popular spot, so get their early to secure a seat! Note that you must pay a $5 membership fee to attend a show. The membership is valid for one year.
Grab a seat at the bar, share a booth with friends, or snag a spot in front of the stage where live music happens nearly every day. Leaving no genre unexplored, the Station has plays host to both internationally known musicians and Edmonton's finest local artists. With a capacity of over 400 people, there's plenty of room for everyone, no matter what day of the week.
Music buffs can find refuge at Black Dog Freehouse on Whyte Avenue, one of Edmonton's trendiest neighbourhoods. At first glance, Black Dog feels like your typical English pub, but upon entering, you'll find one of the most laid back venues in the city. Hang out under the starry sky on the rooftop (aptly named the "Wooftop,') or make your way downstairs to Underdog. You'll find live music here every single Saturday.
Located inside the Commercial Hotel on Whyte Avenue, Blues on Whyte is a mecca for blues, jazz, and R&B from across North America and a home away from home for legends like Russell Jackson. Patrons have been dazzled for nearly 50 years by the place that has been serving up live music 7 nights a week with some of the best names in the biz. Don't miss their Saturday Afternoon Blues Jam where a new group of musicians take the stage every 20 minutes!
The Blue Chair Cafe is one of Edmonton's hidden gem's that locals would probably like to keep to themselves. Here, you will find a laid-back cafe setting and a variety of musical acts taking the stage throughout the week. Blue Chair Cafe is a small venue, hidden in the midst of a high traffic area, but it produces large waves for its eclectic 70s atmosphere and hearty plates.
Your ears will be spoiled with the crème de la crème of jazz talent at The Yardbird Suite. This intimate, volunteer-run jazz lounge has been noted as one of the 100 Great Jazz Clubs around the world and has been a venue for performers in Edmonton since 1957. The casual and intimate venue averages 75 concerts per performance season, so you are sure to find your groove no matter when you're in town!
This small, hole in the wall venue is loved by many in Edmonton. From live music to art shows and theatre performances, there is always a good time to be had. Catch some of Edmonton and Alberta's best up and coming local bands and musicians in this unique, intimate setting.
On weekend late nights, El Cortez transforms from a restaurant with some of the best Mexican food this side of the border to the most fun you'll find this side of the North Saskatchewan. Head to the basement known as "The Tequila Cellar" where DJs and live bands turn the volume up. Since August 2014, this haunt just off of Whyte Ave has hosted "secret" shows by the likes of Shawn Hook, Matt Mays, Raine Maida & Chantal Kreviazuk, Tiga, Lindi Ortega, Jimmy Gnecco, SIINES, The Sheepdogs, Hollerado and more.