Staying Home while Supporting Local in Edmonton
Entrepreneurship is the backbone of our city, and many local businesses are adapting how they engage with the community during these changing times. We've gathered a few examples of how you can keep busy at home while connecting with local businesses, artists, attractions and more. Re-post local content to your Instagram story, do some early Christmas shopping online, engage with digital content like live-streams & tutorials, or buy gift cards at places like local salons and fitness studios to use later. Whatever support looks like to you, we know these businesses will appreciate it.
Remember to continue practicing safe social distancing and frequent hand washing!

Snuggle up in a cozy corner with a hot cup of tea and a book, and you've got yourself a discount ticket to adventure, romance, and intrigue. The Glass Bookshop & Audreys Books are offering delivery throughout the city, so you can keep turning pages long after you've burned through your personal collection.

The Edmonton Public Library also offers a selection of over 300,000 ebooks and other great online content for everyone from kids to adults. All you need is a library card!
Take Dining at Home Up a Notch
Although many local restaurants have closed their dining rooms, that doesn't mean that you can't devour delicious meals from your own kitchen table. Check out Skip the Dishes or Uber Eats for a variety of local options! Avenue Edmonton has also assembled a list of delectable Edmonton restaurants that will bring world-class meals straight to your door. Here are some of our favourite local watering holes that offer delivery or pick-up: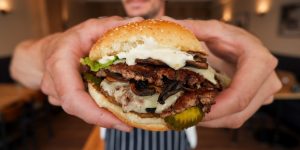 Become Top Chef (of your household)
Get Cooking is offering a series of online classes that will help you become a regular Tom Colicchio. Hone your knife skills and get ready to prepare the most mouthwatering meals of your life. They are beginning with an introductory week of free classes and welcome your input on the content and timing of a full program to keep you cooking during your time at home. We know your family will appreciate it... the palate tires of Kraft DInner after a while!
Retailers that Deliver the Goods
Shopping from Edmonton-owned retailers is as easy as ever with several locally operated companies offering delivery to your door. Now is also a great time to purchase gift cards for later, or do some early holiday shopping to support these businesses when they need it most. Here is just a handful of the local retailers that offer online shopping:
Push back the couch and slide the coffee table over! Many local fitness studios are taking things online with classes and tutorials on Youtube, Instagram Live, Facebook Live or Zoom. Here are just some of the local yoga, HIIT, dance, and fitness studios with classes you can do in your living room. Check out the Mindbody App for many bookable classes, and tune in on social media for live class announcements.
TELUS World of Science - Edmonton may be closed, but that doesn't mean that you can't have a great time doing scientific experiments at home. Science is everywhere - even in your kitchen! The team at TWOSE has launched a series of DIY projects that you can try using everyday household items; a perfect activity for little kids and big kids alike. Experiments include creating a bouncy egg and writing secret messages in invisible ink (insert mad scientist laugh here)!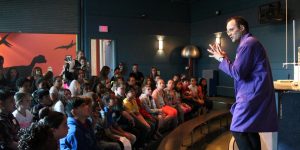 Engage with Indigenous Artisans & Performers
Reskilled Life is hosting a series of online classes ranging from moccasin making to beading, mitten making and more! Check out their list of virtual courses here.
Looking for something fun for the little ones? Lance Cardinal from Soulflame Creative has launched a series of kids craft tutorials on Facebook live. Tiny Sunshine Beads is also providing online beading classes through Facebook. Check them out, and get creative!
Check out 3-time world champion hoop dancer, Dallas Arcand, on Facebook live and witness the incredible art of hoop dancing. The Bearhead Sisters have been airing virtual Round Dances that you can find live, also on Facebook.


Take yourself on a self-guided tour of the many Indigenous landmarks and spaces throughout Edmonton. Remember to explore safely and keep distance between yourself and those around you!
Home Theatre has a new meaning
Enjoy the incredible talent of Edmonton's singers, actors, dancers and performers from the comfort of your own couch. Check out The Citadel Theatre's Stuck in the House Series that live-streams daily on Facebook. The Grindstone Theatre is running a virtual edition of The Shmoozy Boozy Singy Thingy (a theatrical karaoke experience) every Sunday. House of Hush Burlesque is airing a series of live performances on Instagram, while local improv troupe, Die-Nasty, is producing a series of improvised radio shows for your enjoyment.

Many other artists and arts organizations have live-streamed content ranging from podcasts to living-room concerts and more in the works, so stay tuned!
Many local musicians are coming to you live, straight from their living rooms. Check Instagram and Facebook often to see if your favourite bands are joining in on the fun. Local country artist Dan Davidson has assembled a crew of Canadian bands and vocalists for a live concert series on Instagram. Local pop-duo Vienna Whyte will also be running a live concert featuring many talented up-and-coming Edmonton artists on Instagram. Check out Nuela Charles on Instagram and Facebook for some beautiful cover-tunes (you can even make requests!).
CKUA has a killer line-up of live-streamed concerts in the works, which air on platforms like Facebook, Instagram and Youtube. Don't miss artists like Juno Nominee Caleigh Cardinal when they take the mic! The Edmonton Symphony Orchestra is also live streaming the beautiful work of their musicians on Facebook, with the option to make a donation to The Winspear Centre.
Looking for more toe-tapping tunes? Check out Explore Edmonton's playlist 'The Music of Edmonton' on Spotify, and fill your home with the sweet stylings of our city's ground breaking musicians.
Spin the Wheel of Local Support
Do you have a desire to support local Edmonton businesses during this difficult time, but can't decide which ones to show some love to? Enter local blogger and social media wizard, Linda Hoang, who has created a fun "Wheel of Local Support" that allows you to randomly select and support an Edmonton business that is still offering its services. Her list is incredible, and will leave you inspired to engage with the Edmonton businesses that continue to make our city so special. What are you waiting for? Get Spinning!
More to Explore from Home
Things that are Open is a project by LiftInteractive that offers a comprehensive listing of businesses that are finding innovative ways to continue serving our community. You can filter businesses by category, and quickly see if they are currently providing delivery or pick-up. Are you a local business owner? Apply to be a part of this incredible initiative here.