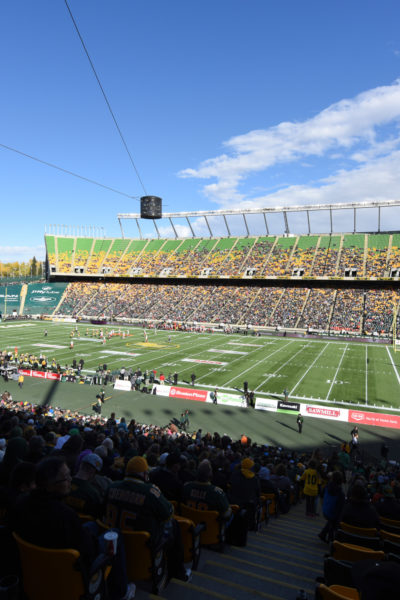 Must-See Summer Sports in Edmonton
Listen up sports fans. The season of slathering on SPF 40, sipping a brewski and cheering on your favourite team is here! Grab your jerseys, pom-poms and foam fingers and take your pick of some of Edmonton's best summer sporting events.
Grab some peanuts and Cracker Jacks and head out to an Edmonton Prospects baseball game. As part of the Western Major Baseball League, the Prospects have some of North America's finest collegiate baseball players. Catch whizzing foul balls, hear the crack of the bat as a home run is hit, and root, root, root for the home team. It's fun for the entire family!

The regular season runs from the end of May till late July, with finals taking place in August.



Join the fans at Commonwealth Stadium as they watch the Eskies battle their way towards a Grey Cup. The Canadian Football League plays with different rules than our American cousins. With only three downs instead, you'll catch some spectacular plays.

The regular season runs from late June to November, after which you can bundle up for three weeks of thrilling CFL playoffs.


You'll surely get a kick out of attending an FC Edmonton game! The matchups are fierce when the blue and white represent Edmonton in the world's most popular sport.

FC Edmonton has been the foundation for pro-soccer in Edmonton since 2010 and is now one of seven teams in the new Canadian Premier League, a league by Canadians for Canadians that kicked off earlier this year.

You can catch an FC Edmonton game from May to October.

To the hoop, y'all! Everybody get up it's time to slam now, the Edmonton Stingers professional basketball club has kicked off their inaugural season at the Edmonton EXPO Centre. Playing in the Canadian Elite Basketball League, the Edmonton Stingers will host 10 home games over the season and create a game day experience that is memorable for fans of all ages! Get ready for fast-paced, professional basketball in an exciting atmosphere!

The Stingers' regular season runs May to mid-August.


Head off to the races at the Century Mile Racetrack! Don't miss a second of the heart-pounding rumble as the horses make their way around the track. Whether it's Standardbred racing or Thoroughbred racing, you'll be front and centre for the hottest horse racing action.

Looking for something a little more participatory? Lace up your running shoes and take part in the Lululemon Edmonton 10k, or take a shot at the Servus Edmonton Marathon. Whether you're chasing that PB, in it for the roar of the cheer stations or to crush that post-race doughnut, on race day the road is yours and so is the reason.