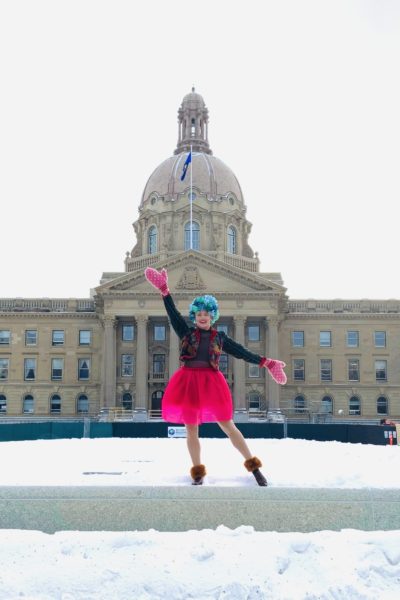 Stokes and the City: The Art of Dating Yourself in Edmonton
Meet Caroline Stokes, a local Edmonton comedian-artist who wants you to feel good! Her beloved characters Doug Carl and Wendy with a Smile (just to name a few) want that too. While she loves performing onstage, she has found a niche online celebrating talent and "Normalizing Awkwardness" with her well-intentioned movement series #CarolineSideBySide. During the pandemic, her passion made national news and continues to be shared widely as people find comfort in her comedic, uplifting, and colourful content — check out her remakes of The Queen's Gambit and The Handmaid's Tale! Whether she's performing live or behind a camera, one thing is certain...it's gotta be kind.

No matter how you explore, be sure to continue practicing physical distancing, frequent handwashing and following the guidelines put in place to keep everyone safe. Some of the businesses mentioned here may be offering modified services at this time. Please check their individual websites for the latest updates, and note any applicable health/safety restrictions (you can always use this guide to inspire a future outing too!).
Hi! I'm Caroline Stokes and I like to date myself. Let me clarify — yes, I did use a rotary phone to invite my friends over to play pogs on my pink shag carpet while playing Jewel's "You Were Meant For Me" — recorded on cassette from the radio — but this time I'm talking about actual dating. Turns out, swiping right on myself and exploring Edmonton on foot has led me to, not only a more loving relationship with myself, but also to some of my favourite places in the city. This article highlights some of my most-loved spots in Edmonton. In light of being current and original, let's call this article Caroline in the City. Oh, wait a minute. How about Stokes and the City?! Perfect.

Several years ago — newly single and nearly 30, an older (and wiser) friend had been telling me about the art of "dating yourself". What?! This was a new concept for me to grasp back then; so, how does it work? Who makes the first move?! How long do I wait to text?! You and I both know that timing is everything.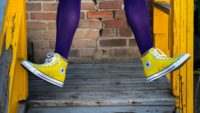 Speaking of timing, the pandemic is like an extra long season of 90 Day Fiancé starring one person who lives alone: "This season on 340+ Day Fiancé, watch as one person starts a journey with themselves because it's unsafe to see anyone else!" Ooo — get the popcorn. Okay, back to the story! I was settling into my wee Bachelor(ette) apartment on 99 Street, just north of Whyte Ave, and feeling fine and fancy free when it finally felt right to ask myself out on a date. I said "Yes!" and headed out the door.
My first date! Wearing my favourite lippy and accidentally/on-purpose brushing hands with myself, I nervously approached Situation Brewing's expansive window front. I felt awkward! Sitting in a far corner with my head buried in my phone would have been waaaaay easier, but I forced myself to sit at "the wood" and disconnect to connect. Guess what? I soon felt fully charged as Situation soon became my favourite situation (they love those jokes!) and you'd find me there on days that end in "y".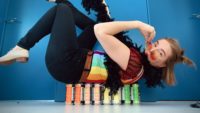 Why? The staff quickly learned mine and everyone else's name, the beer was delish and the food … OH, the food! Happy Hour on Friday afternoons was true to the name. It became a fusion of Sunday family dinner and your favourite episode of Cheers. I'd greet and be greeted with hugs and smiles as I'd join my new friends along the bar; (pre-pandemic, of course) as if we were never strangers. Now that's some supportive beer.
Next stop on my dating journey: The Next Act Pub. Any great date has great conversation. Having high hopes for this, I had compiled a list of easy questions from Google: "what to ask on a date". The Next Act was an ideal choice for this date because the sea of plaid and Blundstones is always inclusive and I felt comfortable talking to myself there. Being myself. The first question on the list was "What do you like?" and I immediately blamed Google for this incredibly difficult question. How dare it ask that! I was drawing blanks. I stuttered and stammered and without thought ordered the MEAT™ Brisket Donair on a whim as a way to hopefully deflect and distract.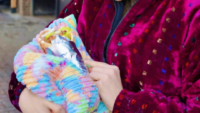 My meal came and — talk about love at first bite. WOW! My pupils dilated and one thing suddenly became very clear: I like this. I like this bundle of joy nestled before me. Since that day, I've thought about it every week. In fact, I don't just like it … I love it, baby. *mouth waters*
Date #3 - puts on faux fur vest - It's showtime! Laughing is one of my favourite things to do with myself (my psychologist is aware of this habit of mine and we both agree it's healthy!). Have you been to the Grindstone Comedy Theatre & Bistro? The walls are lined with quirky knick knacks, a cookie jar collection and the last of the world's supply of VHS tapes stacked near the DJ booth. It's the perfect spot to see some incredible local comedians and listen to some of the best karaoke in the city.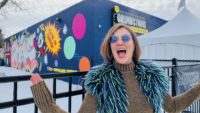 I've laughed sitting in the audience and I've laughed performing on stage in shows like Weird Al Karaoke and my sold-out "A Christmas Carol(ine)" in 2019! That was a humble brag to try and impress myself. Dating, amirite?! Phew. There are so many reasons why this space is near and dear to my heart but I'll name one more — it's where I met my dear friends, sketch comedy geniuses, Girl Brain (check them out!).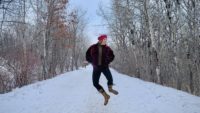 Finally, when nature calls I head to the woods and to the water. Not to do that, but to simply exist alone with myself. How lucky are we that Edmonton has both of these things?! Have you walked through the Mill Creek Ravine? The trees are high, the bridges are new, and the creek can look like a full-on river after a good rain (hello summer 2020!). It's a popular place but I can't count the times when there's not a soul in sight — it's like being in the middle of nowhere, but you have snacks and cell service. Is there any better place than that to get to know yourself? We're lucky that Edmonton is such a romantic.
I can't thank Explore Edmonton enough for this opportunity to share some things about our city that I love. But I'll try again…THANK YOU x INFINITY! Perhaps after reading this, you'll start flirting with the idea of dating yourself. Heck, you might just fall in love.