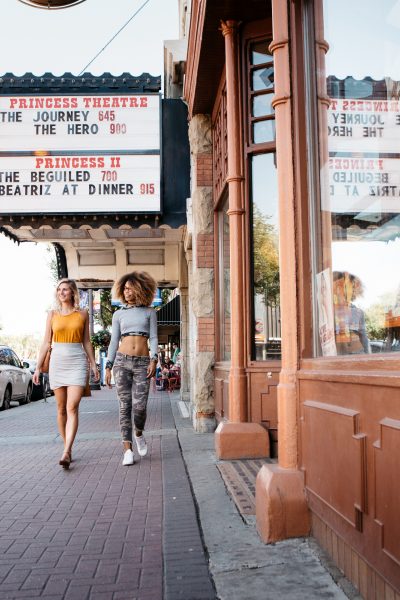 One-Day Edmonton Summer Itineraries
Visiting Edmonton for a major festival or event and want some inspiration to extend your stay? Maybe you just want someone else to do the planning for you? Either way, we've got three summer itineraries to get your trip to Edmonton all mapped out.
#1 - History, Drama and Shopping
LUNCH
Sample some of the most iconic food in Edmonton from the plethora of food trucks at the Fringe Festival – and don't forget to pick up a green onion cake!
ACTIVITY #2
Shop along historic Whyte Avenue (walking) or explore the local makers and fresh foods at the Old Strathcona Farmers Market (on Saturdays).
BREAKFAST
Journey into the cute, river-side neighbourhood of Riverdale, for breakfast at Little Brick. This beautiful heritage home-turned-café is the perfect spot to start the day. Dine-in the cosy home or alfresco in their large backyard patio.
ACTIVITY #1
Step inside a giant laboratory and explore five exciting permanent galleries, at the TELUS World of Science Edmonton. Don't forget to check out their rotating exhibition space, which has featured exhibitions like MARVEL: Universe of Super Heroes, Body Worlds and Star Wars Identities.
LUNCH
Ultra chic and ultra-healthy, but never skimping on flavour. Kb&co features a plant-based menu free of meat, dairy, egg, and soy products.
ACTIVITY #2
Welcome to Western Canada's largest museum, The Royal Alberta Museum. Explore more than 82,000 square feet of exhibition space and a wide-ranging collection.
DINNER
Serving up thin-crust, individual pizzas with names like Holy Shiitake, Ode to Ukraine and Pie on The Fly, you can count on having an untraditional pizza experience at Love Pizza. Ask about the weekly special to try something extra unique.
#3 - A Little Bit of Everything
ACTIVITY #1
Conquer the Mt. Everest of shopping and entertainment at West Edmonton Mall. Spanning the equivalent of 48 city blocks this "mall" features a massive waterpark, a full-size skating rink, an amusement park and of course, oodles of premium shopping.

LUNCH
Venture to the little 3-seater sandwich shop called Farrow. They feature a constantly rotating menu, with only one staple: the Grick Middle, a deliciously famous egg and bacon breakfast sandwich.
DINNER
Tucked inside the historic Mercer building, Baijiu (pronounced Bye-Joe) serves up some of the best cocktails and baos in town. They also have a secret speakeasy called "Little Hong Kong" hidden behind an armoire – but shhhh, you didn't hear it from us.
Add on a mountain adventure
Only a few scenic hours West of Edmonton lies the mountainous Jasper National Park, one of the largest dark sky preserves in the world. Hit the slopes, take a stroll on a glacier, sample some local brews or visit the Miette natural hot springs. No matter what you get up to, this is a must-add to any visit!