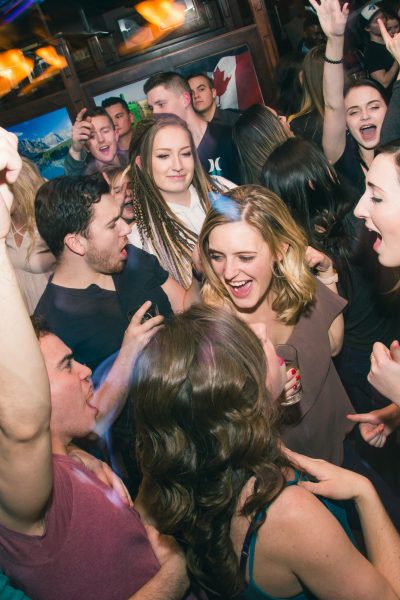 Nightlife in Edmonton
As the sun fades away and the moon begins sliding into the Friday night sky, an important decision awaits you. Should you slip into your flannel PJ's and catch the latest episode of The Bachelor, or rally the troops and head out for an evening you'll be talking about for years?
Hint: the answer is always rally the troops. Edmonton's nightlife is waiting for you!
Suit-up kids, these hotspots are perfect for birthdays, engagement parties, anniversaries or if you're just looking for an excuse to dress up. Bar Clementine is inspired by French Art Nouveau and has classy cocktails to match the unique atmosphere. Woodwork, just a block from the Citadel Theatre, offers a small but mighty menu with innovative drinks like the Chinotto, a powerful cold brew coffee cocktail. Alchemy, newly opened in the JW Marriott Ice District complex, boasts an intimate yet exciting new cocktail experience. Baijiu lends Edmonton an Asian flair, featuring over 200 bottles behind the bar and a trendy, dimly lit atmosphere.
Dance like no one is watching… except everyone is... hey, you can't help having stellar moves! The dance floor in El Cortez's tequila cellar is where legendary evenings are made, plus they have countless unique varieties of Tequila. Warning: it gets a little warm down there, but that just adds to the atmosphere. You can start and end the night at The Buckingham, a local bar with great vegan eats and a bumpin' dance floor that opens up later in the evening. 9910 and The Common are also great spots for cutting-a-rug, and are sure to please even your hippest pals.
Come as you are and spend an entire evening catching up with friends at one, or more, of these local watering holes. Camp out at The Next Act, a cozy pub with incredible burgers (order The Critic, just trust us). Three Vikings on 124th Street is quickly becoming a new favourite amongst locals due to their unique Danish menu offerings (try the fries with curry sauce paired with a cold brew). Or meet your buddies at Wilfred's downtown for clever cocktails like the Jade Rabbit.
Live Music & Performances
Take your evening up an octave by checking out Edmonton's thriving live music scene. The Station is one of Edmonton's biggest live music venues and has already hosted acts like Serena Ryder and SkiiTour in its first year. The Starlite Room showcases international and local talent, with bands like The Trews, Matthew Good, and Wintersleep performing in 2019. Blues on Whyte is a fully stocked blues bar with great dancing and live music 7 days a week— who says that you should only party it up on the weekend?
Plaza Bowling Co. is an old school bowling alley with a modern update. They serve a wide selection of craft beer on tap, so a good time is guaranteed, even if you're throwing gutter balls. The Rec Room has live music, virtual reality & arcade gaming, plus pool, ping-pong and so much more. Want something a little more chill? Head to a board game café like Hexagon Board Game Café and challenge your friends to "Jenga" or "Settlers of Catan" over a coffee or cocktail.

These sports bars are the next best thing to actually being at the big game. Cheer on the Oilers or the Eskimos at 1st RND. Between football, hockey, baseball, basketball, and golf, they're always showing your favourite games year-round. Swing over to The Pint Public House downtown or Hudsons on Whyte Avenue for awesome happy hour deals and a great view of the winning shot.