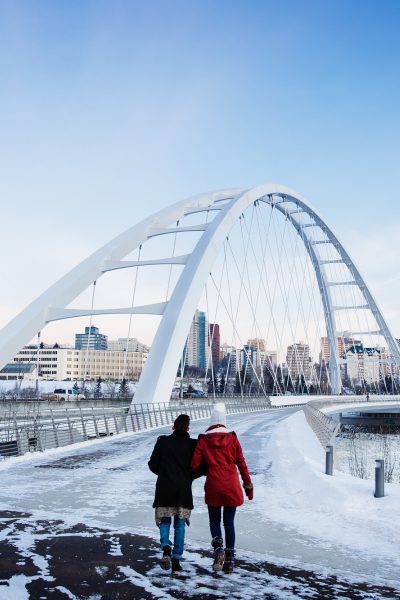 Most instagrammable winter spots
Turn your feed into a winter wonderland and make your followers jealous by filling up your itinerary with some of Edmonton's most picture-worthy spots.
One of the newest additions to the Edmonton skyline is not just a functional way to get into the river valley. The Funicular is a great lookout point and lights up like a futuristic Christmas tree at night.

Located on 10065 100 Street



Have a dog? Love dogs? How about snow-covered trees or futuristic bridges? Terwilleger Dog Park has it all!

Located on 10 Rabbit Hill Rd


This beautiful walkway is perched on the edge of downtown and provides you with spectacular views of the river valley. With historic street lamps and plenty of benches to sip a hot chocolate on, this promenade is best visited on a snowy winters day.
Located between 117 street and 121 Street


These historical grounds are the perfect backdrop for a winter photo shoot. Wander the grounds by day, or venture out when it gets dark to see the gorgeous lights strung throughout the trees.

Located on 10800 97 Avenue


This one doesn't even need an explanation. Just look at that view.

Accessible via Queen Elizabeth Park Road, the Walterdale Hill and 105 street

Give the gram some Paris vibes with these Louvre-esque pyramids. Inside lies different biomes to be discovered, and outside you'll find great geometric eye-candy. Note: the Muttart is closed for renovations and is scheduled to reopen in 2021 (but you can still snap a pic of the exterior!).

Located on 9626 96a Street
One of the newest murals to hit the streets of Edmonton. Hot tip: check out Rust Magic for even more wall inspiration.

Located on 106 Street and 103 Avenue.
Feel like you've conquered Westeros as ruler of the North during the giant Ice Castle pop up in Hawrelak Park. This is estimated to open at the end of December and shuts down (weather depending) in March.

Located in William Hawrelak Park, 9330 Groat Road
Want some shiny architecture and the bright lights of the big city? Head down to the ICE district around 104 Street and 104 Avenue to find some modern angles.

Located on 10340 102 Street



This area is a beautiful mix of early 20th-century brick architecture and sparkly new plazas. Plus, there are lots of great food options nearby - gramming the day away is sure to drum up an appetite.

Located on 101 Avenue between 100 Street and 101 Street