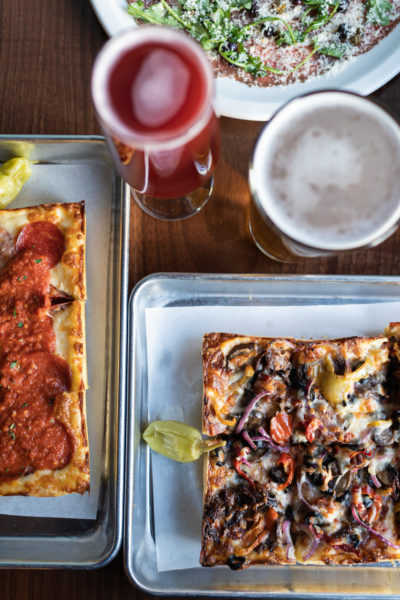 Local Snacks that Fuel the Fandom
If you're anything like us, you've been missing hockey like the desert misses the rain. But the days of dreaming about long-forgotten hat-tricks are gone my friends. Edmonton is proud to host the best in the NHL at Rogers Place this summer. While you can't cheer from the arena, you still can set yourself up for the best darn watching experience this side of the western conference. We've gathered a list of some of our favourite local game-day grub that will satisfy even Stanley Cup-sized appetites.

The Oilers may be out, but our love for hockey lives on. Grab your Jersey, clear your schedule, and get ready to cheer!
First off, if you're looking for a patio to cheer from, Campio has you covered. They've got an all-star set-up outside of their location on 105th Street. Prefer to cheer from the comfort of your living room? You can still enjoy their iconic deep dish pizzas to-go. Stay on theme and order the Big MacDavid Pizza, complete with Campio's secret sauce.
Delivery available through Skip the Dishes and Uber Eats.
Seoul Fried Chicken serves up a South Korean twist on a classic North American favourite. Try flavours like garlic soy, cilantro lime and original. Then go for the assist with side orders like crunchy kimchi, sesame potato coleslaw, sweet corn fritters and more.
Delivery is currently available through the SFC App

MEAT serves up exactly what you'd expect - drool worthy meals to satisfy your inner carnivore. We're talking savoury smoked brisket, perfectly pulled-pork and the juiciest fried chicken you've ever devoured. Don't sleep on side dishes like the mac & cheese, brussels sprouts or pickles.
Take-out and delivery are available online from 3:00pm-8:00pm.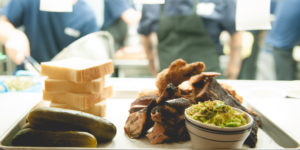 Not only is Central Social Hall offering a discount on pick-up orders, they also have several ready-made combo options that are perfect for game day. Get your napkins ready and order yourself the Loco Calle Combo for Two or the Appetizer Extravaganza. Big appetites deserve big meals, after all.
Delivery is available through Skip the Dishes, or pick-up from the restaurant for a 15% discount.
Prepare to take your hunger to the woodshed with one of the juicy burgers at Woodshed Burgers. Opt for the namesake burger, The Woodshed, or skip the beef altogether and enjoy some beer-battered Icelandic cod. If you're looking to boost the nutritional value of your meal, the brussels sprouts are out-of-this-world tasty too.
Delivery is now available online from their two locations.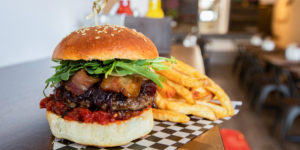 Northern Chicken is the real game night MVP. Beautifully brined, perfectly crispy and available in mild, medium and hot, their fried chicken is some of the best in the city. Pair their drumsticks with a side of Dorrito Mac & Cheese, and you're in business.
Order pick-up through their website or check out the delivery options through DoorDash and Uber Eats.
Make sure you're hungry because Fox Burger makes big burgers with even bigger flavour. Their Bacon Pepper Smash Burger is a local favourite, but you can't go wrong with any of their offerings. Snag a side of disco fries and you've got yourself a meal of champions.
Order online to pick-up your order at the restaurant.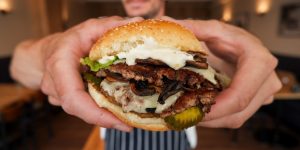 Perhaps nowhere in Edmonton has a better reputation for burgers than The Next Act Pub. Try classics like the PB&J (that's right, peanut butter and jelly on a burger) or opt for the Drama Queen, one of the best veggie burgers in town. You can also order a couple of locally-brewed cold ones to wash down the deliciousness.
Delivery and take-out are available online from 3:00pm-8:00pm.
Local favourite Three Boars has been temporarily transformed into High Dough - a new pizza concept serving up delectable Detroit deep-dish pies. These pizzas pack a punch with recipes like Hoisin's my Poisin (featuring 5 spice roasted pork shoulder) and Donair, Don't Care (complete with sweet sauce).
Order your 'za over the phone and pick-up from the restaurant.