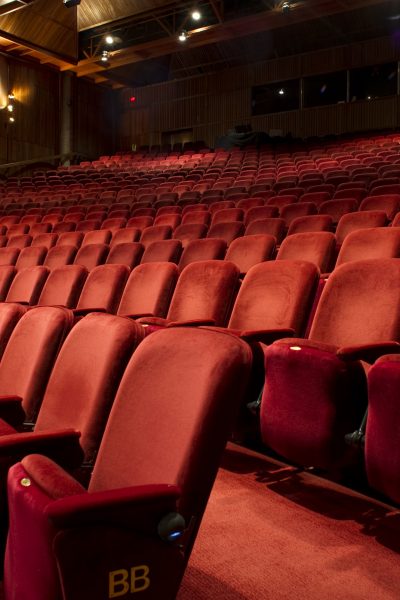 Live Theatre in Edmonton
All the world's a stage... but especially Edmonton. We have live theatre venues aplenty including larger spots like the Royal Alberta Jubilee Auditorium and smaller indie-stages like The Roxy Theatre. Get ready to sing along to a musical at one of Edmonton's dinner theatres, shed a tear at dramatic play or laugh out loud at an improv show.

Not only is this venue a cultural hub of Edmonton's downtown scene, The Citadel Theatre is one of the largest not-for-profit theatres in all of North America. Boasting five performance spaces of varying sizes and styles, a Citadel season offers something for everyone, from big-cast Broadway musicals to classic plays and intimate cabarets. In addition to its own season, the building also houses two of Edmonton's most celebrated local theatre companies: the Catalyst Theatre, and local favourite improv troupe, Rapid Fire Theatre.

Once you've satisfied your tastes for Broadway and spectacle, head over to The Roxy Theatre for something a little closer to home. Once located in a historic building on 124th street, a tragic fire in 2015 threatened to permanently close one of the city's most important artistic centres. However, resident company Theatre Network rose from the ashes and re-established the venue on Gateway Boulevard. With a dedication to Canadian playwrights, this award-winning company produces soul-stirring work.

The Mayfield Dinner Theatre
If your idea of musical accompaniment is prime rib and cheesecake, don't miss your chance to attend the Mayfield Dinner Theatre. The Mayfield's season consistently boasts an exciting collection of Broadway musicals, musical revues, and thrilling mysteries. Located at the newly renovated Doubletree Hotel by Hilton West Edmonton, the Mayfield Dinner Theatre gives you the option to combine your stay in Edmonton with an award-winning show and a trip to the buffet.

Few local theatre companies have managed to capture the hearts of locals in the way that the artist-run Varscona Theatre has. Since its beginnings in an abandoned fire hall in 1982, the Varscona Theatre now occupies a renovated facility just off of Whyte Avenue. As host to eight theatre companies, the venue is bursting year-round with musical theatre, boundary-pushing new plays, original comedies, and nights of improv.


Across the street from The Varscona Theatre, you'll find the iconic Walterdale Playhouse, an old Fire Hall turned performing arts space. Walterdale Theatre is one of Western Canada's oldest amateur theatre groups, and is run almost entirely by passionate volunteers. Here you'll find outstanding performances for a wide range of audiences, from classical plays to new musicals.

The Grindstone Comedy Theatre serves up your daily dose of rip-roaring laughs. The 75 seat theatre space is located in the heart of Edmonton's Old Strathcona, just a minute's walk from Whyte Avenue. This venue features 2-3 shows a night, 6 days a week including improv, stand-up, sketch comedy, talk shows and more! In between shows, grab a bite to eat and an ice cold beer from the bar and bistro out front.

Northern Alberta Jubilee Auditorium
Home to the Edmonton Opera, Alberta Ballet, and the chosen destination for Broadway Across Canada, the Northern Alberta Jubilee Auditorium is one of the finest theatres in the province. As a hub for performing arts it is also one of the busiest theatres in Canada and a space for world-renowned musicians to perform!
Jubilations Dinner Theatre
Jubilations Dinner Theatre in West Edmonton Mall offers up laughs and fun for everyone. Watch the talented cast take on the best in pop culture, crafting hilarious parodies of movies, music, and TV. Take in the excitement while you enjoy a four-course meal, served by the actors themselves.
Every year, over 800 performers from around the world come together to present more than 200 shows at The Edmonton International Fringe Festival. There's something for absolutely all tastes, and enough green onion cakes for everyone.
Head to Edmonton's Hawrelak Park for the opportunity to enjoy a production of Shakespeare's classic work from a grassy hill, against the backdrop of the lush river valley at The Freewill Shakespeare Festival. If you're lucky, the weather will stir with the romance and tragedy of the bard's best work, creating a uniquely beautiful theatre experience.
Want a glimpse at the next generation of Edmonton talent? Look no further than Nextfest, a festival made up of hundreds of young and emerging artists from a wide variety of disciplines.
In June some of the best improvisers in the world come to Edmonton for 10 days of improv and sketch comedy at Improvaganza. Don't miss some of the funniest acts on the planet!