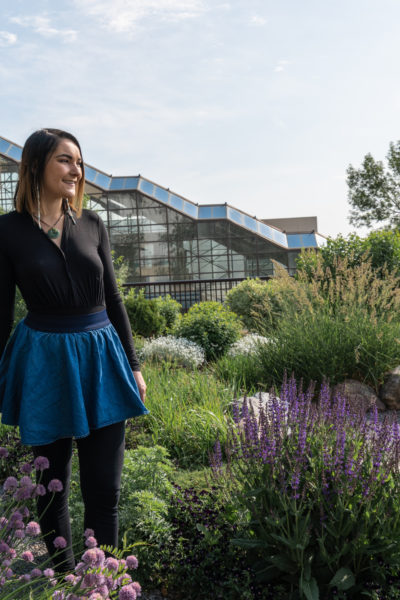 Indigenous Fashion in Edmonton
Indigenous fashion is on the rise! Edmonton is home to some incredible, trailblazing designers who are making waves in the fashion industry. There are more indigenous brands launching everyday, so make sure to keep an eye out on social media for the latest.
Nga Ihi o Nehua is a Maori/Cree/Mohawk mother-daughter team who share their gifts with all who wish to learn. Through fashion and design, this family-run line blends their cultures together to revitalize language and to preserve history and tradition.
Indigenous Empowerment Collective
The Indigenous Empowerment Collective is composed of local Indigenous fashion designers who are from various backgrounds including Cree, Mohawk, Blackfoot, Navajo, Cherokee, Dene, Maori and Métis. The collective hosts a variety of fashion shows throughout the year, so stay tuned for updates!
Heather Bouchier is from Beardy's and Okemasis First Nation in Saskatchewan and currently resides in Edmonton. She has designed garments for red carpet events like the Toronto International Film Festival and Aboriginal Peoples Choice Awards. Heather uses upcycled materials with traditional techniques such as bead work in her designs. She is inspired by vintage styles and blends them with modern flair.
Rhonda Johnson of Acahkos Designs hails from Northern Alberta, Treaty 8 territory. Her design roots originate from her Great Grandmother, who handed down her skills through oral tradition and teaching. Rhonda designs both contemporary & traditional clothing, regalia, custom orders & haute couture. She has even branched out into jewellery design & bead work.
LUXX Ready-to-Wear is a fashion company based in Edmonton that designs sophisticated, sleek and polished garments. LUXX is owned and operated by creator Derek Jagodzinsky, whose designs have been featured in the Native Fashion Now exhibit, the Smithsonian's National Museum of the American Indian, Western Canada Fashion Week, and on permanent exhibit in the Royal Alberta Museum. All garments are handmade right here in Edmonton with small quantity runs.
Brave Woman Designs is a clothing line inspired by Blackfoot and Indigenous history. Jamie Medicine Crane is the owner and creative force behind the brand which uses recycled materials and focuses on traditional and contemporary designs. Jamie also owns Brave Woman Botanicals, which specializes in natural healing products for the mind, body and spirit.

MOBILIZE is a movement intended for the spreading of love, energy, empowerment, and identity through fashion. Owned and operated by Dusty LeGrande, MOBILIZE creates "street wear wit a Cree flair". Dusty believes that clothing is meant to be your voice when you feel silenced and an extension of your own story.
Cassie Flett is a Cree/Métis woman from Gift Lake Métis Settlement. She is passionate about her connection to family, language and culture. Her brand, Northern Lifestyle, expresses the beauty of Indigenous people and the power they possess to walk between both worlds. As life is full of adventure and growth, Northern Lifestyle is in the beginning stages of its journey and is developing everyday.
Mixed Blood Apparel by Brandi Morin is a brand focused on Indigenous language revitalization. Brandi uses her designs to bring awareness to Indigenous languages to keep them alive. Their Indigenous-inspired leggings are a brand staple, and come in a variety of unique colours and designs.
Brad Crowfoot is a Niitsitapi and Dene artist and designer residing in Treaty 6 territory. Brad is committed to protecting and promoting Indigenous culture. His beautiful jewellery designs are influenced by his mother and grandmother- these special pieces are handmade with meticulous care. Be sure to follow him on Instagram to get a sneak peak at his latest creations!

Inspired Iskwêw Designs is an Indigenous owned fashion brand inspired by women. Creator, Saige Arcand, has developed a line of wearable affirmations that encourage iskwêwak (women) to pursue their everyday goals and dreams. Currently, Saige designs at home, but is looking into sustainable manufacturing!

JCat designs are one of a kind works of art. The pieces found in this line are hand-created using pencils, pens, sharpies, paint markers and more. While some of JCat's work depicts a connection to cultural roots with the use of colours, shapes, and animals, this line also draws inspiration from contemporary themes in hip-hop, fashion, sports, and anime.