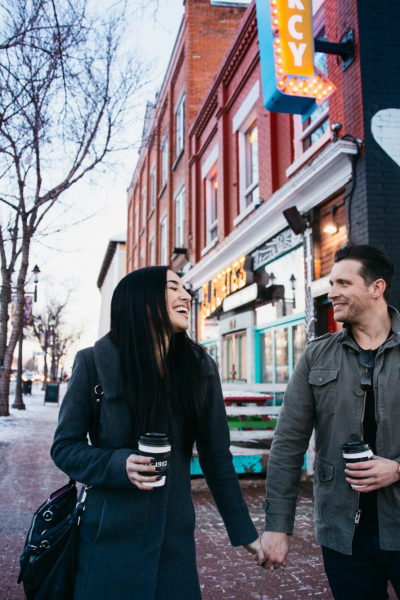 Holiday & Christmas Shopping in Edmonton
Don't get in a holiday gifting rut! Fill your shopping cart with unique gifts and impress everyone on your list. We know you'll wow your family and friends with the help of this handy guide to yuletide shopping in Edmonton. Santa ain't got nothing on you!

As you shop this holiday season, be sure to continue practicing safe physical distancing, frequent hand washing and following the guidelines put in place to keep everyone safe.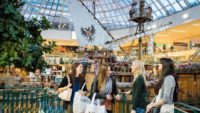 West Edmonton Mall is a one-stop-shop with the equivalent of 48 city blocks of shopping, dining, and entertainment. Check out the massive Simons for a one-stop fashion experience. Got someone who likes the sparkly things in life? Stop by stores like Tiffany's, Kate Spade, Michael Kors and so much more.

If you're looking to hit wide range of shops while staying indoors (and spend less time circling for a parking spot), Kingsway Mall and Southgate Centre offer a variety of tempting options. For a breath of fresh air between stores, weave in and out of South Edmonton Common's numerous shops, including many discounted outlets like J.Crew and Nike Factory Store. Or swing by the Premium Outlet Collection at EIA for a great selection of retailers and awesome deals.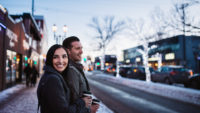 Whyte Avenue in Old Strathcona is a no-brainer for gifts that you won't find anywhere else. Plus, when you get tired of shopping, you can stop in for a snack at one of the dozen, delicious local restaurants along the ave.
Do you have a fashionista in the family? Hit up independent clothing stores like Bamboo Ballroom, Workhall, Jaisel or Gravity Pope.
Stop in at local print shop Vivid Print for Edmonton inspired illustrations or provincial archive photos that friends will cherish for a long time to come. The record collection at Blackbyrd Myoozic is a solid bet for impressing the hipster teen or ex-garage band bass player in your family.
Impress the fam jam with goods from The Old Strathcona Farmers Market. Check out local makers stalls such as Like Grandpa Shave Products, Ilya's Hand Weaving Studio or even pick up some local sips from Strathcona Spirits and SYC Brewing.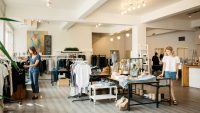 124 Street, on the periphery of downtown Edmonton, offers up a smorgasbord of indie boutiques and unique products. Shades of Grey, Harrow and Red Ribbon have hard-to-find clothing and accessory brands, and the helpful staff at these stores will hook you up with recommendations in a pinch as well. The Duchess Bakeshop is the perfect place to load up on stocking stuffers—a multi-pack of French Macarons is so much better than new socks. Just sayin'.
Art aficionados will appreciate receiving a special piece from one of the many independent galleries that line this street including Bearclaw Gallery, Lotus Art Gallery or Lando Gallery. Check out the full list of galleries here.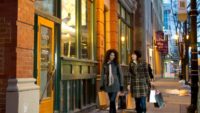 4th Street Promenade and the surrounding historic warehouse district is home to even more sought-after shops. Head to The Helm if you have a guy in your life who could use some fresh duds.
For gifts that are sure to win over your kid's teacher or please a picky client, head to Stylus for the cutest stationary, fancy pens and more. For the creative ones in your group, head over to Vacancy Hall in the Mercer Building to browse local makers and artists or pop into Wee Book Inn for some rare book finds and a good collection of comics. When in real doubt, grab a good bottle from Devine Wines, a locally-owned and well-stocked shop that specializes in fine wines and craft beer.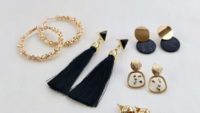 The Edmonton Christmas Market is the perfect place for all your holiday shopping needs. This year's market will allow folks to celebrate the festive season in a safe way - whether you stop by in person, or enjoy the experience virtually. Shop in person at the historic Army & Navy building in Old Strathcona (10411 82 Avenue) from Friday-Sunday between November 28 and December 20 or online here, from November 20 to December 4.
BOM YEG Holiday Market is a pop-up style market where you can find unique gifts created, crafted or curated by Black-owned businesses in Edmonton. Shop online from November 27-30, and check unique items off of your holiday shopping list. You can also shop the Afrodisiac Market online on Cyber Monday!
The Gift that Keeps on Giving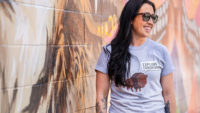 Give an awesome gift and help support Edmonton's businesses community... it's a real win-win situation! Since the end of March, Edmonton Print Machine's Here for Good campaign has invited customers to purchase t-shirts with their favourite local business' logo on it. The best part? The proceeds go right back into the pockets of that local company.

We've partnered with Print Machine to create limited-edition Explore Edmonton t-shirts for purchase. The proceeds from these shirts will be divided evenly and distributed to participating small businesses who are recovering from the impact of the COVID-19 pandemic. After all, when you shop for Edmonton-made presents, you're really giving twice - once to a family member, friend or loved one, and again to the entrepreneur, artisan, or local company that you are helping to support! Santa would be proud.