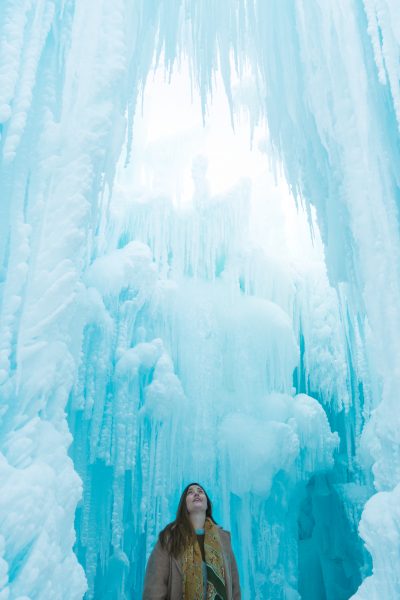 Guide to Edmonton's Ice Castles
Tickets are now on sale for the awe-inspiring Ice Castles, a must-see winter phenomenon built with hundreds of thousands of icicles. You'll feel like you've stepped through the wardrobe and into Narnia when you visit Hawrelak Park this winter. Ice Castles are presented as part of Edmonton's legendary Silver Skate Festival which brings the magic of the season to life.

This award-winning frozen attraction opens its frosty doors on January 3, 2020 and remains open until the structure melts away. The castles include breathtaking LED-lit sculptures, frozen thrones, ice-carved tunnels, slides, fountains and much more.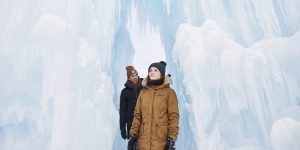 The Ice Castles are made of, well, ice… so you know it will be a bit chilly. Make sure you dress for the weather with a warm coat, scarf, tuque and mittens. You may want to bundle up little ones in snowsuits (they are definitely going to want to try out the ice slide!). Make sure you wear a good pair of winter boots with some grip to them— ice is slippery!
Make sure you pack a camera or smartphone. The Ice Castles are an experience you'll want to remember for years to come!
Get your tickets in advance! Ice Castles are a very popular Edmonton attraction — book your tickets online to avoid being left out in the cold.
Pro tip: when you buy a ticket, you are buying an arrival window. Tickets are good for admission into Ice Castles for the entirety of the time slot purchased. You may stay as long as you'd like in the venue, but there is no re-entry allowed once you have left the venue.
Senior discounts are available for individuals aged 55 plus. Tickets must be purchased in advance online to receive the discount — just use code "senior20" to receive a 15% discount off the purchase of all tickets. You must present a valid ID at the entrance when presenting your tickets.
Children age 3 and under are free and do not require a ticket for admission.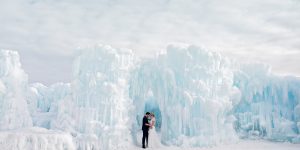 Explore Edmonton Photo Tips
Ice Castles make the perfect backdrop for incredible photos, both day and night. You'll have the chance to capture vivid colours when the sun is out, and in the evening you'll have the opportunity to experiment with the glowing light displays.

Daytime Photoshoots:
Get there early! During the week, the Ice Castles open at 4:00pm so you have a good chance of getting there before the locals are done their workday. Shooting during the day brings out the magical blue tones in the ice.
You will be shooting the interior of the Ice Castles far more than the exterior as there is a safety fence that wraps the outside of the structure. Bring your wider lenses if you're using a traditional camera.
The times that you can visit the Ice Castle during the weekend will typically place you right in mid-day, where the sun is at its highest. Sometimes it can be difficult to avoid harsh shadows, so aim to shoot on a cloudy day. Don't worry too much though, there are a ton of little spots to sneak away for the sun.
The best time of day to shoot is near golden hour (shortly after sunrise or before sunset). The way the sun hits the ice at that time provides some great colour. You can also grab a tripod and get some nice long exposures.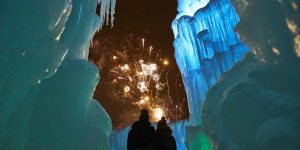 Nighttime photoshoots:
Be prepared to see a complete change in how the Ice Castles look and feel at night. There are beautiful light displays that beam through the castle to give your shots a different look.
Bring a tripod. You can still capture some nice photos while shooting handheld, but there is very little extra light around the Ice Castles, so that may become a challenge.
With the advances to smartphones these days, you shouldn't find it too hard to get a good shot for your Instagram gallery. Light is always your friend when it comes to getting crisp shots, so don't be afraid to get creative!
Don't forget to use the hashtag #ExploreEdmonton and tag @ExploreEdmonton to give us permission to repost your killer pics!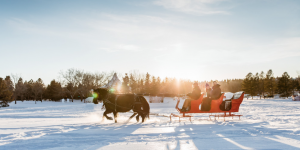 Some call it a winter wonderland, others call it a "true Canadian experience", and you'll likely have your own name for it after partaking in this snowy 10-day festival. You'll see winter in Edmonton, Alberta at its finest as you explore the Silver Skate Festival. Whether you're carving a snow sculpture or riding in a horse-drawn carriage, one thing is for sure, there's no business like snow business.

Silver Skate is the longest-running winter festival in Edmonton, now 30 years old. This festival started off as just a small event and now it's a large-scale winter extravaganza with visitors flocking from around the world!

Silver Skate Festival comes to Hawrelak Park from February 7-17, 2020!