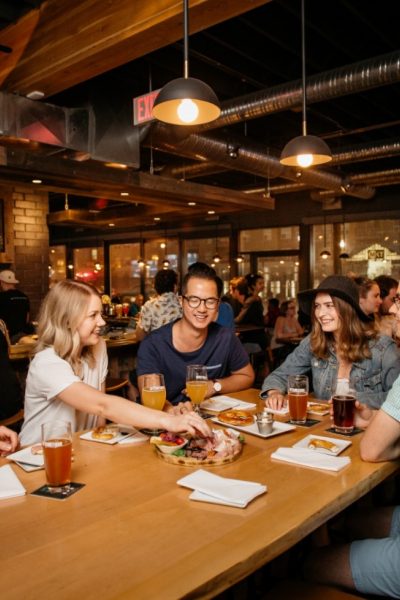 Great Brews, and Where to Find Them
Let local brew aficionado Curtis Wright be your guide to all the hoppy, frothy goodness that is Edmonton's beer scene. Whether the snow has freshly fallen or it's patio season, you'll be ready to savour a nice cold one with some tasty snacks at one of these favourite haunts.
There's a lot of passion pulling the taps at Situation Brewery — makes sense, too, considering it's plainly the brainchild of the literal thirst for good, locally produced beer. How local are we talking? On site (take a tour; beer is for learning too!). From the flagships brews—very hop-balanced Page Turner IPA and the wildly flavourful Earl Grey Infused Saison, to the daily produced casks (I was lucky enough to get my lips on a luscious Chocolate Banana Stout), each and every glass drips with desire to be truly great.

The mood in the room is conducive to a) admiring the beer b) having actual conversations where you can hear and c) asking questions about the beer you're enjoying. The menu is jammed full of perfect pairings of shareables and great entrees too, I had the Pretzels with Dill Aioli and Beer Cheese—which they should serve on tap, by the way.
Next Act is the perfect union of the place to be and the place you want to be. They've got the fully-lined beer 'bottom shelf' with local and top shelf beers and ciders, the introduction of the weekly Cameo Burger and lastly, walls lined with Vue Weekly's Golden Fork Awards. Best, best, best.

First I grabbed Spokane, Washington's hip brewery de jour Spin Cycle Red Ale, full of red malts but a bitter finish. From here I couldn't decide between their wonderful tap selection, with great stuff like Lacombe's Blindman Brewery and Edmonton's Alley Kat or something from the shelf. I opted for the very, very rich Cascadian Dark Phillips Benefit Brew: a flavour-world where aromas and strength of strong coffee mix the piney notes of a hoppier beer. Next Act fits so well for all ages and all styles; beer snobs and casuals will love the array.
Small in size, huge in personality, Arcadia's unofficial motto is All Alberta, celebrating Alberta's tremendous micro scene. To go with the great Albertan beer, the mood of the small room is part art hub, part musicians cavern with a fully vegetarian menu (or easily made vegan).

The Remlar Pale Ale from Edmonton's Yellowhead Brewery is the perfect avenue into American pales — dense in flavour, complex in arrangement and most important: accessible. On the bartender's suggestion I tried Turner Valley's Fahr Brauerel's Fahr Away hefeweizen. Now, with no slight to any of the other beers I tried, this was a mind-blower. Wildly refreshing, it draws (light and not lame) notes of banana, in a perfectly cloudy and medium body, which at first glance seems most perfectly suited for patio. That is until you try it and it becomes your immediate go-to.
The undercurrent running through Three Boars is wildly peppy and wholly familiar. As I sipped on Calgary's brewery Dandy's Une Vielle Maitresse Saison which is challenging in name, beautifully down-to-earth, light and spicy in flavour, I tried to figure out what exactly the vibe was.

I was sitting with my wife directly adjacent to the bar, surrounded by open conversations in tight quarters with wonderful drinks within reach and the smell of tremendous food, I figured it out: it's a kitchen party. Where does everyone inevitably gather in home? In a kitchen. The music's great, and everyone is perfectly settled. And if there's something as awesome as my second beer: Red Deer's Troubled Monk Open Road brown ale—perhaps the most smooth and peaceful brown ale available anywhere—as a beer lover (or a lover of dates, casual hang outs, wonderful tasting small plates, very educated staff), Three Boars' intimacy should be an Edmonton must.