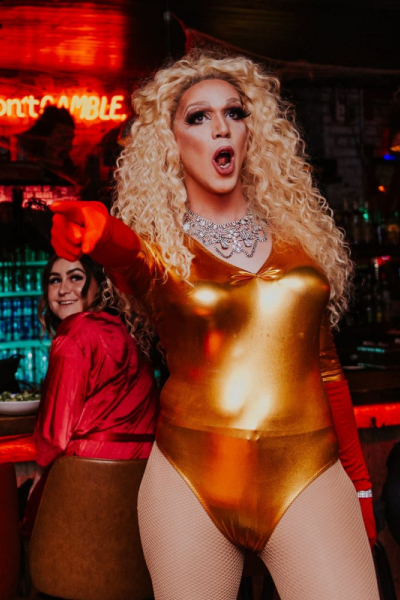 A Gay Ol' Time: The Best in Queer Nightlife
As Alberta's capital, Edmonton is known for a lot of things: our impeccable festival season, our absolutely gorgeous urban jungle, and according to my uncle, we are celebrated for our athletic achievements as well (don't ask me anything else about THAT, however, I skipped gym class A LOT)!

But did you know that Edmonton is also home to some of Canada's coolest Queer artists and events?! No?! Well, it's time to turn off that episode of RuPaul's Drag Race you were watching (#Justice4Manila), and go have a gay ol' time in the capital city! I've compiled a list of some of the fabulous (ugh) displays of LGBTQIA2+ excellence that you can catch this upcoming March.
Enthralled by the drama and glamour of television shows like RuPaul's Drag Race, but simultaneously obsessed with the concept of "buying local"? Then Evolution Wonderlounge HAS. YOU. COVERED! Finish off your weekend with "The Sunday Revue", a weekly showcase of local drag talent. The casts change from week-to-week; but the fun is always present! Select themes for the month of March include: "Call Me Daddy" (an all Drag King revue), and "The Revue Royale"!
Every Sunday - Evolution Wonderlounge (10220 103 Street NW)
Niuboi presents: Space Dance
Are you frustrated because nightlife on Earth is so 2000-and-late?! Then non-binary performance artist, Niuboi, has the party for you! Space Dance is a safe space dance party, featuring extraterrestrial eleganza, and showcasing performances by: Dwennimmen, Eggs, and DJ Sticky Ricky! Costumes are encouraged, and glamour is a guarantee; because this party promises to boldly go where no party has gone before! Space Dance is the final fron-QUEER (I'll show myself out).
March 1 - The Sewing Machine Factory (9562 82 Avenue NW)
What do you get when you combine one of Edmonton's most exciting drag-superstars-on-the-rise, with the incredible southern-inspired cuisine of Have Mercy? You get A League of Her Own, Ivy League's monthly drag extravaganza featuring performances by Tequila Mockingbird, Divina Diefor, and Lilith Fair. There's no cover to attend; but arrive early, as the space ALWAYS fills up quickly. And don't be afraid my sports-phobic friends, despite the name, there is absolutely no baseball involved—Promise.

March 2 - Have Mercy Southern Table and Bar (8232 Gateway Blvd NW)
Drag Dinner Theatre: DREK
Do you love fully stocked dinner buffets? Do you love drag parodies of animated feature films which were popular for their groundbreaking quality in 2001 and are now more popular for their meme-status in 2019? Do you love biased recommendations?! 50% Fruit Productions (full disclosure: the queer theatre company run by myself) has partnered-up with Yellowhead Brewery for the second instalment of Drag Dinner Theatre: DREK, a parody of the Academy Award-winning film, Shrek. The ticket price includes a delicious dinner buffet and audience members of all ages are welcome to attend; but be warned that the comedy is very much in keeping with our drag-queen roots, and not all jokes are suitable for children.
March 7 & 14 - Yellowhead Brewery (10229 105 Street NW)
An Evening with Violet Chachki
After absolutely destroying the competition on Season 7 of RuPaul's Drag Race, Violet Chachki took the worlds of fashion and burlesque by storm. She was a featured act on Dita Von Teese's The Art of the Teese tour, and even released an album of danceable bops in 2015! Evolution Wonderlounge (Edmonton's only 365 Queer nightclub) is proud to present this international beauty, alongside local burlesque and drag talent.
March 8 - Evolution Wonderlounge (10220 103 Street NW)
The SkirtsAfire Festival is Edmonton's only theatre and multidisciplinary arts festival whose main goal is to highlight women. It's worth throwing your money at this festival for that sole reason alone! Representation matters and this festival works diligently for that cause. Poly Queer Love Ballad is an award-winning new-musical from Vancouver which challenges conceptions about polyamory and queerness while aiming to create a new representation of intimacy that isn't confined by genre, medium, or societal obligations.
Plus, SkirtsAfire and Fruit Loop are hosting a late-night dance party on March 16 after the performance!
March 13, 16 and 17 - Cabaret Theatre at the Alberta Avenue Community League (9210 118 Avenue NW)
Hedwig and the Angry Inch
One of the most successful cult-rock musicals of all time arrives in Edmonton with a decidedly downtown approach courtesy of Next Stage Productions. Join Hedwig (and her band, The Angry Inch) at Evolution Wonderlounge, as she laments about her journey from communist East Berlin, her gender reassignment surgery, and her failed love affair with rock star Tommy Gnosis.
March 12-16 - Evolution Wonderlounge (10220 103 Street NW)

One of Edmonton's most charismatic drag personas hosts the longest running drag event at Have Mercy! Hail Mary and Have Mercy, hosted by Sister Mary Clarence, has become somewhat of a staple in the Edmonton drag scene. As with all Have Mercy drag events, there is no cover; but it is highly recommended that you book your table in advance. Come for the incredible show and stay for the awesome food!
March 16 - Have Mercy Southern Table and Bar (8232 Gateway Blvd NW)
That's a Thing?! Live Podcast
That's a Thing?! is a podcast with a premise so overwhelmingly charming, I can't help but smile while writing it out: "Elizabeth, a teen, explains her media to Karen, her mom". The SkirtsAfire Festival proudly presents a live recording experience of this podcast which you can attend for a donation of your choice at the door. The plot of the episode will explore how the internet has created a supportive and informative space for LGBTQ+ youth… an important tool, indeed, as some communities don't have resources to support these vulnerable members of our community.
March 17 - The Nina Haggerty Gallery (9225 118 Avenue NW)
Sing-A-Long Screening of Bohemian Rhapsody
Few bands have had the lasting impact on popular culture that Queen has had; which is remarkable considering that their last album was released in 1995, AFTER the death of their lead singer Freddie Mercury. Bohemian Rhapsody is a film which explores the rise to fame of the legendary rock group, and the untimely death of Mercury during the AIDS crisis. This "sing-a-long" screening of the film will also be hosted and feature a performance by Lilith Fair! Please note that the film is rated PG.
March 23 - Metro Cinema (8712 109 Street NW)
Alberta's Next Drag Superstar Semi-Finals
Every year, the best of the best of Alberta Drag comes together to fight for the title of Alberta's Drag Superstar! The contest is structured into separated Edmonton and Calgary preliminaries, and semi-finals, and then all remaining contestants compete in Edmonton for the finale (this year featuring extra special guest judge Latrice Royale, from RuPaul's Drag Race!). Evolution Wonderlounge is proud to present the Edmonton semi-finals of ANDS 2019 this month, with extra special guest judge Stacy Layne Matthews, also from RuPaul's Drag Race. It's a competition like no other, and if you are new to the Edmonton drag scene, it is an exciting way to introduce yourself to the community!
March 29 - Evolution Wonderlounge (10220 103 Street NW)
Man Up! has, since their debut in 2015, established themselves as the undeniable leading force in male-driven burlesque in Edmonton. This group challenges societal expectations of gender, using the mediums of dance, storytelling, and cosmetics. Their newest production, Heroes, explores what it means to be a "hero" in contemporary terms, and how we can find empowerment to be champions within our own community.
March 29 & 30 - Mile Zero Dance (10816 95 Street NW)
DTF ETC: Monthly Queer Talk Show
Finally, capping off the month, we have DTF ETC, a campy and thought-provoking talk show, which features interviews with pioneering queer, and trans folks about social and cultural issues and events in the Edmonton area. The show is hosted by Connie Lingua, and showcases performances by a rotating roster of local entertainers!
March 30 - Grindstone Comedy Theatre (10019 81 Avenue NW)
ABOUT THE WRITER
Zachary Parsons-Lozinsky is a 2011 graduate of the Theatre Arts program at MacEwan University, he is also a co-creator of the House of HOMO-CIDAL, and Artistic Director of 50% Fruit Productions! He is perhaps better known as his Drag Queen-alter ego, Lilith Fair (Alberta's Drag Superstar 2016, Miss Evolution 2017, 10× "Stiletto Award" winner, and 5× winner of Vue Weekly Magazine's "Best Local Comedian" in their "Best of Edmonton). He owes his sanity to his incredible partner Michael, and his current favourite film is "Strait-Jacket" starring Joan Crawford.