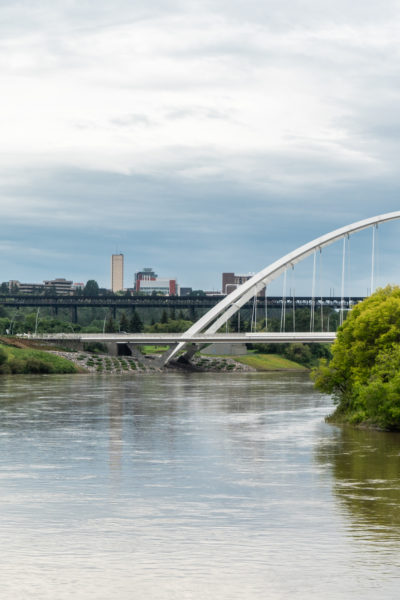 Free Things to Do in Edmonton - Summer Edition
Exploring Edmonton doesn't need to break the bank! In fact, experiencing the city on a budget can open your eyes to incredible overlooked adventures all over town. Peruse this list, then take your day up a notch with these fun, fabulous and free activities.

No matter how you choose to explore, be sure to practice safe physical distancing, frequent hand washing and following the guidelines put in place to keep everyone safe.
River Valley Trails are Waiting
Adventure is waiting right here, in your own backyard. The North Saskatchewan River Valley has over 150 km of trails begging to be explored. These trails are perfect for jogging, cycling, or even a casual stroll. Spend an afternoon wandering through North America's largest stretch of urban parkland, or cycle through the trees and trails on a mountain bike. Check out 4 of our favourite trails to try this summer here.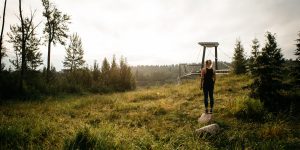 Discover the Legislature Grounds
Experience a taste of Alberta's history as you explore the Alberta Legislature grounds. Set atop the banks of the North Saskatchewan River, the Alberta Legislature Building is a marvel of beautiful Beaux-Arts architecture and the perfect backdrop for a stroll. Pack a lunch, or stop in at one of Edmonton's legendary downtown restaurants and pick-up a meal to-go — you can even save your pennies with the Explore Edmonton Downtown Dining Pass. With plenty of benches and landscaped areas, the Legislature Grounds are the perfect place for a picturesque picnic!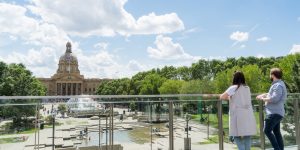 Paint the town red... and every other colour too
Add a little colour to your world when you discover Edmonton's iconic street art. Rust Magic represents spray-paint culture at its finest by showcasing high-quality pieces and educating the public on this often misunderstood art form. Check out their virtual mural map and plan your drive (or a physically distanced walk) around the city where you'll discover incredible large-scale works by international and local artists. Visit their Instagram page for some visual inspiration, and be sure to pack a camera so you can capture the moment yourself!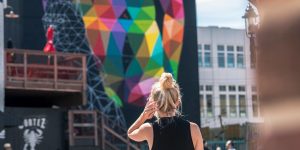 The Commonwealth Walkway App is a free guide to exploring Edmonton's river valley while reading and listening to one of five storylines (Indigenous, History, Family, River & Winter). All you need is a smartphone and a thirst for adventure! Gain a new perspective on Edmonton's history and take a free audio tour while using the Edmonton Queer History App. Stretch your legs, and expand your knowledge of Edmonton's ongoing story without spending a dime!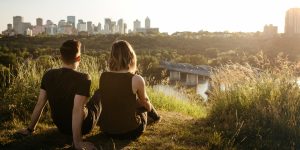 Story Time with Metis Crossing
Story Time with Kookum is a new digital series that helps to keep Metis children and families connected to their culture, especially during this time of physical distancing. In the first episode, Metis Knowledge Holder and teacher Lilyrose Meyers tells us a story about her favourite animal, the owl!
Refresh your Instagram Gallery
This is the perfect time to gain a new skill, so why not dust off your camera and work on becoming the best darn photographer you can be! Edmonton has plenty of picturesque locations just waiting to be captured. Let our article be your guide: Edmonton's Best Photo Spots. You'll see the city from a whole new perspective while taking your Instagram page to the next level.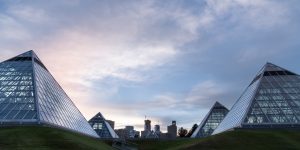 Old Strathcona Farmers' Market
The Old Strathcona Farmers Market is a great place to spend a Saturday morning (or more realistically an afternoon), even if you don't plan on making a purchase. Fresh produce, handmade jewellery, clothing, art and unique home goods are all on the menu. The market has new guidelines in place to ensure the safety of its visitors and merchants. Be sure to follow these procedures and practice frequent hand washing!