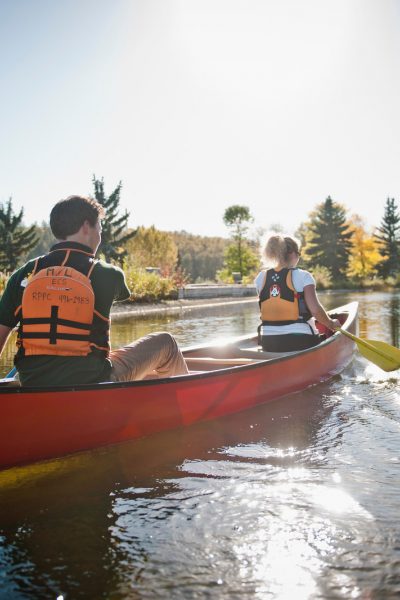 Explore Edmonton's River Valley by Canoe
On a canoe in the middle of the North Saskatchewan River, surrounded by the city of Edmonton above, there is a strange sensation of having simultaneously escaped the urban bounds while discovering the city anew. Emerald foliage gives way to silvery reflections and classic sandstone as you look up towards the Alberta legislature, downtown skyscrapers, the historic streetcar clanging over the High Level Bridge and the glass pyramids of the Muttart Conservatory.
For visitors checking out Edmonton's highlights and attractions, the most obvious way to get around is by vehicle or transit. That's how most people, local and visitor alike, do it. But take the route less paddled and you'll find that many of the city's best experiences are accessible by boat—and, you'll get an adventure in the bargain.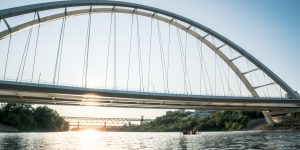 History
In Edmonton's early days, the present-day equivalent of a Boeing was the York Boat, like the one that lies preserved near the pullout at Rafter's Landing at Fort Edmonton Park. Like the rest of Fort Edmonton's early history exhibits—from the Fort of 1850, to operating 1930s midway rides—this is living history, and occasionally it still gets sailed. A little further downstream—literally and chronologically—lies the John Walter Museum. Walter was Edmonton's first millionaire, and also the first to launch a regular ferry service. Jump in and enjoy the water with Black Gold River Tours for some high speed history via speedboat—including panning for gold.

Note: Fort Edmonton Park will not be open for the 2019 regular admission season as it undergoes an enhancement project. During this time, it will still be open for private event bookings and a variety of food and entertainment events.

Flora and fauna
Just as intriguing as the human history is the natural history. Did somebody say safari? Most of the animals at the Valley Zoo are more exotic than what you'll encounter along the river, but after all, you never know.
Citizen science is the speciality at John Janzen Nature Centre, where visitors can watch bees work, explore a pond ecosystem, sample edible plants and learn about composting (hint: don't combine those last two).
Lastly, those glass pyramids—the Muttart Conservatory will nicely bookend a safari experience with some exotic plants and habitats, from tropical to desert, and a great patio dining experience at the Culina Muttart.

*Note: The Muttart Conservatory is closed for renovations until early 2021*

Action and adventure
Perhaps you fancy yourself a time traveler? Just north from the Muttart at Louise McKinney Park, you can jump on a Segway with River Valley Adventure Co. and go from fur-trade past to sci-fi future in under 60 seconds.

Or, imagine going from the hull of a canoe to thousands of metres high above with Edmonton Regional Helicopter Tours. Wild perspective swings like that will leave lasting impressions, for a day you won't forget.
Above all, traveling the city by boat is not about a set itinerary, it's about leisurely exploration that rides the currents and changes with a whim. Entrust the provision and ferrying of your vessel to one of Edmonton's canoe rental outfitters, Edmonton Canoe or Haskin Canoe, and you'll have one less care along the way.

Best of all, there are no traffic jams and the parking is free!