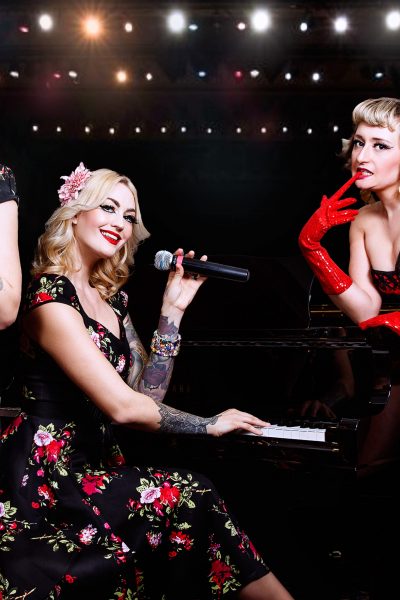 Entertainment Brunch in Edmonton
Brunch: the great equalizer. Every Sunday, Edmontonians flock to their favourite brunch spot to cure their hangovers and cover their plates in hollandaise. Why not take it up a notch with a side of jazz, burlesque or even drag? If you've got a group of pals or a loved one to go to brunch with, I highly recommend booking a table at any of these spots; however, if you find yourself travelling alone in Edmonton on a Sunday, Entertainment Brunches are still an awesome way to spend your mid-morning.
Drag Brunch at Yellowhead Brewery
Drag Brunch happens monthly at Yellowhead Brewery, which is right around the corner from Evolution Wonderlounge (where you can check out many other drag events). They offer two seatings, one at 10:00am and one at 1:00pm. I walked up the long staircase at Yellowhead Brewery to attend the early seating by myself and was assigned a seat at a table with two sets of best friends. Normally, the only opportunity you have to see drag queens in makeup before noon is when they're still in makeup from the night before!

Performers lip sync as they weave between the tables to ensure that everyone in the room has a good seat. Often, tips are the only way that Drag Queens get paid for their performances, so bring $5 to hand out as they come around to your table. Overall, it felt like an extremely inclusive space—the kind of place where people can wear whatever they want and they'll get a lot of yaaas-es in response. When the show was over, my face hurt from smiling so much.
Dueling Divas Burlesque Brunch at Have Mercy
The tickets to Dueling Divas Burlesque Brunch cost a bit more than Drag Brunch, but you get to choose from a variety of southern-comfort-style brunch options from Have Mercy's regular menu AND the performers get a guaranteed cut of the ticket sales. My first tip is to arrive early. The first seating is at 11:00am, but there were people waiting in the long stairwell leading to Have Mercy's entrance well before that.

The show is similar to Drag Brunch in that the performers move throughout the restaurant to give everyone a great seat at some point in the performance. The Dueling Divas, Jenesse Graling and Tiff Hall, hosted the show and belted classic tunes at their own pianos — well worth the price of admission. Their vibrant voices and plucky personalities will wake you up and leave you smiling. Curator, LeTabby Lexington's stunningly intricate outfits are a testament to the fact that burlesque is an expensive profession, so I recommend bringing an extra $20.00 bill to toss in the hat to tip the performers if you can. This inclusive event is a safe space for all and is a great way to start a Sunday.
Jazz Brunch at Blue Chair Café
For my final entertainment brunch, I had a date! My partner joined me for Jazz Brunch, which happens twice a month at the Blue Chair Café. There is free parking out front and it is down the block from Ritchie's famed Transcend and Farrow locations. Unlike Burlesque and Drag brunches, there is no set ticket cost. Brunch plates cost $13 - $20 and when you pay for your meal the server brings a tiny manila envelope for you to stuff with a cash tip for the musicians. We arrived at 10:00am and were seated promptly. The service was nothing short of amazing. Our server was fun, prompt, and very helpful. A Sunday brunch can often be mired by a collective hangover, but our server was ready to cure the blues.
Rooster Davis was playing the day we attended; the jazz serves as ambience rather than a concert to watch and participate in. Having live jazz playing during brunch is exactly the kind of novelty that made me feel like I was in a television program about my own life. Rooster Davis played some well-known favourites like the Peanuts theme, which had us bopping along at our table. The music is at a level that allows and even encourages conversation. The restaurant has accessible seating with tables that are at ground level while others are one step up on a raised platform.
My partner had Huevos Rancheros and I had fruit and yogurt with a side of banana bread. We were both very pleased with our choices and left feeling full. My partner asked me to include a note about their made-in-house mango hot sauce. Apparently, it's great.
NIUBOI came from space to save the world from a life of blasé mundanity. They live and work in Amiskwaciwȃskahikan (Edmonton) on Treaty 6 territory. They are a trans non-binary alien and use they/them pronouns. Their work combines visual art, movement, and theatrical practice to create live performance, video, installation, and cabaret works that explore queerness, futurism, and joy.