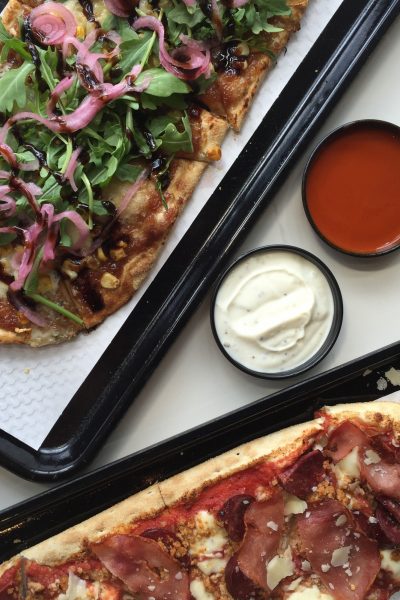 Edmonton's Best Pizza for Take-Out & Delivery
Ordering in pizza, it's a Friday night tradition as old as time itself (or at least pretty old). Though Edmonton's best pizzerias may not be offering dine-in experiences at the moment, their kitchens are still hard at work providing take-out and delivery for whatever day of the week it may be.

When we entered our current crisis, LOVEPIZZA wanted to give back in their special way: by dropping off pizzas for frontline staff at local hospitals. Soon after, they had customers and friends reach out to them and say, "we wish we could help." So, they came up with the idea for their "support pizzas" campaign. This initiative gives customers an opportunity to sponsor a meal that LOVEPIZZA will prepare, cook and deliver to a group that is fighting COVID 19 head-on. The team is currently working with numerous different groups including front line workers, local organizations and charities to distribute the pizzas. With over 2300 orders, it's a big job. The sale of these special pizzas is currently on hold while they deliver the donated pies, but you can still order pick-up or delivery for your family from their website!

Already a pick-up and delivery only pizza shop, Sepp's is ready to supply your at-home pizza feast. They serve up big, gorgeous New York-style pizza pies that taste just as good reheated the next day, so go ahead and order that second pizza you want.
Pink Gorilla might be one of the newer pizza shops in town, but that doesn't mean they weren't prepared for the influx of take-out orders. Check out their menu of traditional crusts and inventive toppings like spicy gingered beef, octopus and curried chickpeas (with cashew cheese for a vegan option).

Though you won't be able to enjoy the romantic coziness of Rosso's dine-in experience, you can still enjoy their Neapolitan-style pizza. Bring home a couple of tasty pizzas, turn the lights down low, and pop a bottle of wine (also available for pick-up) and you'll have the next best thing, however.

The oldest pizza joint on this list, Tony's Pizza Palace originally opened in Edmonton in 1974. Try a slice of their pizza and you'll understand why they've lasted. With Tony Sr's pizza-making knowledge coming to Edmonton from Italy via New York, there is some serious pizza pedigree here.

The crew at Three Boars knew their usual dine-in experience of small plates, cold pints and craft cocktails wasn't going to work in times like these, so what was the solution? Pizza. Pizza is nearly always the solution. They've launched High Dough, slinging deep-dish Detroit-style pizza. Yep, pizza is definitely the answer this time folks.

This is the place for all the vegan, vegetarian and gluten-free pizza lovers: Die Pie makes a tasty array of 100% plant-based pizza pies. These vegan pizzas are so good that even your meat-loving friends will be putting in an order for pickup.
Another deep dish pizza option comes from the kitchen of Campio Brewing Co. Known best for their award-winning brews, Campio is cooking up some of the best pizza in town too. Add on a six-pack of their All Malt Lager and you've got yourself a swell evening ahead.

Frequently voted the best slice in Edmonton, Ragazzi serves hand-tossed, thin-crust "pizza volare." They mix old-school Italian tradition with some modern twists. If you're a fan of a little spice, try the Davide's Inferno!