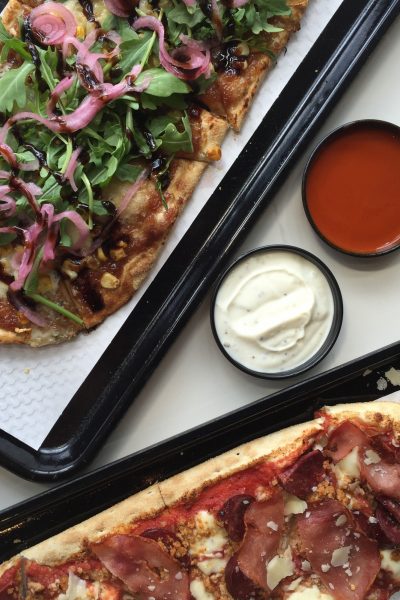 Edmonton's Best Pizza for Take-Out & Delivery
Ordering in pizza - it's a Friday night tradition as old as time itself (or at least pretty old). Many of Edmonton's best local pizzerias are hard at work providing take-out and delivery for whatever day of the week it may be. Everyone from meat lovers, to the controversial ham & pineapple fans will love the big flavours of the city's best pizza pies. Order up!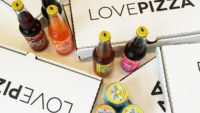 LovePizza? Well who the heck doesn't! Serving up thin crust, individual-sized pizzas with names like Holy Shiitake, Ode to Ukraine and Pie on The Fly, you can count on having an untraditional pizza experience at LP. They have locations that deliver from downtown, Erin Ridge (St. Albert) and Rabbit Hill (southwest), making there savoury pies as accessible as ever!
Already a pick-up and delivery only pizza shop, Sepp's is ready to supply your at-home pizza feast. They serve up big, gorgeous New York-style pizza pies that taste just as good reheated the next day, so go ahead and order that second pizza you want.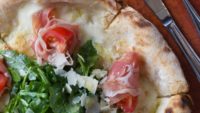 Though you won't be able to enjoy the romantic coziness of Rosso's dine-in experience, you can still enjoy their Neapolitan-style pizza. Bring home a couple of tasty pizzas, turn the lights down low, and pop a bottle of wine (also available for pick-up) and you'll have the next best thing. You can also order delivery through Door Dash!

Pink Gorilla might be one of the newer pizza shops in town, but that doesn't mean they weren't prepared for the influx of take-out orders. Check out their menu of traditional crusts and inventive toppings like spicy gingered beef, octopus and curried chickpeas (with cashew cheese for a vegan option). Delivery is available through Skip the Dishes!

The oldest pizza joint on this list, Tony's Pizza Palace originally opened in Edmonton in 1974. Try a slice of their pizza and you'll understand why they've lasted. With Tony Sr.'s pizza-making knowledge coming to Edmonton from Italy via New York, there is some serious pizza pedigree here.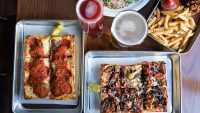 Another deep dish pizza option comes from the kitchen of Campio Brewing Co. Known best for their award-winning brews (which are also available for delivery through Skip the Dishes), Campio is cooking up some of the best pizza in town too. Add on a six-pack of their All Malt Lager and you've got yourself a swell evening ahead.

The crew at Three Boars knew their usual dine-in experience of small plates, cold pints and craft cocktails wasn't going to work in times like these, so what was the solution? Pizza. Pizza is nearly always the solution. They've launched High Dough, and have been slinging deep-dish Detroit-style pizza. Call and place your order then pick-up from the restaurant and you've got a delicious evening ahead of you.

Frequently voted the best slice in Edmonton, Ragazzi serves hand-tossed, thin-crust "pizza volare." They mix old-school Italian tradition with some modern twists. If you're a fan of a little spice, try the Davide's Inferno!