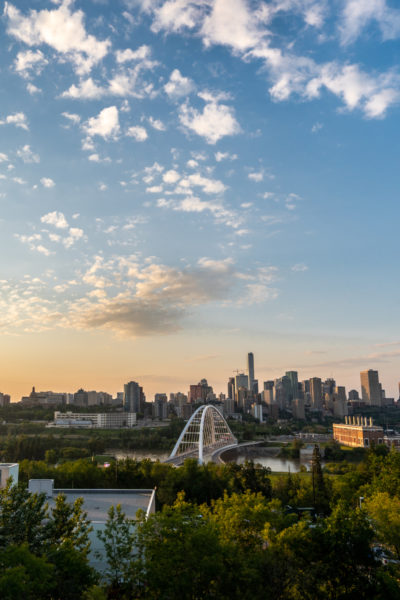 Edmonton Entrepreneurs Making a Difference: Part 2
Listen up, Edmonton! We're continuing our series highlighting the city's trailblazing entrepreneurs who are giving back to the community during this challenging time. Discover the Edmonton owned and operated businesses who are helping to uplift our city and the people that make it so special. Read on to learn more about how you can help as well – even the smallest contribution can make a big difference to those in need.

Click here to read part one of this series!
FIrst up, we have Edmonton Print Machine, coming in hot with two campaigns benefiting two worthy causes: local businesses, and the Edmonton Food Bank. Their #HereforGood campaign invites customers to purchase T-shirts with their favourite local business' logo on it. The best part? All the proceeds, after cost, go right back into the pockets of that local company. This campaign is giving an opportunity for small businesses that were shut down, or navigating modified operations, to continue reaching their clients and supporters. You can even order your very own limited edition Explore Edmonton shirt and support all the participating businesses in one go! Are you a local entrepreneur looking to join this venture?

Print Machine's "We Are in This Together" campaign invites locals to purchase items inspired by Alberta's Chief Medical Officer of Health, Dr. Deena Hinshaw. Proceeds after the cost of production of these items will be donated to various Alberta Food Bank chapters. The items for sale feature artwork from two creative Edmontonians, Laurel Hawkswell and Brendan Brown.


Brown was looking for projects to keep him occupied in the early phases of physical distancing when he reached out to Print Machine to produce shirts with his #HinShirt design. "I felt that Dr. Hinshaw was a particularly reassuring presence both in terms of her expressed compassion and skill at communicating complicated epidemiological science and policy to a general audience. So I thought it would be fun to do something that highlighted a local inspiring figure and emphasize a 'togetherness' aspect," said Brown. Once Jonny Jacques and the team at Print Machine realized the content of the shirt's design, they were eager to partner on a campaign benefiting those in need. The campaign has grown with items ranging from T-shirts and pins, to posters, tote bags and more.

There are many ways to support The Edmonton Food Bank during these unprecedented times and beyond. Whether it is the gift of food, funds or time; your generosity means the world to someone in need.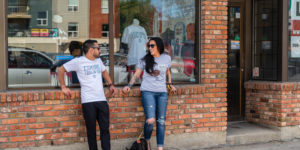 Highlands Liquor, Fox Burger & Sea Change Brewing Co.
What began as a social media call-out between two local businesses turned into a hilarious campaign that gave back to the community in a major way this spring. It all started when Sea Change Brewing Co. posted an Instagram story promising that anyone who ordered an entire pallet of beer would receive free delivery... via forklift. Well, Nate Box and the team at Highlands Liquor & Fox Burger couldn't let that slide. They ordered that pallet of beer, and sure enough, Sea Change came through with their priceless delivery guarantee. On April 13, the local brewing company transported 100 flats (or 2400 cans) of their smooth-drinking Blonde Ale all the way across town to Highlands Liquor, in a pink forklift, no less. For the record, a forklift has a peak speed of 5 km/hr, and the two businesses are about 10 Kilometres apart. Lucky for us, the entire event was well documented in this video... make sure you watch until the end!

This group of local mavericks didn't stop there – they turned their shenanigans into a campaign benefiting those in need. Packs & flats of brews were sold at Highlands Liquor, with 20% of all proceeds going towards the Edmonton Food Bank. You could also purchase singles at Fox Burger, with 10% of proceeds going to this worthy cause. Needless to say, they sold that pallet of beer very quickly, and Nate Box is currently working on another campaign in partnership with Blindman Brewery and Steve & Dan's Fresh Fruit (hint: a tasty new cider may be involved).

The Edmonton Food Bank is an organization committed to the mantra: "Relieving hunger today. Preventing hunger tomorrow." Click here to learn more about how you can help support this worthy cause.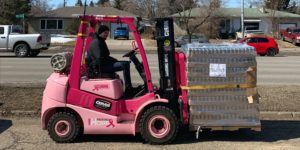 MEAT, Pip & The Next Act Pub
The Next Act Pub, Pip and Meat are celebrated sister restaurants and Old Strathcona staples. If you ask any Edmontonian about their favourite local watering hole, they are likely to name one (if not all) of these restaurants. When the COVID-19 pandemic hit, the three eateries had no choice but to close their doors to the public. In a time of great uncertainty, the team took a moment to look outward to the community who would benefit greatly from a donation of food and goodwill. They decided to donate a large supply of unused food from the closure of all three restaurants to The Mustard Seed's "Neighbour Centre", the only centre for adults struggling with poverty & homelessness on the south side of the river, with whom they've had an ongoing partnership. The Mustard Seed is a safe and supportive place where people experiencing problems associated with poverty and homelessness can have their physical needs met in the short term, but also begin to heal and grow mentally, emotionally, and spiritually for a better life down the road. The team at Meat also cooked up 50 litres of pork rib stew for donation, and the restaurants have made contributions to both the Hope Mission and the Old Strathcona Youth Society as well.

On top of all that, The Next Act sold 'Surprise Packs' of 4 randomly selected beers, with all of the proceeds going directly to supporting the Edmonton theatre community, a group that has been greatly affected by the cancellation of productions and venue bookings during this time. Since their initial closures, Meat, Pip and The Next Act are now up and running again, so be sure to stop by or order-in!

People experiencing poverty and homelessness are among those most at risk of infectious diseases such as COVID-19, and organizations like The Mustard Seed need your continued support. Visit their website for information on how you can donate and help make a difference.