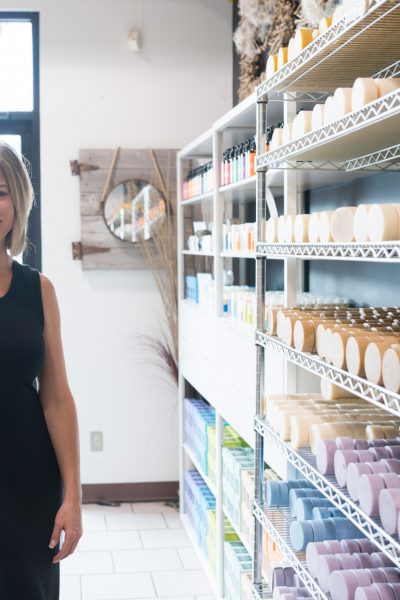 Edmonton Entrepreneurs Making a Difference
Independently owned restaurants, service businesses, retailers, tour operators and experience providers have continued to make our city one to be proud of, even when business could no longer operate as usual. In fact, many of Edmonton's trailblazing entrepreneurs have found a way to give back to the community while working to keep their local businesses afloat during these uncertain times. Read on to learn more about the inspiring Edmontonians behind your favourite local businesses, and how they are stepping up through creative thinking and a spirit of community.

Click here for even more entrepreneurs who are making a difference.

Tanya Zurock - Wild Prairie Soap Company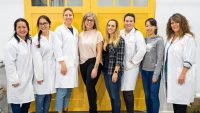 Tanya Zurock and her team at Wild Prairie Soap Company knew early on in the pandemic fight that they had an essential product that could help save lives. After listening health experts implore people to be diligent in their handwashing practices to help protect against the spread of the COVID 19 virus, Tanya and her team couldn't help but think about the people who may not have access to soap. Since it's the number one way to personally protect yourself, she knew that her company had a role to play and a duty to help where they could. So, they decided that for every online order they receive, they would donate 1 kg of their natural soap to a community service organization in need.

Recipients have included Boyle Street Community Services here in Edmonton, Wood's House in Calgary and WIN house. To Tanya, having access to soap during a pandemic is as essential as having access to food in a famine, so if they could provide that, why wouldn't they?

Of course, the 20-year old natural soap and body care company is also dealing with the pandemic's impact on their business, so they wanted to create a campaign that would both help them continue to engage in a with their customers and give back to the community. In return for their customers' support, they donate the soap on their behalf and every order they ship comes with free soap samples and lotion.

This campaign has now become the ongoing "give-back" cornerstone of their business. The response to the concept has been overwhelmingly positively, and they are happy to be able to continue helping their partners on the front lines who care for those in need.
Karen Anderson - Alberta Food Tours
Alberta Food Tours has had to pause their award-winning culinary experiences for the time being (don't worry, you can still hire a guide for a private tour), but that doesn't mean that Karen Anderson and her team have stopped encouraging Albertans to eat local - they can still help you find and support Edmonton's food artisans. Just check out their blog for a list of great food that you can still purchase from Alberta businesses.

Over fifteen years ago, Karen left her longtime career in nursing because she wanted to focus on helping people make healthier choices around food. She started writing about farmers and served on the board of Slow Food International to promote local farms and chefs. It was here that she got the idea to launch Alberta Food Tours, which would allow her to spread the word about Alberta's food producers to locals and tourists alike.
At the beginning of the pandemic, Karen submitted to return to her nursing career to help in the healthcare system - she received letter from head of AHS, Dr. Verna Yui, thanking her for submitting her name. Thankfully, they did not need her at that time.

Karen has travelled around the globe and says that she couldn't be more proud of Alberta and what we have to offer the world in terms of food quality and taste. Alberta is one of the last places with great topsoil, which we need to treasure and protect. It is her hope that the COVID crisis will help the community recognize the value of a local food system.
Kathryn Joel - Get Cooking
Get Cooking is a culinary school in the heart of Edmonton's downtown, just blocks from the Ice District. They offer chef's table cooking classes focusing on the use of local ingredients to create globally inspired cuisine. When their live cooking classes had to be paused due to the Covid 19 pandemic, this local business took their classes online. Today, they are offering a mix of in-person and virtual classes to help you hone your knife skills and prepare mouthwatering meals.

On top of moving their operations online, Kathryn Joel and the Get Cooking team have worked to donate food to those in need. They have donated meals to Pregnant Pathways and other not-for-profits around the city, and have supported the community with the surplus of what they cook in their classes.
Team members have also donated their time at Prairie Gardens and Adventure Farm helping in the greenhouse and will be continuing to run free virtual classes on basic cooking skills for Edmontonians to learn from and enjoy. Check them out online, and support this incredible local business.

Braede Harris & Gavin Fedorak - LOVEPIZZA
When they first set out to provide food to the front lines, LOVEPIZZA's Braede Harris and Gavin Fedorak dropped pizzas off at a few local hospitals. Soon after, they had customers and friends reach out to them and say, "we wish we could help." So, they came up with the idea for their "support pizzas" campaign. This initiative gave customers an opportunity to sponsor a meal that LOVEPIZZA prepared, cooked and delivered to a group that is fighting Covid 19 head on. The team has worked with numerous different groups including front line workers, local organizations and charities to distribute the pizzas.

The LOVEPIZZA team believes that it is just as important to feed the heart as it is to feed the belly. Right now, we're all craving connection in some way. They have delivered pizzas to hospitals, drug stores, grocery stores, fire halls, police stations, social workers, and local charities to name a few. Many front line jobs are very difficult mentally, physically and emotionally at the best of times but right now there is an added weight. This local company is a shining example of doing what you can to let folks on the front line know that they are seen and that we are grateful for them.