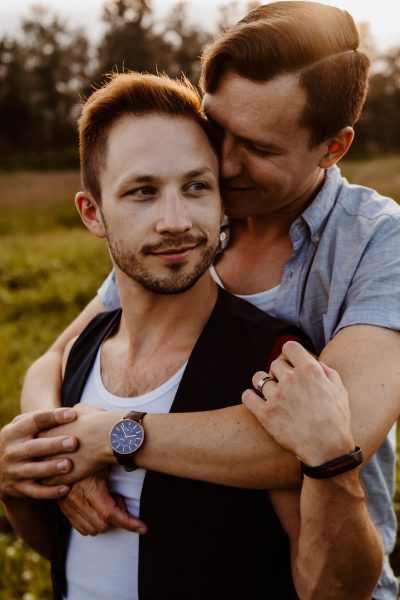 Celebrating Pride Month in Edmonton
June is Pride month, when the Two Spirit, Lesbian, Gay, Bisexual, Transgender, Queer and Questioning (2SLGBTQ+) community celebrates and reflects on the queer rights movement. With the COVID-19 pandemic, this year's Pride month has a different look and feel to it. So, why do we gather in June for Pride month? How does Edmonton's queer history tie into the broader movement? And most importantly, how can you support Edmonton's 2SLGBTQ+ community?

Grab a cup of tea, darling, and let's chat.

Header image photo credit: Brendan Roy
A key thing to understand about the queer rights movement is that until the '60s and '70s, it was downright illegal to be open about who you were. In order to avoid both persecution and prosecution, bars and clubs were hidden from plain sight. Being openly queer has been an act of protest until very recently. Even today, we fight for better visibility and inclusion for members of our community.

The Pride movement started as a protest led by trans women of colour against police brutality. On June 28, 1969 at the Stonewall Inn, a queer club in New York City's Greenwich Village, police targeted the club on the grounds of "serving alcohol without a liquor licence". The raid led to three days and nights of confrontation, violence, and resistance. Stormé DeLarverie, Sylvia Rivera and Marsha P. Johnson were key figures, and sparked what is now regarded as the gay rights movement. To this day, June is a reminder to our rainbow community of standing together.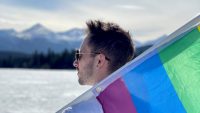 Here in Canada, with the passing of Bill C-150 in 1969, homosexuality was decriminalized and gay clubs were allowed – or, at least, weren't actively illegal. In Edmonton, as queer historians Darrin Hagen, Ron Byers, and Rob Browatzke note, the first queer pub was located in the basement of what is now the Milla pub on 101 Street and 105 Avenue, operating as a private club under the Societies Act. They called it Club 70. The location was soon changed to what is now Latitude 53, once the landlord of the Milla Pub location found out the patrons were gay, and proceeded to change the locks. 

Club 70 remained open until 2012. Other Edmonton queer bars and establishments since 1969 include Flashback, the Roost, Boots, Buddy's, Junction, and Mama's Gin Joint. Today, the only queer nightclub in the city is Evolution Wonderlounge. As restrictions ease and we can reopen nightclubs (hopefully in July!), I am eager to get back on the dancefloor and let my hair down.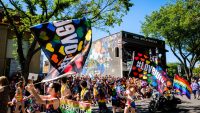 Edmonton's first Pride parade was in 1982, a year after the historic Pisces bathhouse raid. The following year, a larger, week-long event took place, including a film festival, art exhibition, and music nights. Since 1982, the second week of June has included the majority of Pride-themed events including street parties, parades, networking sessions, and solidarity marches. Edmonton's Pride has renewed its sense of activism and protest in recent memory, calling for greater inclusion for racialized and marginalized communities.
The phrase "No Pride for some of us without Liberation for all of us" has been a call to action for solidarity, inclusion, and a reminder of how much work is left to do to ensure the Pride movement reflects the diversity of our community.

Edmonton is a city full of love, full of opportunity. We celebrate each other's successes, and stand in solidarity with each other's heartaches. My partner and I have fallen in love with Edmonton again and again because there's no place quite like YEG. From patio season and River valley picnics, to a vibrant arts scene and a fiercely proud 2SLGBTQIA+ community, Edmonton is unlike any other city in the world.
Over the last year, as the COVID-19 pandemic affected traditional in-person Pride events, serving a harsh blow to the hospitality, arts, and entertainment sectors. This is especially true for queer art, which thrives on in-person connection. In the truly Edmonton spirit of innovation, local organizations pivoted and adapted to public health guidance and have done their best to provide opportunities to connect with the queer community, and to celebrate and support queer art. As restrictions ease, this year we will see a hybrid of in-person, online, and at-home events:

Stonewall Symposium Presented by RARICANow
RARICANow, a non-profit that promotes Human Rights for all LGBTIQ+ refugees and newcomers in Canada, is hosting an online Stonewall Symposium. Featuring both local and international speakers, this event will address and share stories about successes and challenges faced in gender-based violence work. There will be healing circles as well as live performances by BIPOC2SLGBTQ+ artists. The event will include Queer and Trans Black, Indigenous, and Peoples of Colour (QTBIPOC)-only spaces. Registration is mandatory and closes on June 18.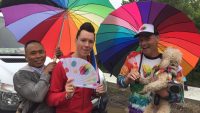 Augemented Reality Pride Tour
The Fruit Loop Society of Alberta has developed a unique augmented reality experience. This self-guided tour takes you across ten locations in the heart of Edmonton and showcases our community's past, present, and future. With over 50 performers, this immersive, outdoor tour is free of charge and launches on June 11, running through the summer.
Pride@Home Kits
The Centre for Sexual and Gender Diversity (CSGD) at MacEwan University and deVine Wines & Spirits are offering up Pride@Home kits. There are 2 choices for the kits: Boozy (featuring alcoholic bevvies) and Fizzy (non-alcoholic). Click here for package details and to order. Proceeds benefit the CSGD.

Pride Centre of Edmonton Events
The Pride Centre of Edmonton will be hosting a series of events online throughout the month. Events include a youth prom on June 12, panel discussion with some incredible artists on June 24.


ISCW Events
The Imperial Sovereign Court of the Wildrose, which has been raising funds for local charities for decades through drag showcases and other community initiatives, will be hosting a series of drag and queer shows throughout the month! I'm particularly excited for the "call me daddy" Father's Day show that will feature drag kings from the Edmonton area!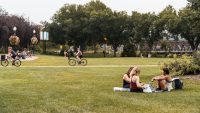 Party Queens YEG at Ezio Farone Park
Local drag collective Party Queens YEG will be hosting a drag show every Friday in Ezio Farone Park beside the High Level Bridge. These events have a real feeling of community, and this author highly recommends attending. Bring some cash to tip your performers!

As part of Pride month, it's important to support local non-profits and community groups. The CHEW Project, for example, serves 2SLGBTQ+ youth facing poverty or lack of housing. The Edmonton 2 Spirit Society advocates for better representation and inclusion of the Two Spirit Indigenous community here in the greater Edmonton area. Another great group to support is the Imperial Sovereign Court of the Wildrose, which has been raising funds for local charities for decades through drag showcases and other community initiatives. If you're looking to acquire Pride gear or wares made by or for the 2SLGBTQ+ community, I highly encourage you to check out the Quiltbag, Traveling Tickle Trunk, or Majesty and Friends.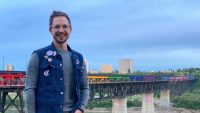 At an individual level, the best way to start your journey as an ally is to commit to being actively anti-homophobic, biphobic, and transphobic. Call out behaviour and remarks as soon as they happen. Visibility and solidarity matter. If we actively create inclusive spaces and increase visibility, we can work together to celebrate and protect Edmonton's 2SLGBTQ+ community.

Pride is, by nature, about community action. Even without a parade, you can still support Edmonton's' 2SLGBTQ+ community. Have a safe Pride, Edmonton!
Joshua Wolchansky was born in Calgary and raised in Edmonton by three generations of powerful women – his grandmother, single mother, and big sister. A neoclassical dancer by training, Joshua has over a decade of professional performance, choreography, teaching, hosting, and production experience. Joshua is a dedicated community activist, working to create opportunities for the arts and hospitality sectors as the Entertainment Director for Fruit Loop Society of Alberta, and the Ballet Master at Dance Code Studio Inc. On a summer day, Joshua can usually be spotted either riding his bike through the city, or on a patio sipping a Sea Change Prairie Fairy.