Celebrating Female Entrepreneurs in Edmonton
Entrepreneurship is the backbone of our resilient city and we are proud to continue to showcase the local trailblazers who work to open-up a world of possibility to the next generation of female groundbreakers. One thing is for certain - there is no shortage of inspiring women in this city. Stay tuned as we continue this series throughout the year and showcase the people behind the local businesses that create a dynamic place to live, work and explore.

Header image credit: Dong Kim
Tam Andersen: Prairie Gardens
A trained horticulturalist, Tam Andersen came to Edmonton to work at Prairie Gardens in 1984. Located just north of the city, along the gold rush era's Athabasca Landing Trail, Tam couldn't imagine a more romantic area to set down roots of her own. Heritage rows of apples, beautiful trees and flourishing greenhouses - what better place for a lover of plants and people?

Prairie Gardens was established in 1956 as a tree nursery and is steeped in rich history. It was a perfect fit for Tam's entrepreneurial spirit to germinate. Soon after her arrival, a u-pick strawberry patch, a corn maze and a fall pumpkin patch were added to the farm's roster of offerings. Prairie Gardens is now known for their incredible pumpkins - including the rare Blue Ghost variety. In fact, they are the northernmost grower of blue pumpkins in the world.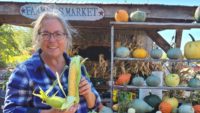 With the winter months almost behind us, Tam knows that people are yearning for meaningful connections, outdoor experiences, fresh produce and fantastic local food. This summer, you'll find private chef's table dinners, fermenting workshops, cooking classes, u-pick experiences, a new chef's collective and more on the docket at Prairie Gardens.

Tam draws inspiration from female industry-leaders who came before her, like The Honourable Lois Hole - 15th Lieutenant-Governor of Alberta, and owner of Hole's Greenhouses. Today, she is proud to work with entrepreneurs whom she admires; Davina Moriako of RGE RD, Christine Sandford of Biera, and Kathryn Joel of Get Cooking to name a few.

Her advice to future women in the industry? "Be an entrepreneur with relentless passion! Love what you do, believe in yourself, and stay the course - with the flexibility of a willow in the wind!"

Be an entrepreneur with relentless passion!
Mai Nguyen: Gourmai Dumplings
Before hitting the small screen on the most recent season of Master Chef Canada, Edmonton's own Mai Nguyen traded in her day-job as a safety advisor for her first white apron – working as a line cook at Prairie Noodle Shop. With the support of the noodle shop's owners, this leap of faith led her down the path to starting her own business. Gourmai Dumplings takes fresh ingredients and bundles them up into little satchels of complete culinary genius. She says that it is her personal mission to create tasty new flavours that push the boundaries of what people think a dumpling should be.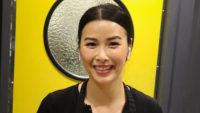 Mai has always been drawn to food; in fact, she has a BSc in food technology and nutrition, but struggled to find a job that allowed for creativity in that field. Today, she gets those creative juices flowing teaching cooking classes with Get Cooking, run by another trailblazing female entrepreneur, Kathryn Joel. Mai says that she is lucky to have been connected with Kathryn, who is a strong supporter of the Edmonton culinary community; she's constantly promoting local products and spotlighting Edmonton's small business owners, especially other women-led businesses.

Mai says, "I really appreciate how interconnected and tight-knit the small food business owners are in Edmonton and how willing they are to help one another. I haven't been part of the community for very long, but I feel very welcomed and supported".

Mai encourages up-and-coming female entrepreneurs to just get started. "It doesn't have to be a completely life-altering first leap like quitting your job and starting from scratch," she says, "just slowly start by building the foundation for your business until one day it becomes a possibility to do what you love full-time". For now, Get Cooking's classes are virtual, but Mai is counting down the days until she can start teaching in-person and hosting private dinners again.
Just start. It doesn't have to be a completely life-altering first leap.
Nunu Desalgne: Habesha African Market
When she's not advocating for family-centred community spaces and initiatives, you can find Nunu Desalgne welcoming customers at Habesha African Market. Nunu immigrated to Canada from Ethiopia in 2002 and after working in the culinary and hospitality industry, decided to open her own restaurant alongside her husband, Semere (Sammy) Berhane. They eventually founded the market - a staple along 107 Avenue where you can find a wide selection of African and Caribbean products including the freshest spices and fragrant Ethiopian coffee beans.

This entrepreneur's vision is to contribute to the revitalization efforts underway in the Central McDougall community so that she can help create a safe space for her kids to play - Nunu is first and foremost the proud mother of her three children, BK, Grace and Abigail. She is also the Logistics Manager at Black Owned Market Edmonton, a collective whose mission is to uplift, build and support Black owned businesses, entrepreneurs, creatives and community organizations in the city.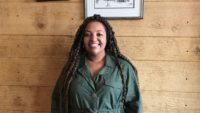 "The most challenging aspect of being an entrepreneur for immigrant women is adapting to a new culture, regulations and values," says Nunu, "you'll have to be ready to work twice as hard, if not harder, in order to have a sustainable business. The added pressure for female immigrant business owners is that they often work behind the scenes, in the shadows of a male dominated field".
Despite these challenges, she affirms that owning your own business is extremely rewarding. Her advice is to persevere and find a network of female entrepreneurs who can support you along your journey. Nunu admires the tenacity of passionate women like Seble Isaac, who is also from Ethiopia and owns Tiramisu Bistro on 124 Street. Seble had a vision to open up her restaurant and did everything she could to ensure her dream became a reality.

So what's next for Nunu? She is currently working on Taste of Habesha (a grab-and-go food box program), her own line of spices and planning a new festival for 107 Avenue. Stay tuned on social media for the latest updates on Nunu's ventures!
Find a network of female entrepreneurs who can support you along your journey.
Sissy Thiessen: Wase Saba (Stoney: Black Bear) Experiences
Sissy Thiessen discovered her life's purpose during the summer of 2014 while working with the City of Edmonton's Flying Eagle program, educating children about Indigenous culture in playgrounds around the city. During this time, she found a passion for engaging Indigenous awareness through play, performance and creativity. From that summer on, she dedicated herself to building her own skills to create an activity and workshop toolbox that she could share with the greater community.

Five years later, Sissy took a risk and officially registered her business - Wase Saba (Stoney: Black Bear) Experiences.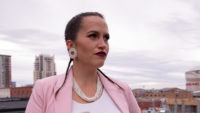 It wasn't until a coworker said, "You know, you could do this full time" that the idea to start a business took root for Sissy. The final push to register her company came from Mackenzie Brown, who was working at Explore Edmonton at the time. Not only is Sissy a female entrepreneur and Edmontonian, she is also an Indigenous entrepreneur, which has its own strong and supportive community. She credits her friends and colleagues who believed in her for giving her the confidence to take that final leap into entrepreneurship.

Her advice to future female business owners is to "Believe in yourself, always be on the lookout for grants and don't be afraid to ask for help - you'd be surprised how many people have help to offer and who believe in you".

She follows in the footsteps of local business owners she admires like Donna Ghostkeeper of Indigenous Peoples Creative Spirits. "I really love that she shares resources by employing Elders and other Indigenous creators in her store," says Sissy, "she has such a variety of Indigenous goods and crafts - and it's all absolutely gorgeous".

On the horizon, you can expect to see many exciting changes for Sissy and Wase Sabe (Stoney: Black Bear) Experiences. She is in the process of creating virtual Indigenous education content as well as performance sessions that can be streamed from anywhere in the world. She will also be rolling out new in-person experiences in the spring, once COVID 19 restrictions ease.

Photo Credit: Cole Richards of Indigenality_Photography.
Don't be afraid to ask for help - you'd be surprised how many people have help to offer and who believe in you.
Christine Sandford: Biera
As Head Chef of Biera restaurant in Ritchie Market, Christine Sandford brings a refined European sensibility to the kitchen. With over a decade of experience as a chef, she has worked in many prestigious restaurants including Culina Mill Creek in Edmonton as well as La Buvette, Cafe Des Spores and De Superette in Belgium. Christine grew up here in Alberta, but it was once she went overseas that she realized that she could use her new found knowledge to make a positive impact back in her home town.

"Edmonton is a unique city in that the food scene is still quite small and growing, which makes running a restaurant really interesting," says Christine, "I love being able to constantly create and introduce new things to our customers. I like to expose people to new ideas, new ingredients, and new farms in hopes that after they dine at Biera they might have tried or learned something new."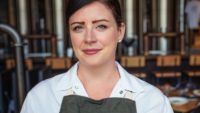 It's no secret that working in a kitchen can be very demanding. Christine's vision was to make her own contribution to the restaurant industry by creating a positive work environment. Today, she shares the kitchen with some amazingly talented chefs, many of whom are female. Her advice to women with culinary aspirations is not to hold back and to always trust your gut. "Stick to your vision," she says, "some of the most powerful people I have worked for have been women. Don't be afraid to stand up for yourself and ask for what you are worth".

She is inspired by local female entrepreneurs like Kathryn Joel of Get Cooking and Tam Anderson who owns Prairie Gardens. Kathryn has helped many local chefs gain exposure through her classes, and Tam's unique herbs like lemon verbena and hyssop have had a huge influence on the style of food Christine creates at Biera.

The restaurant industry is still defiantly recovering from the impact of the pandemic, but Christine hopes to see more positive changes happening in kitchens everywhere. "When an industry is small," she says, "it's only better by banding together to make something bigger".
Stick to your vision. Some of the most powerful people I have worked for have been women.
There are many women-led businesses that you can support here in Edmonton. From retailers to restaurants and everything in between, you'll find female entrepreneurs at the helm! For even more businesses, check out Linda Hoang's blog "Shop Local: Guide to Women-Owned Businesses in Edmonton".