Two pieces of bread and a tasty filling— sandwiches may seem uncomplicated, but finessing the perfect hand-held meal is trickier than you'd think. Lucky for you, these fine establishments have mastered the craft of sandwichery. We're talking reubens, po-boys, grilled cheeses, paninis, subs and everything in-between. Get your napkins ready!
If you want a life-changing sandwich, look no further than The Italian Bride at Swiss 2 Go. The family running this authentic Swiss deli on Edmonton's north side are nothing sort of sandwich architects. Think a freshly baked pretzel baguette lavishly sprinkled with kosher salt, thick slices of bocconcini, a generous portion of dry-aged Italian prosciutto, notes of fresh basil and a drizzle of heavenly olive oil. Perfection. Top it off with a helping of the Wurst salad and you've just transported yourself to the base of Jungfrau.

Must-try: The Italian Bride
Sandwiches aren't all fun and games, there's a real art to them, and Careit Urban Deli in downtown Edmonton is really nailing it. No matter what you're in the mood for, Careit's got it. From a basic ham and turkey to something that packs a punch like the chicken and brie with balsamic mayonnaise and fresh basil, your taste buds will surely be satisfied. The shop also has a wide variety of meals, soups and desserts all bursting with flavour that you can take on the go!
Must-try: Any of their signature sandwiches
Sandwiches go punk at Farrow. Their tiny, original 109th Street location screams DIY— from the hand-drawn chalk menu to the tight kitchen just steps behind the counter. Skipping the glitz of fancy sandwich shops, Farrow puts the focus on a small menu of delicious grab & go creations and high-quality coffee. The menu changes frequently, except for the Grick (their signature sandwich), so expect new flavours every visit.
Must-try: Tricked-out Grick with a bottle of cold brew coffee.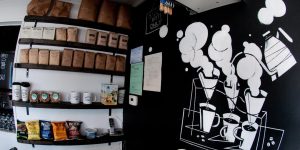 There is something special about biting into a grilled cheese sandwich— the buttery crunch of the crisp bread, the soft & savoury centre, the rush of endorphins that course through your veins as a string of cheddar dangles from your chin. We're not talking about the standard Kraft Singles and Wonderbread situation here; Melt Sandwich Co. does it right with the use of ingredients from local producers, like thick-cut bacon from Irvings Farm. You'll find this sandwich haven tucked away on the second floor of The Bell Tower downtown, open for breakfast and lunch.
Must-try: Mac & Cheese Melt
Do you like a slim sandwich? Then this is the place for you! District Café is an amazing bakery that makes some of the freshest bread around. Their staple sandwiches are made with skinny in-house baked baguettes, which make them easy to eat when you're a busy person on the go. We recommend grabbing one (or two or three) for a walk through the nearby Alberta Legislature grounds. Do note, these sammies are only available Monday-Friday.
Must-try: The Salumi Sandwich
No sandwich list worth it's weight in carbs would be complete without a mention of Meuwly's. Part local marketplace, part delicatessen— this 124 street hotspot is the bees knees. The crew behind Meuwly's keeps it simple, with a choice of three rotating sandwiches at lunchtime and the option of throwing your pick on the panini press. We would also highly recommend sampling their chorizo popcorn and homemade soups. That's it folks. Not enough for you? Then check out their Secret Meat Club — but shh you didn't hear about it from us.
Must-try: rotating sandwich of your choice!
Although you may know Fifendekel for their pies, their incredible sandwiches are just as legendary. These sammies are so fresh that you even watch them get made right in front of you as you choose your fillings. Try one with their in-house baked sunflower bread and a bowl of chilli on the side (for dipping, duh).

Must-try: Montreal Smoked... and a slice of lemon meringue pie on the side.