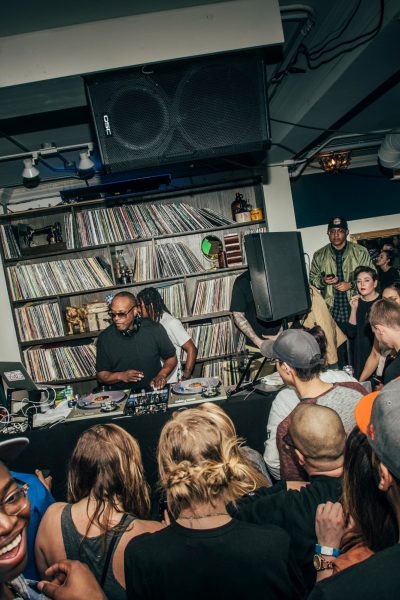 The Best Dance Floors in Edmonton
Two-stepper? Hip-hop rump shaker? Old-school disco dancer? Edmonton has plenty of venues inviting you to boogie on down and show off your best dance moves. With a nightlife scene as buzzing as Edmonton's, you can grab dinner at a local restaurant and stay for the party, or pop into an old English-style pub and jive into the early morning hours. Here's our list of Edmonton's best dance destinations - a good mix for every type of music lover.
Drop it like it's hot at The Common
Spend more time dancing and less time being a wallflower because the DJ's here are killer. The Common doubles as a relaxed foodie spot by day and by night they turn the volume up and let the sweet hip-hop and R&B beats blast. If you're looking for a change of pace, check out their event venue downstairs, 99ten, where live bands take the stage on Saturday nights, and karaoke, drag queen bingo and comedy shows happen all week long.
Boogie Oogie Oogie at The Bower
Business in the front, party in the back: The Bower is the perfect mix of '70s chic, complete with wood panelling reminiscent of your great grandmother's living room, paired with your childhood best friend's basement. They've even got taxidermied animals to finish it off. Grab a cocktail from the mahogany bar and take a seat on one of the vintage couches. Or boogie on over to the dance floor at the back where the DJ spins disco tunes, house jams and hip-hop beats. And yes, there's a disco ball.
Get Your Woof on at The Black Dog Freehouse
At first glance, Black Dog looks like your typical English pub. But, only the best stories start with, "This one time at Black Dog...". Grab a stool at the bar on the main floor. Whirl your way downstairs, a.k.a. 'Underdog,' where you'll discover comedy shows, live bands, and mosh pits. Or shimmy your way to the rooftop, aptly named the 'Wooftop,' and light up the dance floor under the starry sky. The only downside: there are no actual dogs here, just cool cats behind the DJ booth spinning awesome tunes.
Cut Loose at Cook County Saloon
Put on your cowboy boots because it's time to two-step your way around Cook County's massive dance floor. Between playing new country hits and classic oldies they'll mix in your favourite line dances and before you know it you've stepped into a scene from Footloose - sans the token bad boy coming to shake things up. But then again...you're close enough to Whyte Ave, you may just find a Kevin Bacon type character looking to kick off his Sunday shoes.
Taco 'Bout a Good Time at El Cortez
When you add delicious Mexican food, a tiki bar, a dance floor and an outdoor patio together you get the ultimate recipe for a good time. Sip on a Sonora Rose and hit the Tequila Cellar where the rotation of DJs play classic tunes, remixes, dance jams and hiphop beats. Maybe they'll surprise you with one of their secret shows: they've hosted the Sheepdogs, Hollerado, Matt Mays, Chantal Kreviazuk, Lindi Ortega and Shawn Hook just to name a few.
Bring out your Alter Ego at The Buckingham
What do you get when you mix an old English pub, a vegan menu, and a dive bar feel? The best night of your life! Put on your best fake British accent, tell everyone your name is Lucy or Alfie, and pull out your favourite dance moves because tonight, you are your alter ego. The Buckingham is one of the best spots on Whyte Ave to hit up for an authentic dance floor experience. There's no pretension, everyone is welcome and there is ample space for jazz hands on the d-floor.
Shake What Your Mama Gave Ya at Hudsons
Start and end your night at Hudsons. Have a beer on the patio, dive into their creamy buffalo chicken dip and, once the lights turn down, clear a path to the dance floor because you're about to bust a move like you never have before. The dance floor is always packed because the DJ is spinning the latest pop hits.