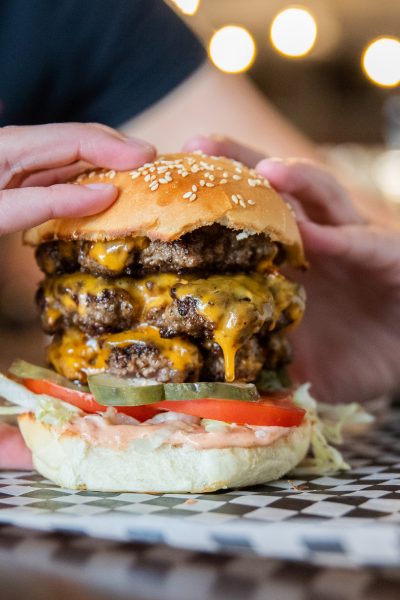 Best Edmonton Burgers for Take-out & Delivery
A sense of normal is a tough thing to come by these days, but for Edmontonians, what's more normal than enjoying an Alberta beef burger? Not much. Thankfully, many of Edmonton's best burger joints have stepped up with delivery and take-out options to satisfy our burger cravings. Doing your part to support local Edmonton restaurants is easy when all it takes is enjoying a delicious burger.
As restaurants begin to reopen, you now have more mouth-watering options than ever. Whether you choose to dine-in or take-out, be sure to continue practicing safe physical distancing and frequent hand washing.

Prepare to take your hunger to the woodshed with one of the juicy burgers at Woodshed Burgers. This popular burger spot rapidly responded to the current situation by offering its own online ordering and delivery (making sure the delivery fee stays local). They've even converted their sister restaurant, the usual dine-in Workshop Eatery, into a second southside Woodshed location for a closer pick-up location.

Nate Box's latest restaurant, Fox Burger quickly pivoted from their premium dine-in experience to a physical distancing compatible pick-up alternative. Not only are they serving up some of Edmonton's best burgs (their Inferno Smash brings some serious heat and flavour) but they've also partnered with Sea Change Brewing for a good cause. Buy a four-pack of Sea Change Blonde with your burger and 20% of the price will be donated to the Edmonton Food Bank.

After a few weeks of preparation, The Next Act Pub (and its sister restaurants Pip & Meat) has reopened for take-out and delivery only. If you've been patiently waiting to get a PB&J Burger or The Drama Queen, now's your chance! You can also order beer to-go, perfect for enjoying on your patio or balcony!
For the time being, sports are on hold, but that doesn't mean that 1st RND is slowing down. Usually a mecca of sports watching, 1st RND is offering their over-the-top burgers and a huge number of wing flavours to take home. So next time you're rewatching the Oilers 2006 playoff run, complete the experience with a beer and burg from 1st RND.

An elevated fast-food burger experience, The Burger's Priest is still offering their delicious burgers for take-away and delivery. Want something a little extra wild? Ask about their secret menu for some truly massive burger combinations. Get the napkins ready!