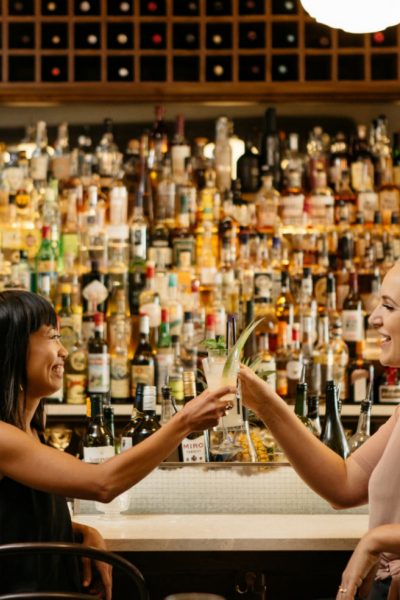 After Work Cocktails and Drinks
Food, wine and travel writer Mary Bailey is the editor of The Tomato food & drink magazine. Let her show you the most memorable places to take clients, network or bond with co-workers after-hours in Edmonton.

What makes a place special for after work drinks? Well-made cocktails. Good things to nibble on. Intimate atmosphere. No big screens. Sorry sports fans.
The deliciously illicit speakeasy vibe of Baijiu creates an uninhibited transition from day to night plus the location is ideal for pre- (or post-game) drinks at Rogers Place. The focus is fine cocktails with Asian-inspired plates, including late night dumplings, bao and dim-sum inspired dishes. Drinks by Tommy Cheng, food by Alexei Boldireff.
Must try: Korean-style Brussel's sprouts, pork and shrimp lion's head dumplings
The moody interior and great music make Bar Bricco a no-brainer as the place to end the day. It's also your best bet to experience aperitivo, the classic northern Italian after-work bite and a drink. Enjoy small plates (spuntini) by chef Micah Joffe with your Negroni or Aperol spritz, or a glass of Barolo off of their superb mostly Italian wine list.
Must try: Salumi tasting plate, rye and speck crostini
Brought to you by The Next Act and MEAT family, pip is a quaint 28 seat restaurant in the heart of Old Strathcona. Dive into the menu featuring a light array of classic and uncomplicated comfort items that are simple, yet skillfully executed.
Must try: French 75 cocktail, seared trout
Woodwork is all about wood-aged spirits and wood-cooked food. New chef Lindsay Porter may take things in a slightly different direction, but will utilize the spectacular Grillworks wood-fired grill to its full potential. Sturdy cocktails are courtesy of behind-the-bar genius James Grant. The central location makes it the perfect post-work stop for business travellers staying in nearby downtown hotels.
Must try: charcuterie plates, steak frites
The Volstead Act's (cocktail impresarios Andrew Borley, Jordan Clemons and Evan Watson) newest venture is lovely. Intimate, with a variety of seating, the Art Nouveau-inspired design encourages dallying over delicious and ever-changing small plates by chef Roger Letourneau. Enjoy thoughtful cocktails along with an outstanding wine list that possesses bench strength in Sherry and Champagne. This uniquely Edmonton offering is the place to impress out-of-town clients after hours.
Must try: smoked clams and oysters, cheese dishes