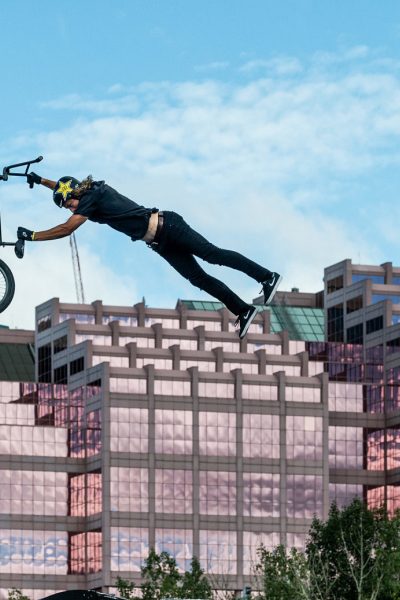 Adrenaline-Fueled Adventures
Blazing down MacKinnon Ravine toward the North Saskatchewan River at 60 kilometres an hour, I glimpse a paraglider taking flight off the hillside to my left. The rainbow-coloured chute catches the sun's rays as the river glimmers below. I straighten out of my speed-tuck to soak in the view, the wheels of my longboard gliding beneath me. Here lies Edmonton in its green and gold glory, a city that thrums with adventure year round, where the only thing between you and a dust-caked, adrenaline-soaked, sun-baked epic are the limits of your own imagination.
Here are a few suggestions to help you shed those limits.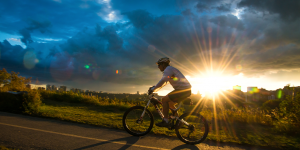 The river valley's flowing hills, dells and drops—and a few hairpin turns—make for great landsurfing. Edmonton has a small but tight-knit community of boarders.

Jump on a mountain bike and you'll find even steeper descents. A former host of the ICU Canada Cup cross-country finals, Edmonton's 7400-hectares of river valley are criss-crossed with great bike trails. Singletracks.com members rated The Strathcona Science Park area as the number one mountain bike trail in Alberta. Terwillegar, Capilano and MacKinnon Ravine areas all get nods as well.
Rent a bike at River Valley Adventure Co., consult a trail map or join in a group ride with one of the local shops and start turning those cranks.

After getting all hot and dusty in the saddle, there's nothing like getting on the water to cool off. The fastest way to go is by jetboat with Black Gold River Tours. They'll have you skimming along the North Saskatchewan River at up to 50 kilometres per hour.
If you'd rather be the driver, you can do it Laird Hamilton-style and paddlesurf. Stand up paddleboarding, anyone? The river's powerful current will put your balance, coordination and strength to the test. Or, get a tow in at Shalom Park, one of Canada's premier waterskiing and wakeboard facilities.
Time to dry off? Harnessing the lift of the wind to propel you into the sky is a thrill beyond imagination. Paragliding—as I mentioned off the top—is fairly niche in Edmonton (although it happens), but kiteboarding is growing as a year-round activity, with outfitters like Leading Edge pushing the sport and providing lessons.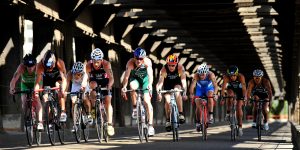 Maybe it's the city's pioneering heritage but above all, Edmonton is an endurance town. Triathlons, adventure races, and ultras anchor the summer season here.
The ITU World Triathlon will be hosted in Edmonton from July 20-21 2019, and the Servus Edmonton Marathon takes place from August 17-18 2019. Check out RunGuides for a list of upcoming races in the Edmonton area.
The only question you'll have afterwards—aside from who's got Advil—is, if I really push it how far can I go? The answer is, you'll never really know until you test those limits. And there's nowhere better to do it than here in Edmonton.