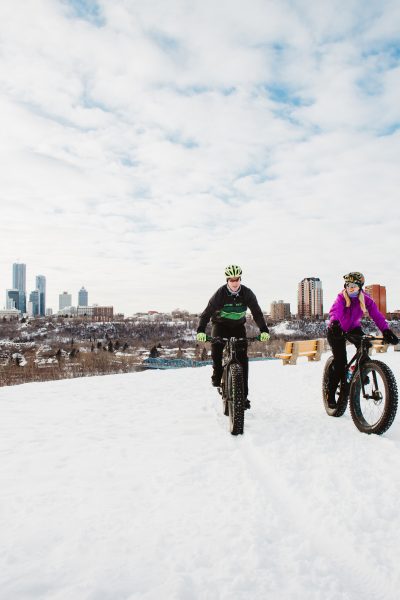 A Thrill Seeker's Guide to Winter in Edmonton
LET'S GET EXTREME (extreme... extreme...extreme...).

We're calling all adrenaline junkies! If our monster truck voice wasn't enough to get your heart racing, we understand. But you better buckle up— winter in Edmonton is no time for hibernating. In fact, it's one of the best times for thrill-seekers to explore the city in unconventional ways. Continue reading for a list of the most adventurous, adrenaline-pumping, and yes, even EXTREME things to do in Edmonton this winter.
Snow tubing is one of the most thrilling winter activities, and Sunridge is the place to get tubular in Edmonton. This is the perfect activity for thrill seeking families, who like to do winter a little differently. With a dedicated tubing lift (so you don't have to walk up the hill), three groomed chutes, and special tubes, you'll look at winter with a totally different perspective. Some might even say, an extreme perspective.
Enter Beast Mode with November Project
When former Edmonton Oilers captain Andrew Ference moved to Edmonton, he started the first November Project tribe in Canada. Yes, our northern climate adds to the challenge of the workout. But if you finish the session in -30C weather, they give you a badge to prove how much of a warrior you truly are. Anyone can join, just show up! November Project encourages people of all ages and fitness levels to get out of bed and join the tribe.
Leave your fear of heights on the ground and see the city from a whole new angle— in a helicopter up in the sky. Edmonton Regional Helicopters specializes in helicopter services and charter operations 12 months of the year throughout the central Alberta region. This includes heading west to the Rocky Mountains which is only 40 minutes away!
Conquer the Dead Cold Run at Silver Skate
Kick-off your race season and beat away the cold by participating in Dead Cold Run's 'Frozen 5k' or 'Icey 10k' events on February 9 at the Silver Skate Festival. Both races take you along the snow-packed trails of the North Saskatchewan River and the day is far from over once you cross the finish line. Stick around and enjoy everything that the Silver Skate has to offer including snow carvings, skating, the Ice Castle and more.
Get your Climb On at Rock Jungle
Spider Man ain't got nothing on you. You're a climbing sensation, and Rock Jungle Climbing is the perfect place to show off your skills. Rock Jungle Boulders (downtown) is the first bouldering-only climbing facility in Edmonton. Here you'll find over 6,000 square feet of climbing walls built by the world's leading climbing wall maker, Walltopia. Rock Jungle Fitness (Westend) boasts 12,000 vertical square feet of walls so there's always space to climb. They have two floors of dedicated bouldering walls, 33 top rope belay stations, and a dedicated lead climbing area. We're sore just thinking about it.
Indoor Thrills at West Edmonton Mall
Looking to take things up a notch, but would prefer to stay inside? World Waterpark at West Edmonton Mall isn't just for chilling out on the glorious indoor beach (although we won't judge you if you do). Take your visit to the next level and try the world's largest permanent indoor zipline, The Skyflyer. Then head to Galaxyland and ride Mindbender, the worlds largest indoor rollercoaster. Pick up a WEM Multi-Play Pass at visitor services to make the most of your visit!
If you're more of an adventurous eater than an adventurous doer, you're in luck. There are plenty of ultra spicy food options in our fair city. You'll be sweating, your eyes will be watering, and you'll be dreaming of a big, cold glass of milk. Head to Northern Chicken to get your 3 piece in extra hot. Or take it to the max (you crazy daredevil) and ask them to crank up the heat to whatever inferno-level you crave. Tres Carnales downtown also has killer hot sauce which takes their already delicious tacos to a whole other level. Still looking for more spice in your life? Swing by Nudoru and order a big bowl of their Dragon Ramen. It features a super hot chili paste that will clear out those sinuses, no problem. Don't say we didn't warn you.
Explore the gorgeous North Saskatchewan River Valley trail system on Segway with River Valley Adventure Co. It's where bold travellers break off from the beaten path and make their way into the wild!