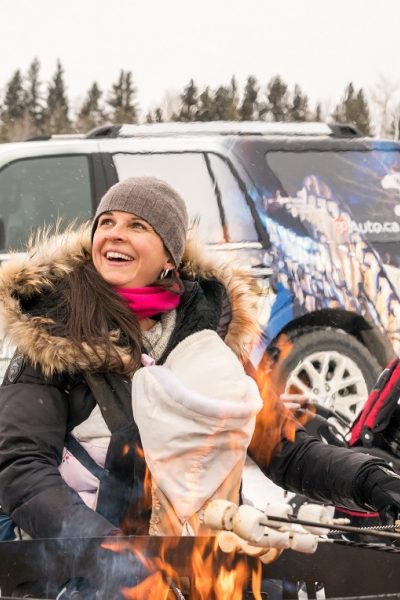 9 Free (or Cheap) Things to do with Kids During the Holiday Break
Are you afraid the kiddos will be crying out with boredom just hours into the holiday break? Well, fear no more, because finding ways to entertain your kids has never been easier! We've rounded up a list of fun and free (or cheap) activities for you and the kids to do, that will get you in the holiday spirit.
Snowshoe by Day, Stargaze by Night
Feel like spending a day (and/or night) in the great outdoors? Then do we have the perfect activity for you! Toss on your snow boots and head just 35 minutes east of Edmonton to Elk Island National Park. This wildlife oasis provides the perfect setting for a snowshoe adventure - you might even get lucky and spot a bison plowing through the snow.


As the sun begins to set, grab a seat around the cozy campfire and prepare to spot the wonders of the night sky. As Elk Island is part of the Beaver Hills Dark Sky Preserve, this is an exquisite location to take in seasonal meteor showers, the northern lights, or count the stars that glisten above.

Youth 17 and under daily admission is FREE, Adult daily admission is $7.80

Prefer to stay in the city? Hit the trails in our very own river valley. With over 150 kilometers of interconnected trails, there is no shortage of exploring to do. Check out this blog to see a few of our top-rated trails to tackle. When your toes start to feel numb, head on over to the Telus World of Science and check out their brand new RASC Observatory – an incredible place to view the stars and planets.

Free


Sleigh Rides and Shopping
Hear those sleigh bells jingle-ing, ring-ting-tiingle-ing down Whyte Avenue – Rudolph not included. Every Saturday and Sunday, take a horse-drawn sleigh ride down Whyte Avenue, hopping on and off as you choose. This is the ultimate way to get a little last-minute shopping done at some of Edmonton's eclectic and trendy local shops.

Sleigh-rides are free, but donations to The Mustard Seed are greatly appreciated.
Every year, the Alberta Legislature lights it up (literally) to celebrate the season. You can walk around the illuminated grounds, skate in the park or listen to the choir carolling in the rotunda. Thousands of lights provide the perfect backdrop for magical holiday moments. The centrepiece is a giant Christmas tree, decorated with over 5,000 lights of its own.

Free
Afterwards, head west to Candy Cane Lane, a neighbourhood project that has been making spirits bright for 5 decades! This group of neighbours go all out every year with life-size Santas, Christmas trees and thousands of decorations. Dash through the snow, or book a sleigh ride for a fun, family, night out!

Free
Make Winter Your Playground
As soon as you take off on a pair of ice skates, you realize why skating outdoors is one of Canada's favourite pastimes. Take in the winter magic at one of Edmonton's renowned outdoor rinks, surrounded by gorgeous snow-covered winter scenery. Glide peacefully along Hawrelak Park's five-hectare lake while mellow music flows from rink-side speakers. Grasp the mittened hand of someone you love while skating the pond on the Alberta legislature grounds, surrounded by trees adorned with sparkling lights. Or bring a thermos of hot chocolate and spend an afternoon with family, who laugh along with you as you attempt a figure eight at the Victoria Park Oval.
Free

Enjoy a fun day soaring down a snow-covered hill and feel the brisk wind nip at your cheeks as you race your friends and family. There are plenty of hills to toboggan down in the city, slide on over and give these ones a try:

Emily Murphy Park - Emily Murphy Park Road and Groat Road
Gallagher Park - 97 Avenue and 92 Street
Government House Park - Groat Road and River Valley Road
Castle Downs Park - 11520 153 Avenue
Rundle Park, ACT Hill - 2903 113 Avenue
Rundle Park, Walton's Mountain - 2903 113 Avenue
Whitemud Park North - Keillor Road and Fox Drive

Free
Treat the kids to some good ol' hockey for less this season by catching the heart-pounding action at an Edmonton Oil Kings game. The major junior WHL ice hockey team plays at Rogers Place and serves up an entertaining, action-packed evening, suitable for fans of all ages!

Tickets start at $20.00