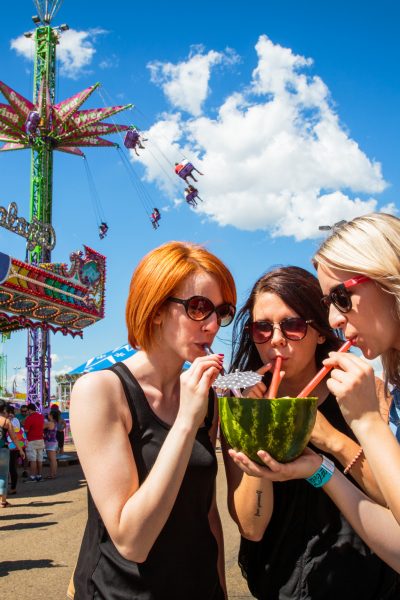 How to Fill 17 Hours of Sunlight in Edmonton
Edmonton is known for its glorious summer days. June through August, the sun can rise as early as 5:00am and set as late as 10:00pm. That's 17 hours of vitamin D, and plenty of time to pack in tons of warm-weather activities. Don't worry, making the most of a sunny day has never been so easy—we've got you covered with this fool proof itinerary:
Feeling fit and fancy? Start your day with an early-morning run or cycle. Edmonton's river valley and park systems boast over 150 km of trails just waiting to be used. Stop for a breather and take in the sunrise at the top of one of the many sets of stairs leading down to the river. Here are some useful maps to help you navigate Edmonton's river valley trails. You can even tag along with November Project who host early morning drop-in fitness sessions around the city.
Little Brick Café and General Store is the perfect place to kick back on an adorable patio. This brick house in Riverdale didn't always serve up java and artisanal sandwiches. J.B. Little, the former owner of the area's brickyard site, fired up his first kiln in 1893 and provided bricks to Edmonton's most historical buildings. Little built his family home in 1903 and it was occupied by his descendants for nearly a century until it recently turned into a new kind of community space. Pair their potted french toast with a craft cappuccino, and you've got the perfect fuel to kick-off a long day of exploring.

The Morning is Your Oyster
If it happens to be a Saturday, head to City Market Downtown on 97th Street for food trucks, live music, handmade goods and fresh produce. Shop local and pick up some uniquely Edmonton souvenirs. Then grab a sandwich (or maybe half a dozen Moonshine doughnuts?) 'to go' for lunch a little later.
Ride the High Level Streetcar, and take in an incredible view of the city. Each vintage streetcar has been refurbished from a different part of the world, with names like Osaka #247 or the ex-Melbourne tram #930. Best of all, it's only $4.00 for a one-way trip ($7.00 round-trip), and the south side stop drops you in the heart of Old Strathcona.
But Wait, There's More...
Your 17 hours are almost up—can you believe it?! Cap off the day by instagramming some shots of the sunset. Premium spots include: The Alberta Legislature (10800 97 Avenue NW), Forest Heights Park (10104 84 Street NW), The High Level Bridge (109 Street) and Gallagher Park (9411 97 Avenue NW). Your tan may fade away, but the memories will last forever. Click here for even more sun-filled activities to make this summer one for the books.