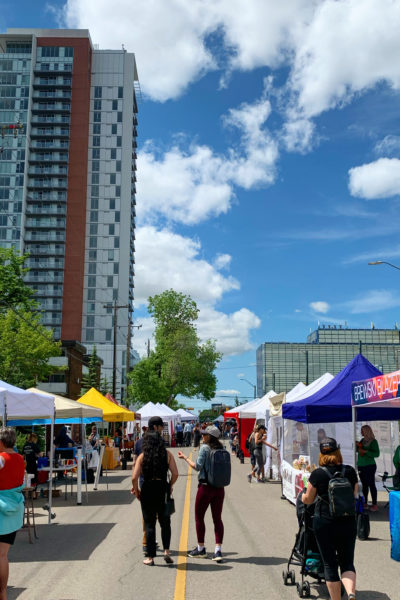 124 Grand Market: Vendor Spotlight
Oh kale yeah! Farmers' markets are where it's at in Edmonton. Produce, hand-made jewellery, clothing, art and unique home goods are all on the menu, as well as unique food trucks and outdoor entertainment. The 124 Grand Market is the perfect place to support local - with quality products direct from farmers, growers, and artisans, you'll have no trouble finding exactly what you're looking for. Plus, with spatial-distancing and health precautions in affect, that's one less thing you have to worry about during your afternoon of local shopping.
This iconic market wouldn't exist without the vendors that deliver the goods. Read on and lettuce be your guide to some of the stand-out vendors you'll find lining 124th Street.

The market is located at 108 Avenue & 124 Street from 4:00pm-8:00pm on Thursdays, and at 102 Avenue & 124 Street from 11:00am-3:00pm on Sundays.

Please note, the vendors listed below may rotate during the season between both Thursday and Sunday locations. There are also many more incredible vendors at the market, check out a complete list here.
The Best Market is a Farmers' Market
What started as a hobby moonshing at home has grown into a full-fledged business that serves up flavour-forward spirits in small batches. Black Diamond Distillery uses locally-sourced ingredients to produce handcrafted spirits and liqueurs, specializing in flavour profiles for tastebuds that love to be tickled by refreshing, natural tasting beverages.


Looking to create the ultimate charcuterie board? Meuwly's has you covered. This artisan food business was created with the idea that a strong, vibrant community is built around the food we share together. Don't sleep on their house-made meat products, pickles, and condiments. Pair your bounty with a good bottle of wine (or cocktail, see above), and you're in business.

Infused Mediterranean Foods
Noticing a need in the vegan ready-to-serve and frozen take-away category, founder Ruba Alqishawi created Infused Mediterranean Foods using authentic recipes handed down from her family. She then added her own flavour combinations to create the current line-up of infused products. This local business sources and selects premium ingredients which you can't help but taste. Bon appetite!

Daisy Chain Book Co. is Alberta's first mobile bookshop, bringing you great reads on wheels! This whimsical and innovative business concept rolls right into the 124 Grand Market, delivering a wide selection of works by some of your favourite authors. New titles are added every week, so keep your eyes peeled for your next literary adventure!


Little Bear Gelato uses fresh, locally-sourced ingredients to create the richest flavour possible (vegan flavours are available too!). Plus, their artisan-made gelato and sorbet is hand-made right here in Edmonton. Get yourself a couple scoops (or a pint) and enjoy this ice-cold treat as you peruse the market's many offerings.


Spent + Stone Jewellery began its journey encasing crystals into spent bullet casings to create unique, edgy, and mystical pieces. Owner and designer, Shawna, likes to experiment with a variety of mediums such as metals, gemstone beads, resin, preserved flowers, and wood. Their necklaces, earrings and keychains are great gifts for any special (or stylish) person in your life.
Limited release vinyl records and unique coffee collide at Grizzlar Coffee & Records. With a brick and mortar location on 109th Street, this unique concept brings freshly roasted and sustainable coffee downtown. Stop by their stand and pick up a bag of beans, then prepare to take your java game up a notch.


MacDuffs Soap Company has a mission: to create the highest quality affordable products. When not adding in special ingredients like craft beer, aloe vera, or goat's milk, their soaps are made with fresh water from the Rocky Mountains. Pro tip: try their beard oil which includes nourishing argan oil (it's playoff season, after all!).

Reclaim Organics
Reclaim Organics is an organic farm that grows micro greens and sprouts year-round, right here in Alberta. They also grow seasonal salad mixes, varieties of greens, radishes, beets, carrots, and squash. Plus, their veggies are planted by the shores of Pigeon Lake, near Edmonton. How fresh is that?

Most flowers travel thousands of kilometres to get to your favourite store, but not these beautiful buds. They just have a short 6.2 kilometre trip to get to the 124 Grand Market. Love and Fantasy Flowers grows and sells a curated selection of specialty cut blooms that will brighten any day. Bulbs, seeds, and of course flowers, are all available at this botanical booth.


If you love Edmonton, you'll love this. Edmontonia Trading Card creator, Michael Hingston, channeled his fascination for the city to put together a set of collectible cards that showcase life in Alberta's capital. We're talking local bridges, urban wildlife, and even the various phases of West Edmonton Mall. These cards are the perfect way for people of all ages to celebrate everyday life in Edmonton.
Lovers of bright and beautiful things, rejoice! The jewellery designs at the Prairie Poly stand are beyond adorable. These handcrafted polymer clay creations by designer Marion Mendoza will add a unique flair to any look. Check out their latest designs, which feature warm colours to welcome the fall (can you believe its already that time of year?!).